"How to identify customer pain points?" This was the most common question we received during our last survey (24 times to be precise) about customer satisfaction!
To be honest, we were both surprised and amazed! It's great seeing businesses trying to identify customer pain points and resolve them. This is a clear sign of how far they are willing to go to deliver great customer experiences!
And if you're reading this, you're no different!
You could be running a successful service-based business or your product might be performing really well! But only when your customers are satisfied, there's going to be stable growth. And understanding customer pain points is a crucial part of achieving this!
In this read, we'll be looking at the ways that'll help you identify your customer pain points (and solve them). Also, we'll be listing out a couple of common customer pain points during the later sections of the read. 
But before that, we'll quickly brush up on the basics, starting with the obvious question.
What are Customer Pain Points?
Here's a quick customer pain points definition!
"A customer pain point is a specific problem that your customer or prospective leads face when they interact with your business."
Put simply, a pain point is what stands between a prospect from becoming a customer.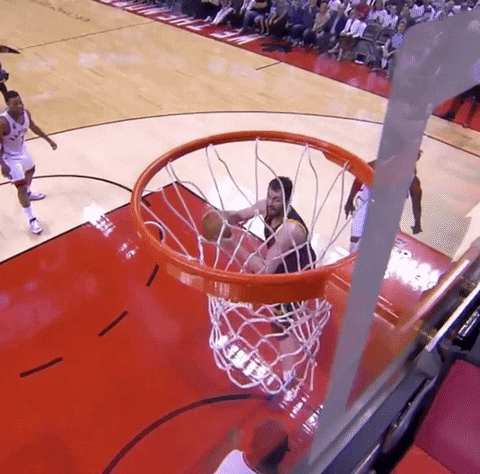 In our case, one common pain point our customers tell us is they find it hard to deliver great experiences. And we help them overcome that with our omnichannel support tool.

It is important that you understand when and at which touchpoint of your business a customer faces problems during an interaction. When understood and resolved, your customers can enjoy the painless journey throughout. And you on the other hand, get to build a loyal audience base.
Customer pain points can vary from individual to individual. And the magnitude can be anywhere from small to huge. But irrespective of the issue, they somehow fall under one of the four primary types of customer pain points.
This helps businesses understand the issue better and take necessary actions. Speaking of the types of customer pain points, we'll look at them next.
Different Types of Customer Pain Points
Some of the most common categories of customer pain points are mentioned below.
1. Process Pain Points
This is where your customers face a hard time when they try to get something done with your business. It could be the purchasing process or contacting your support team or a simple fact check.
You need to make sure that all internal processes within your business are hassle-free. Your customers should be able to get what they are looking for without putting much effort.
A study states that 75% of your customers switch to competitors following a poor experience. And this is exactly why you need to make sure that your customers find what they want without much friction.
2. Financial Pain Points
Often, your business prospects fail to end up as a customer because of the pricing factor. The financial pain point can also increase the churn rate of your business.
So, make sure you keep the pricing factor in check. This includes your subscription/membership price, in-app purchases, consultation fee, service cost and more. Understanding how your competitors price their services/products can help you get an idea. 
You can also highlight your product features and explain the quality of your service to users. Come up with featured landing pages or webinars to do this. Also, use testimonials for social proof.
Making your customers understand why your product/service is worth their money can help you overcome the financial pain point.
3. Productivity Pain Points
Assume there are two image compressors A and B. You upload the same image to both compressors and wait for results. 
While the quality of processing remained the same, compressor A was able to give results a couple of seconds earlier than compressor B.
Which one would you prefer to go for in the future? It's obvious – the image compressor A. 
This is a very basic example. The point is, when a customer feels they are spending too much time with their current solution/service provider, that's a productivity pain point. 
You need to look for ways to optimize productivity and increase comfort & convenience at the same time.
4. Support Pain Points
This is one of the most common customer pain points today!
Businesses somehow manage to increase their customer base through effective marketing. But the real challenge comes in retaining them and keeping the churn rate at bay.
When your customer needs you, you ought to be there to resolve their queries. Delayed responses or poor quality of support is not going to help your customers in any way. 
Instead, this gives them a bad experience, forcing them to switch over to a competitor's business. Like we already said, people tend to switch to other businesses if they find the process to be difficult.
Following good customer support practices like using chatbots and documenting critical procedures can help prevent half the support-related pain points.
Here are 7 ways to painlessly scale your customer support!
Now that we've come across the types of customer pain points, let's start looking at how you can identify them!
Some of the most common categories of customer pain points are mentioned below.
5 Easy Ways to Identify Customer Pain Points
Identifying your customer pain points can help improve your sales and marketing strategies. You get to know where you're lagging or what you can additionally add to deliver what is expected.
In simple words, a game changer!
That said, let's look at the ways to identify customer pain points.
1. Listen to Your Customers
Customer experience is personal. And so are customer pain points.
When you try to identify customer pain points, what better way is there other than hearing it directly from them? 
Usually, surveys are the best way to get your customers/prospects talk! If you think surveys don't work, you're wrong then!
This isn't just any other survey about random stuff. This is about asking your customers how they feel about your product/services. And how you can make it better for them.
When customers know you value them, they'll express their concerns – personalization helps to a great extent.
You just have to make sure that you ask the right questions and give them suitable options!
Here's an example of what works and what does not!

In the above survey question, the options are not specific and to the point. The business will not get a clear inference from the same.
Instead, here's the same question with better options.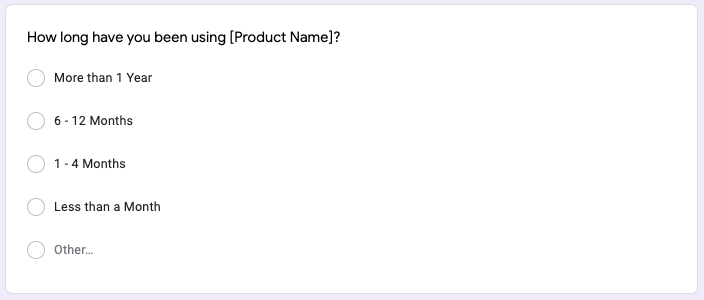 These options give a clear understanding of the timeframe and make it easy for customers to answer as well. The "Other" option at the bottom gives your customers the flexibility to write their own answers.
Make sure that you add a space where your customer can write their heart out! This helps you understand their pain points better.
Here are a couple of questions you can consider asking your customers/prospects,
What was the problem you were trying to solve with (Product/Service Name)?

Were you able to solve the problem you initially had with (Product/Service Name)?

Would you recommend (Product/Service Name) to anyone you know? If not, why?

How can we improve our services to make it better for you?

What are the top five painful instances you came across using our website?

How would you rate your overall experience with us?

What do you think of the quality of the product/service we offer?
Here are 25 customer satisfaction survey questions to help you out!
The above-mentioned are some questions that'll help you understand your customer pain points. You can group the replies based on the types mentioned above and start working on them!
You can use Google Forms or Simplify360 to create surveys!
PRO TIP: Try not to get too personal with your survey questions. The end person might feel uncomfortable sharing certain specifics, forcing them to even quit the survey.
You can also talk to your customers via calls or chat. If your customer base is huge, consider selecting 30 customers (so you'd get an idea) randomly and interview them. Interviewing customers not only gives you a clear insight but also helps you get in touch on a personal level!
2. Get Insights From Your Sales & Customer Support Team
The next best thing to surveys is talking to your sales & support team.
These are people who get in touch with your customers and prospects on a deeper level. And on a daily basis.
Another benefit you get when you talk to your sales team is that you get to know more about lost prospects. A lost prospect means that they've faced some difficulties which led them to go the other way. This helps you get a clear idea of what your product/service lacks.
Ask your sales & customer service team to note down key findings during a sales/support call. Their findings should include,
Key pain points mentioned by the prospect/customer

The most liked/disliked feature about the product

Reasons why the prospect chose not to use the service/product

Competitor preferences of the prospect

Offerings/features that would help drive more sales and retain customers
When your support/sales team starts gathering answers for such questions, you'll start to know what your customer pain points are!
3. Look Out for Online Reviews & Comments
Online reviews matter because this is where your customers are going to be brutally honest!
Social media platforms, eCommerce websites and Google My Business are places where customers can express what they feel without any restriction.
You don't see a customer lashing out on a call with the support team daily. But when it comes to online reviews or social platform comments, they don't hesitate!
On the positive side, you get to know their pain points and you can make it better for them in the near future!
Here's an example of a customer leaving his review about a fish tank on Amazon

The takeaway from this review is that the filter is noisy and only filters the water occasionally. And the fact that 37 people found it helpful means that the business should start looking into this issue.
With the above observations, the business can infer that their filter is one thing that stops their customers from getting a good experience.
Similarly, social media comments can also help you identify customer pain points.
You can use a social listening tool to make the monitoring process easy – even if the users are not tagging you, you can find keyword based interactions about your brand or industry from multiple sources and finally collate the data. This helps you understand what the Voice of the Customer is for your brand and what problems they are facing.
4. Take a Look At Your Competitors
Competitors are good for your business! They tell you what you've been missing out on the whole time.
If a competitor is performing better than your business, you should start looking at their,
Pricing Page: Know what their pricing is and what features they offer along with it. 

Ad Copies: Check out your competitor ads. They'll usually address it with customer pain points.

Features Page: Know what features your product/service is missing. Consider adding it to yours.
Keeping a constant eye on your competitors will help you find, address customer pain points and grow simultaneously!
5. Try Being a Customer Yourself
This is another way to identify customer pain points. And to be honest, this works really well!
But there's a catch! You've got to forget that it's your business and completely start looking from a customer's point of view!
This would work better if you map out your customer journey first across all touchpoints. Make sure you cover from the awareness stage (how they find out about you) to post-sales and retention.
Now, explore the customer journey and see if you're getting stuck at some point in any of the channels. If you are, then note it down along with the cause – this could be a possible customer pain point.
Similarly, take yourself through all the channels. It'd be great if you can ask a couple of your employees/friends to do the same and give feedback!
This can help you reveal hidden gems that you might have not been able to discover with all the above methods!
When you've compiled a list of the findings, start working towards it.
So, yes! Those are the five easy ways that'll help you to understand your customer pain points.
And just when we were thinking to wind up this read, we thought why not list out a few common customer pain points, just to help you get started!
4 Common Customer Pain Points
No chit-chat! Let's start looking at it!
1. Delayed Response from Support Team
No one likes to wait in long queues, especially when it's for receiving support. 
Delayed support response time is one factor that leads to poor customer experiences, resulting in increased churn rate and bad word of mouth. 
To combat this, you can use a live chat tool and assist customers in real-time. This helps improve personalization and increase CSAT scores seamlessly.
2. Inconsistent Customer Experience Across Channels
Your customers hate when they have to repeat themselves over and over again across different channels. It's 2021 and your customers expect you to be present in all places. And omnichannel customer support is the only way to go about it!
Omnichannel support enhances the customer experience by allowing customers to contact you across different channels and continue their conversation. Simply said, it's the process of unifying experiences across channels. 
When you start providing an omnichannel customer experience, your customers get delighted and stay with you for longer periods.
👉 This Ultimate Omnichannel Customer Experience Guide will help you get started!
3. Support Team Going Offline
Not all businesses offer 24×7 support! And this is one of the common pain points today, especially if your business has customers across the globe.
If you think increasing manpower is the solution, you might want to think about the costs that come along as well!
The best solution would be to go with chatbots! 
The benefits of using a chatbot would be, 
You can offer  24×7 customer support and provide assistance to agents during peak hours. 

Route tickets to agents based on the nature of the issue and the skills of the agent. 

Following a self-serve approach also enables customers to solve issues for themselves, without having to get in touch with the support staff.
With a chatbot onboard, you don't have to worry about off times! You can also decrease FRTs and improve CSAT scores.
4. Poor Agent Knowledge & Support Quality
First Contact Resolution (FCR) is an important customer support metric. It is nothing but resolving issues for the customer the very first time they get in touch with the support agent. For this to happen, your support agents should know about the product/service in and out!
Document the standard procedures down and conduct training sessions every now and then! Also, make sure that your agents are more of a people person! Trust us, you do not want a rude support agent on a call!
Doing the above helps you to provide good customer support, leading to great customer experiences!
The above mentioned are the common customer pain points every business faces today. If you get this right, you can start looking for other pain points using the ways we've mentioned.
That said, we're coming to an end!
Convenience is the key to retaining customers and attracting new ones onboard! When you manage to deliver great customer experiences, the word spreads and you'll have new customers in no time.
When that happens you should have identified your customer pain points and resolved them. Because the last thing you'd want to happen is a prospective lead heading out and bad-mouthing your product/service!
Now that you know how to identify customer pain points and the ways to fix them as well, why wait?
Start finding what's that one thing that stops your prospects from becoming a customer. Or from getting a good customer experience!