As technology advances, the more it gets integrated into our daily lives. We can do just about everything online – from ordering groceries to consulting doctors and even buying cars.
Gone are the days when customers would try a product once before purchase! Now, they do some serious research online. From Google to Social Media, they look up your business and products across platforms to make an educated decision. 
Here are some statistics to support the above statement, 
64% of customers contacted customer service at least once in the last month

And 47% of customers admitted to using three to five different communication channels to get in touch.
Connecting all your service channels can create a holistic experience for your customers. This, in turn, will improve their conversational experience with your company and increase your customer retention.
What Is An Omnichannel Experience?
It's pretty simple!
"Omnichannel customer experience is the process of unifying customer interactions across channels into an integrated single customer journey, enabling seamless experiences for customers of your brand on every channel."
Sync up your marketing, sales, in-store experience and customer support so customers can conveniently go from one channel to another to complete their purchase. 
86% of buyers are willing to pay more for a great customer experience. In fact, the more expensive the item is, the more customers are willing to pay for better experiences.
Let's take a fashion retail store as an example:
A potential customer scrolling through Instagram sees an advertisement for a pair of jeans that they love. The customer then clicks the ad and is directed to the brand's Instagram store, where they find details about the jeans and customer reviews. 
They then proceed to the store's website to make the purchase.
However, they find that their size is no longer in stock. They click the live chat widget to ask an agent when their size will be restocked. The agent then asks the customer for their zip code to verify if their size is in stock in the store near the customer. 
After informing the customer, the customer service agent reserves the jeans in the store. And the next day, the customer completes the purchase by heading to the store.
Here, the customer has interacted with the company on five different touchpoints — Instagram ad, the Instagram store page, the website, live chat, and finally in-store.
Each touchpoint was seamlessly connected to the next to give customers a consistent journey through the sales funnel. From awareness to purchase, the customer had an ideal omnichannel customer experience.
Why Is Omnichannel Customer Experience Important?
Showing your customers a unified experience is important as it improves their encounter with your business and brand, which in itself increases sales.
73% of all people point to customer experience as an important factor in their purchasing decisions. Yet only 49% of consumers say companies provide a good customer experience today.
Let's look at the reasons behind why omnichannel is becoming a differentiator for brands.
1. Most Customer Are on Multiple Channels
Omnichannel in simple terms refers to being accessible to your customers, by offering your services across channels and at any time they need it.
An omnichannel approach isn't just about making it convenient for customers to cross over to different channels. It's also about building a unified, seamless experience that can be delivered anywhere at any time.
Moreover, customers expect businesses to be easily accessible, which means you need to be on your customers' channels.
A recent study revealed that one in three customers have used multiple channels in regards to their recent purchases.
2. Deliver Contextual Engagement to Your Customers
33% are most frustrated by having to repeat themselves to multiple support reps. 
If you make customers repeat themselves you risk them having a negative experience with your brand. This can hurt your reputation and impact your business both in the short-term and in the long term.

3. Customers Prefer Accessible Brands
Some customers prefer to reach out via email. Others feel more comfortable picking up the phone to start a conversation with an agent instantly.
Providing support for a variety of different platforms shows that you care about the convenience of your customers.
How to Deliver An Omnichannel Customer Experience?
Consumers today are using multiple channels to connect with their favorite brands.
The most effective way to stay relevant and increase customer retention is with an omnichannel strategy.
To deliver a seamless omnichannel customer experience, your whole team needs to be geared towards it. This means everyone needs to be on the same page about your brand's tone and image.
But what's more important is, you need to ensure that your teams share information with each other and prevent data silos.
Customers expect businesses to deliver a personalized experience based on purchase history, customer service inquiries and chat transcripts. Omnichannel experience means creating consistent and predictable experiences for your customers.
This is similar to being able to walk into a restaurant franchise and have the same experience that you would at any other location, even in a different state or country.
Customers don't want disjointed experiences or to be disappointed just because they're using a different platform.
The 3 keys to consistency are:
Consistency in the customer journey – Companies understand the importance of continually providing customers with superior service in every area of the business. It means maintaining consistency during each interaction. Nonetheless, only a few businesses deliver consistently across customer journeys, including meeting basic standards.
Consistency in emotional experience – Positive emotions and trust towards a brand are the biggest drivers of customer satisfaction and loyalty. Customer loyalty that is driven by the consistency in their emotional experience with your brand is more valuable.
Consistency in communication – Maintaining consistency in your brand tone while you communicate is important. However it is not the only aspect of your communication that needs to be consistent. The promises you make to your customers are a part of your brand's communication. Following through and ensuring you fulfill those promises is a big step towards delivering consistency.
2. Map Your Customer Journey
The customer journey illustrates the steps customers take to make a purchase.
For example, a prospective customer may learn about a company from a social media advertisement. After that, they sign up for their newsletter via a blog post. They click on an email to join a free trial after a few days. They contact sales to subscribe when the trial period has ended.
Customers interact with your brand through several touchpoints before making a purchase. Recognizing each is essential for achieving a more cohesive experience.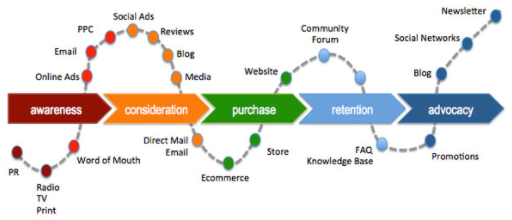 Image Source: Quicksprout
To get started, create a detailed buyer persona – a profile that describes your buyers. This aids you in identifying and meeting the needs of your target audience.
Then make a list of all the channels you and your customers use.
Utilize customer data and solicit feedback from your sales team. This stage can also be aided by walking through the trip as a consumer.
3. Be Proactive In Your Approach
The majority of customer service is reactive – a customer contacts an agent with a problem and an agent resolves it.
Taking a proactive approach to your omnichannel strategy will help you stand out and delight your customers. This entails foreseeing and fixing problems before they arise.
In fact, 87% of adults surveyed are happy to be contacted proactively by companies regarding customer service issues.
For Example: Netflix recognised the threat this posed to their business and made preventative measures to reassure its customers in the event that something similar occurred. 
When Netflix viewers are unable to stream due to technical difficulties, the business provides a statement informing them of the outage. What's noteworthy about this is that they don't try to hide the problem or disrespect their subscribers' intelligence.
Whether it's informing customers about extra support choices or following up with personalized emails, find methods to be more proactive with your omnichannel strategy.
4. Gather and Review Customer Feedback
In every omnichannel approach, there's always space for development. Direct feedback from your customers is the best source of information.
To get feedback from your customers, use customer satisfaction surveys (CSAT). 
Customers are asked to rate their entire experience in these surveys, which are usually added at the end of an engagement.
Surveys provide useful information that you can use to improve your omnichannel approach. You can watch your customer support metrics over time and measure your efforts using Simplify360 Analytics.
Now that you're here, it's clear that you know what an omnichannel customer experience is and how you can deliver it. We thought why not share a few examples to help you understand this better! 
Examples of Omnichannel Customer Experience
Talking about omnichannel experiences is one thing. It's one thing to read about it! And watching it in action, it's totally different!
Let's look at a few examples of companies that take an omnichannel approach to customer experience.
1. Starbucks
With its Starbucks card, the global coffeehouse chain exemplifies omnichannel customer experience.
The Starbucks loyalty program is not unique to them. Similar to other rewards cards, customers use the card to purchase Starbucks items and earn rewards.
The difference is that the card is perfectly integrated with the mobile app, website and in-store experience. This means that when a customer makes a change to their card through one channel, it automatically and instantly updates across all channels. 
If you reload money on the card on the mobile app, it will be reloaded on the customer's website profile and physical card for in-store use. customers can reload their care while waiting in line at a Starbucks. 
This simple step makes the customer's experience so much more convenient and enjoyable. So when customers think about where to get coffee Starbucks is going to be the first place that comes to mind.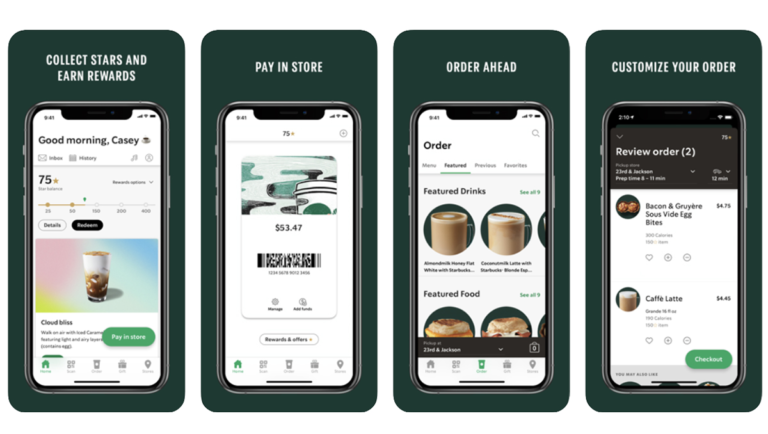 Image Source: Scribblelive
2.
Amazon
Amazon is the world's most popular eCommerce website. But did you know they are also working to expand their online shopping experience into brick and mortar stores?
Brick and mortar stores are still very popular. So, traditional eCommerce businesses should not rule them out for a more comprehensive omnichannel experience.
Amazon created an in-store shopping experience for customers to browse products and seek real-time assistance from store advisors. They initially started out with pop-up stores inside shopping malls and large retailers.
From Kindle and Echo product stores to fashion pop-ups and even an Amazon bar, the pop-up stores were such a success that they plan to expand their offline presence with more permanent locations.
To ensure consistency between the online and in-store experiences, Amazon stores will be following a self-serve approach. However, being able to see the product before purchase and the presence of advisors will make the shopping experience more meaningful.
3. Neiman Marcus
Neiman Marcus is a fashion retailer that connects online and offline platforms through technology.
The Neiman Marcus app allows customers to communicate with sales associates via text messages, phone calls, emails, or FaceTime. Customers can also use it to check their points balance and view upcoming events or promotions.
The website provides personalised product recommendations and keeps track of size preferences. So, what distinguishes Neiman Marcus from other online retailers?
You can use geolocation to find items that are available in nearby stores. Another sweet effort they take is to send customers new arrivals that match their preferences through emails.
4. Disney
Disney nails the omnichannel experience down to the last detail. It all starts with your first visit to the beautiful, mobile-responsive website of the entertainment mogul. Even its trip-planning website works well on mobile, which is rather unusual.
After you've booked your vacation or planned a trip to Disney's theme park, you can use the My Disney Experience tool to plan your entire trip – right from where you'll eat to reserving your Fast Pass.
In the park, you can use your mobile app to find the attractions you want to see and see the estimated wait time for each one. Disney has taken it a step further with the launch of its Magic Band program.
This device serves as a hotel room key, a photo storage device for pictures you take with Disney characters and as a food ordering device. It also includes FastPass integration to keep your vacation moving.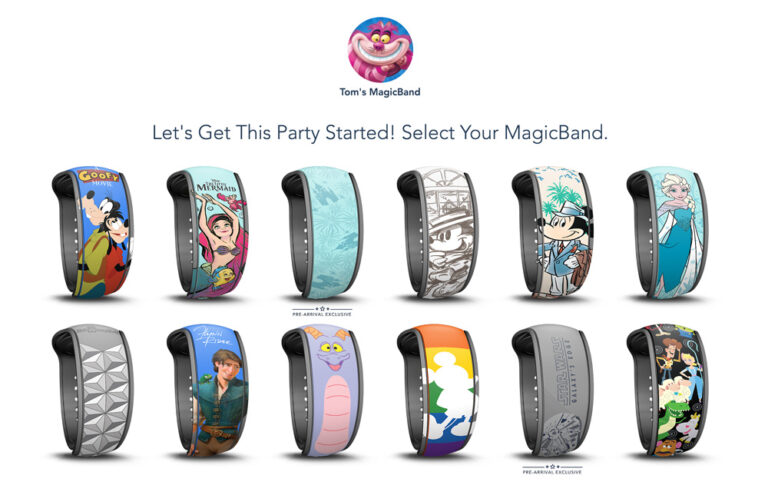 Image Source: Disney Tourist Blog
5. Spotify
Spotify is another excellent example of a product that provides an omni-channel experience.
The company not only has a web app, a desktop app and a mobile app, but it also syncs between all of them when they are all open at the same time. If users are listening to Spotify on their phones, the desktop app will display the currently playing song.
Spotify has its own web application, a desktop application and a mobile application as well. You might now wonder what's so great about it?
Here's that part!
When a user opens his/her mobile app and starts listening to a song, the desktop application will also open up and display the same. So, if the user is not able to reach their phone, he/she can simply control it from the desktop application.
They all sync up so cool that the user can control the tracks on any device – a perfect omnichannel experience!
Another testament to Spotify's excellent omnichannel experience is its availability on virtually all platforms and devices, with very little variation in the actual user experience.
Customers expect effortless experiences across platforms and tend to get easily agitated when companies fail to satisfy those expectations.
Furthermore, all of the data you collect will aid in the improvement of your targeting and outreach efforts in order to raise brand awareness and increase conversion rates.
Try Simplify360's omnichannel support software today to unify your support channels and provide your customers with a seamless experience.