WhatsApp Chatbot? Isn't WhatsApp itself a chatting space? Why would anyone enable a chatbot on WhatsApp? 
If you've also struggled with such questions, this is just the article for you.
So without any delay, let's jump into the blog.
Introduction to the WhatsApp Chatbot Platform
Companies today realize the potential of WhatsApp as a business platform.
With 2 billion users across the globe, it is one of the biggest messaging apps. Out of this, 1.6 billion people use it every month. Moreover, the launch of WhatsApp business API turned this Facebook-owner messaging platform into a favorite communication channel among brands.
There are many reasons you should be using WhatsApp Business.
It is the easiest, most convenient way to establish a connection with customers.
As compared to emails, mobile messages have higher open rates.
Mobile messages allow you to take immediate action which boosts your customer satisfaction rate.
All in all, your customers are already using WhatsApp for their day-to-day activities. Adding it to your marketing channel is the only right step in the market night now!
How WhatsApp Business Chatbots Came Into Existence?
Today, brands across various industries, like banking, healthcare, airlines, etc have become easily accessible via WhatsApp plugins. It is a seamless integration option that can simplify your presence as an individual. After all, if you exist in someone's WhatsApp chat, you are more likely to be remembered.
With the app's meteoric rise in popularity among businesses, WhatsApp Business bots soon became the 'in thing'. Not to forget, AI chatbot platforms are also a trending tool.
Therefore, several chatbot providers allow you to create WhatsApp chatbot platforms to strengthen your ticketing system.
So what really is a WhatsApp chatbot tool?
What Is a WhatsApp Chatbot Tool?
"A WhatsApp chatbot platform is a computer program that can automate replies to messages on WhatsApp."
People can interact with AI WhatsApp chatbots using a chat interface. The chatbots are trained with knowledge of the company, products, and services. This lets your customer enjoy the conversation as if they were talking to a human agent.
Simply put, WhatsApp chatbot platforms offer a series of automated WhatsApp responses, powered by AI, mimicking human conversation.
You may still be wondering why one needs a chatbot to chat instead of humans. Aren't humans chatty enough?
Look at these benefits of using AI WhatsApp chatbots to know why.
Advantages of Using a WhatsApp Business Chatbot
Hardly anyone today doesn't know the importance of using AI chatbots.
Chatbots are mainstream right now! Whether you're on a website or messaging platform, chatbots are always there to assist you. After all, 87.2% of consumers have expressed their preference for chatbot support.
As we covered before, WhatsApp chatbot platforms came to the forefront due to the popularity of the messaging platform itself. Back in 2020, WhatsApp first announced its success at reaching 2 billion monthly active users. Since then the platform has only witnessed growth in its users.
It was only natural for businesses to expand to one of the most actively used messaging platforms.
AI WhatsApp Chatbots vs Human Agents
We all know that chatbots can enhance your customers' experience. So, it is natural for businesses to automate WhatsApp customer support.
Here are 4 unquestioned advantages of using AI WhatsApp chatbots,
24/7 Customer Support – saves time and money spent on customer support.
Generates More Leads – Can handle multiple conversations at the same time with different potential customers.
Improved FCR and FRT – Replies within seconds with accurate information.
Tailored Customer Experience – Send real-time, tailored messages to customers
Simply put, WhatsApp business chatbots offer a more personalized customer experience. This can help improve client retention and engagement. This reflects your brand as accessible, loyal, and customer-centric.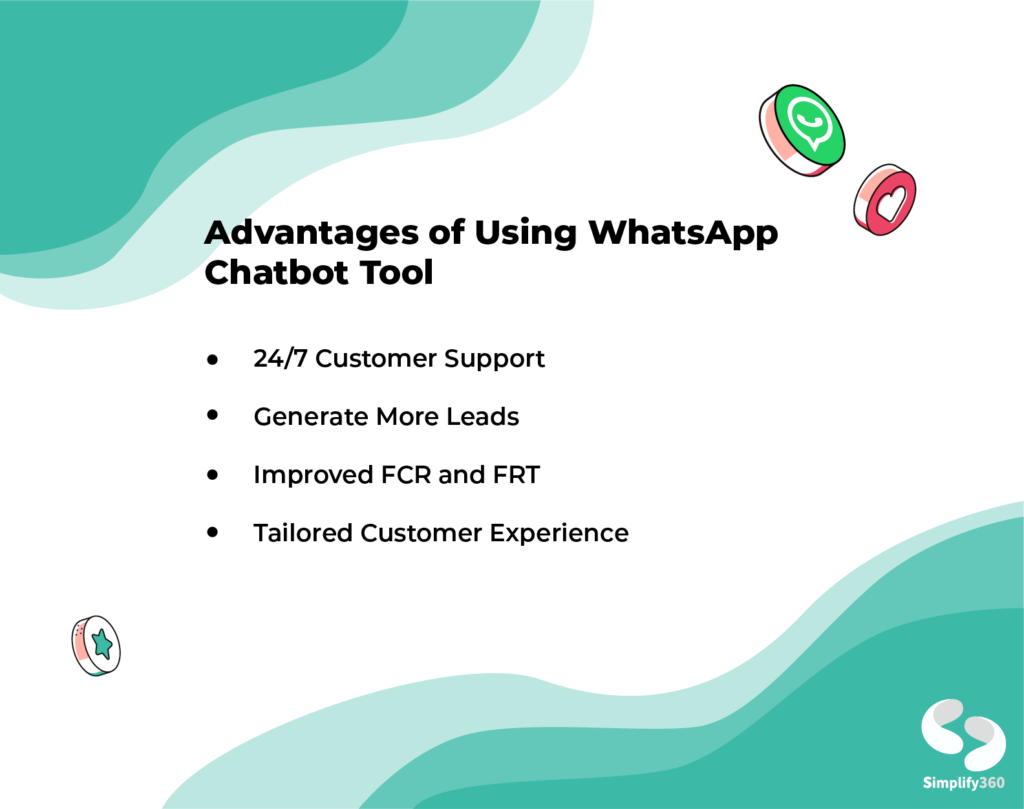 Let's have a look at a real WhatsApp chatbot example to understand its advantages.
Real-time WhatsApp Chatbot Example
Tata Play Limited, formerly known as Tata Sky Limited launched its WhatsApp Chat Service on May 25th, 2018. Since its launch, the company has witnessed various profits.
India's leading DTH service provider realized at least a 40% reduction in its resolution cost once it integrated WhatsApp messenger as a primary channel to engage with its customers.
The real challenge faced by the company was to reduce the number of support calls it received. This meant enabling customer engagement over a digital medium like WhatsApp messenger to complement their traditional support call centers.
To accomplish this, TataPlay integrated WhatsApp into their customer service channel with help of Simplify360 – an omnichannel digital customer service platform.
Here are the benefits: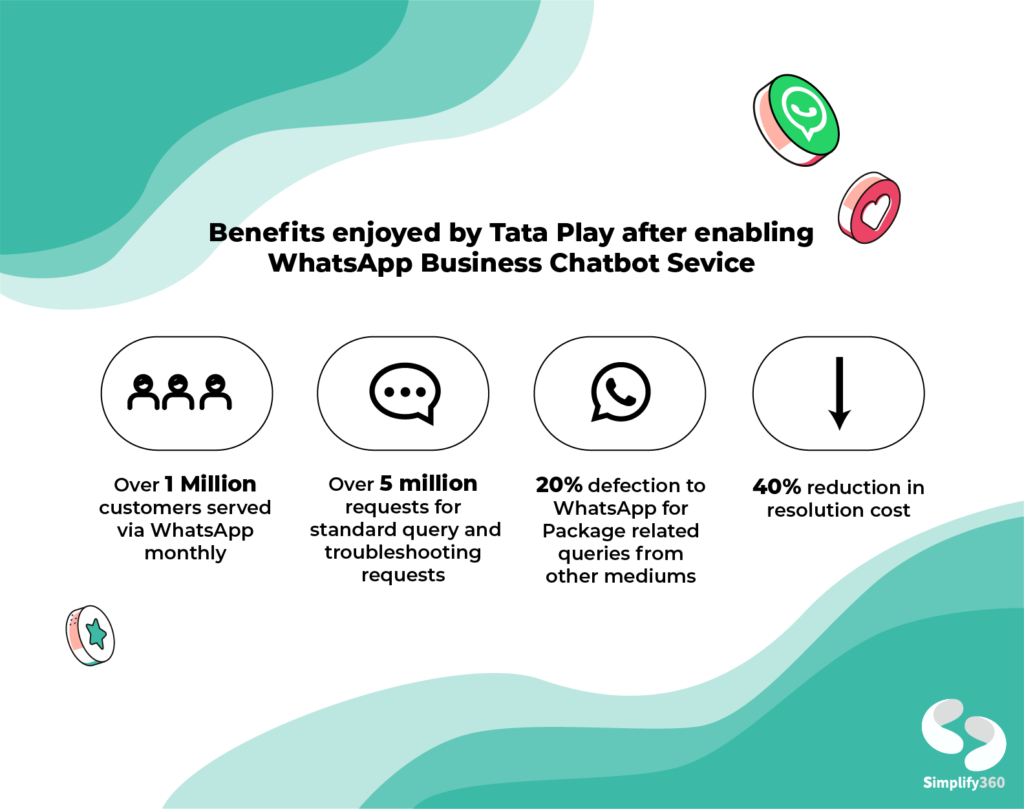 Why Integrate AI WhatsApp Chatbot to Your Customer Service?
Integrating WhatsApp as a communication channel gives you the perfect omnichannel touch. By incorporating WhatsApp into ERP and CRM applications, organizations handle their client relationships better.
1. Better Consumer Data
As mentioned above, WhatsApp business chatbots are an extension of your brand to speak with customers. With regular interaction, they gather necessary, and most importantly repetitive customer inquiries. This helps you identify the common areas that need improvements.
For instance, let's assume that even when consumers find your website easily, they don't create traffic for long. An AI WhatsApp chatbot can then connect with consumers and gather more data on why they are leaving the page so early.
You can equip your WhatsApp business chatbots with survey questions and forms to gain more insight into issues.
2. Improved Advertising and Marketing
By now you must know how popular WhatsApp is by itself. Whether brands utilize it for their communicational purpose or not, the global messaging platform has approximately 65 billion messages being shared daily.
Therefore, various organizations use WhatsApp chatbots to advance their administration.
With the help of WhatsApp business chatbots, you can offer customized suggestions to clients. This is possible by examining customers' past purchase data.
Moreover, having automation as an inbuilt benefit, you can schedule pamphlets, notifications, and promotional offers to customers.
3. Upgraded Client Administration
One of the most important benefits of having WhatsApp business chatbots is nonstop accessibility to your brand. This means you can ensure clients that they won't have to wait in long queues.
AI WhatsApp chatbots are structures to blend with different business frameworks. This empowers consistent correspondence among organizations and clients.
Build WhatsApp chatbots and enjoy these benefits –
Sending updates and notices
Assisting clients with item index investigation
Progressively resolving client inquiries
4. Simplified Approach to Global Markets
Due to NLP, ML, and AI, chatbot platforms can now take care of issues in various dialects and languages. This also applied to WhatsApp business chatbots. The same combination of technologies enables them to scale up tasks to new markets without requiring external human interference.
How WhatsApp Chatbot Platforms Work?
WhatsApp business chatbots are often based on a conversational flow. They aim to create a smooth and comfortable conversation experience for customers.
Today, people are used to the sophisticated speaking style of digital assistants. To add to it, consumers have been vocal about their inclination towards booths that have human-level conversational abilities. Be it to showcase intelligence or humor, Siri, Alexa, and Google Assistant all follow a writing script that adds a flow to their design process.
Importance of Conversational Flow in AI WhatsApp Chatbot
It is no news that chatbots give the first impression of your company. Not to forget, WhatsApp chatbot platforms are deployed to ease the workload of your agents. This is possible only when these bots are intertwined with your brand's tone and guidelines.
To ensure that your WhatsApp chatbot platform emits a positive brand perception, the following three elements must be present in its design.
Trigger: Directing the WhatsApp chatbot when to start a conversation 
Action: Commanding WhatsApp business chatbot to take an action, i.e. sending the message
Condition: Internalized 'if this, then that ' logic that guides messages sent by AI WhatsApp Chatbot
Take a look at this flow chart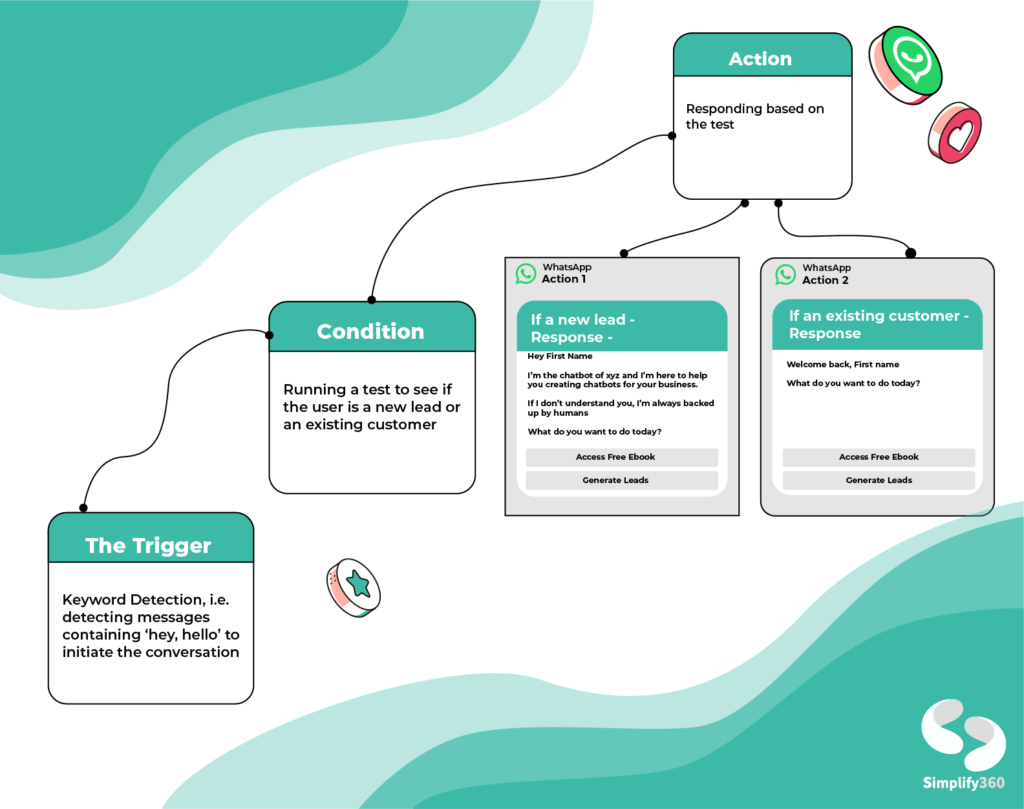 Follow these simple 6 steps to Build WhatsApp Chatbot Conversational Flow
Decide your chatbot's purpose
Give your chatbot a persona
Create a conversation diagram
Brainstorm possible conversation outcomes
Test your conversation flow
Decide on wrap-up statement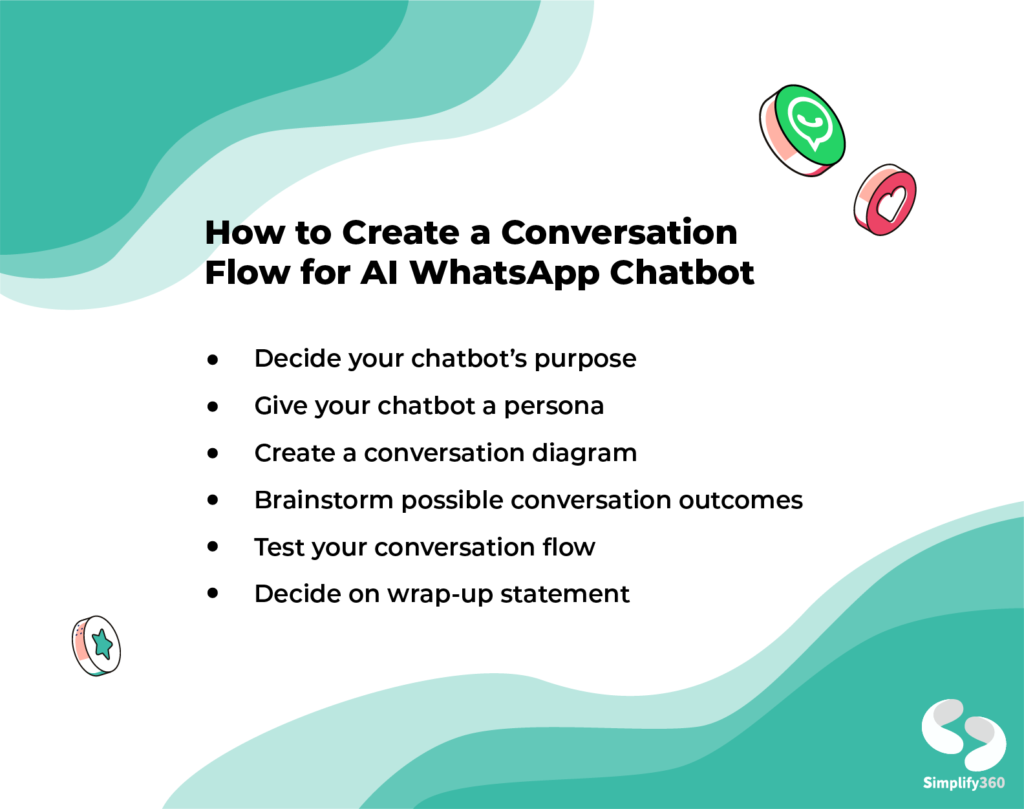 Top 10 WhatsApp Business Chatbots to Use in 2023
So, here we are! In this section, we have listed out the top 10 WhatsApp chatbots you should be using for your business in 2023.

With Simplify360's WhatsApp Management Platform you can streamline and automate conversations. It helps you elevate your customer experience by providing faster resolutions. Moreover, the option to customize your messages further helps you provide a tailored customer experience.
Here are its most impressive features:
End-to-end encryption
Automated chat routing
Live chat integration
Multiple language support
Sentiment analysis
Price – Book a demo to know prices and more features.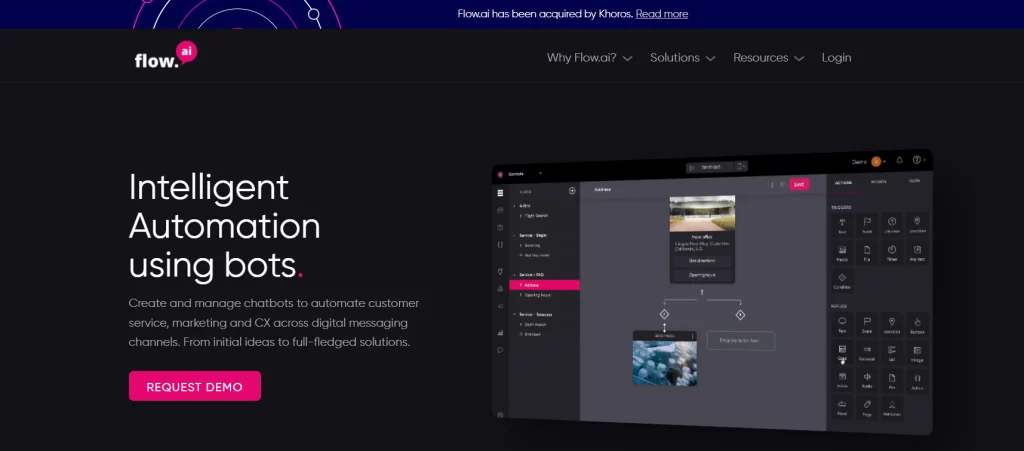 Ideal for marketers who seek automated communication, Flow.ai is a sophisticated and user-friendly WhatsApp chatbot tool.
It is WhatsApp, Facebook, and Messenger Friendly. You can also use it to enable payments. Other integrations supported by this chatbot tool are – Amazon Alexa, Google Assistant, Khoros, Telegram, and more.
Price – Contact Flow.ai for Price.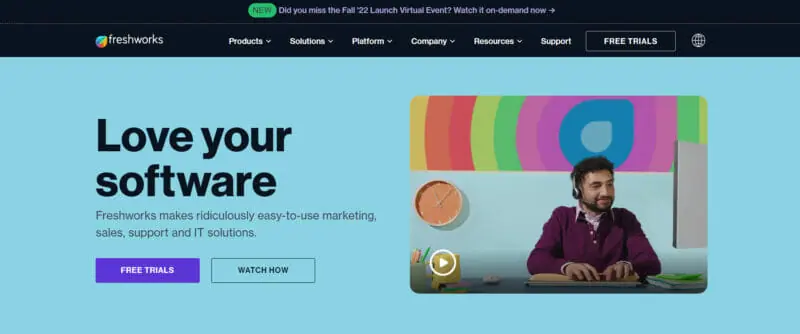 Trusted by more than 50,000 businesses across the globe, Freshworks offers a wide range of products.
It offers a no-code builder feature which makes for an easy conversation flow. You can build WhatsApp chatbot to answer customer questions, execute actions using triggers, automatically update customer data, and more.
Other useful features include IVR to prioritize conversations and contextual handovers.
Price – Free for beginners
Growth: $18 per agent per month
Pro: $47 per agent per month
Enterprise: $83 per agent per month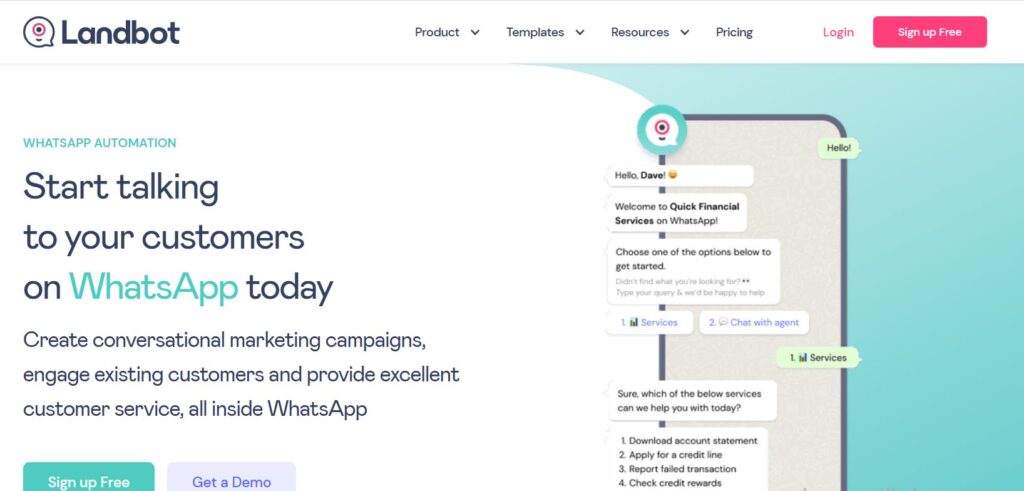 With a beautiful interface design, Landbot.io allows the building of a drag-and-drop WhatsApp chatbot tool. The platform is preferred by companies such as Uber, Ernst and Young, and L'Oreal.
Its features include the usage of rich media. This means brands can use videos, images, GIFs, and more to elevate the customer experience.
Price
Sandbox – Free
Starter – €30/month
Pro: €80/month
Business: Custom price

Botsociety is famous for allowing users to prototype their WhatsApp chatbot tool before committing to it. It creates a prototyping solution for brands that require a preview of their WhatsApp business chatbots. This means you can see your chatbot's look and feel before deploying it.
Botsociety offers brand and team members the ability to collaborate and share updates.
Price – You can get started with a free account and upgrade to a professional package for $79.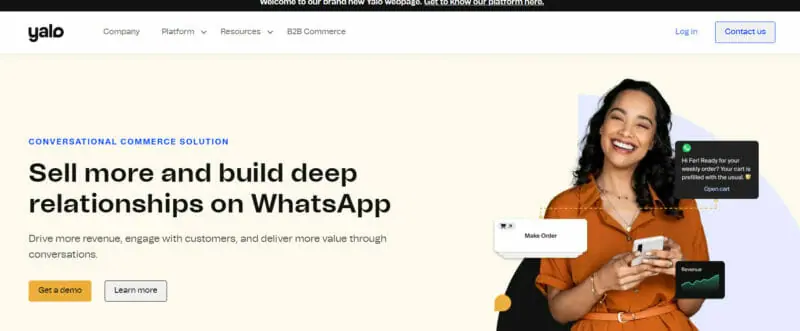 If you are looking for a WhatsApp business chatbot that allows intimate customer interactions, Yalo is your choice.
The company offers businesses to engage and develop customer relations via AI-powered CRM. With a strong focus on AI and deep learning Yalo's WhatsApp chatbot platforms are highly successful.
You can automate almost 90% of your conversations with this WhatsApp chatbot tool.
Price – Contact Yalo to enquire about their charges.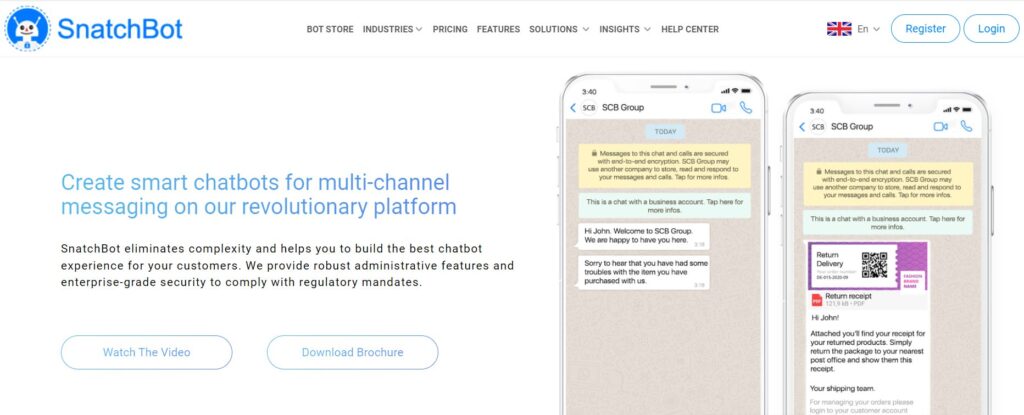 Whether you're a business of small, medium, or large size – you can use SnatchBot. It is capable of being used as a front and backend WhatsApp chatbot tool. In other words, it can be applied in a host of different ways.
The most impressive features of this WhatsApp chatbot platform include – sentiment analysis, automatic speech recognition, and a collaborative workspace. Users can also enjoy access to a synonym library and can view chat histories.
Price
Free for Beginners.
Pro – $30 for 10,000 messages.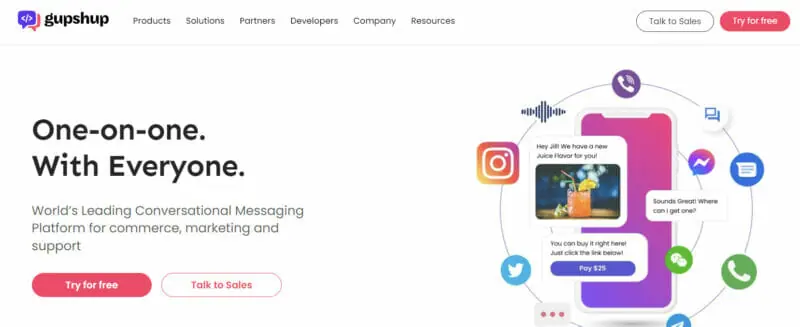 With over 225 billion messages, Gupshup is a globally recognized and used messaging platform. It offers integrations with Twitter, Slack, WeChat, Viber, Facebook messenger, and WhatsApp.
Although a messaging platform, Gupshup is more famous for its bot scripting tool. Features include automated response creation, customized WhatsApp business chatbots, and live chat modes.
Price – Starts at $0.001 per message.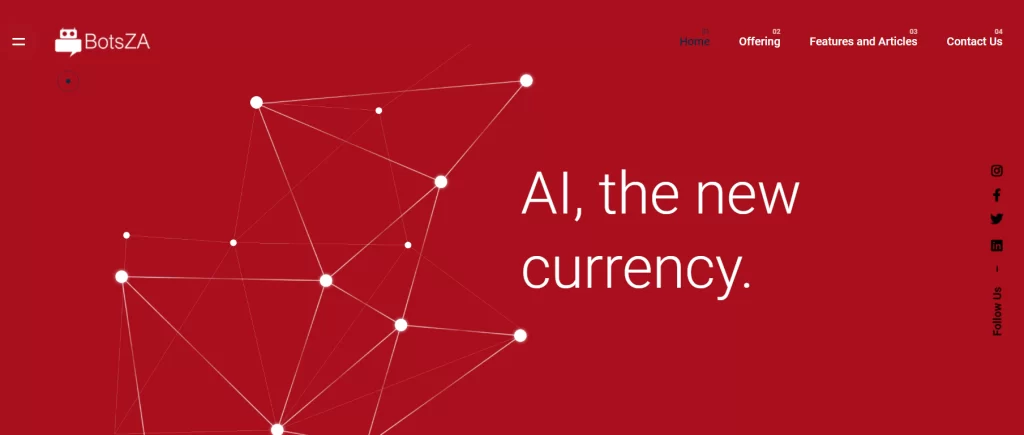 As a WhatsApp chatbot platform Botsza focuses on hospitality, airlines, eCommerce, banking, finance and Insurance, and customer care industries.
With this WhatsApp chatbot platform, you can investigate general information on hotels, book accommodations, inquire about flight bookings,  and manage eCommerce orders. It is known to be used by brands such as Slack, Skype, GroupMe, and Kik.
Price – Contact Botsza for price details.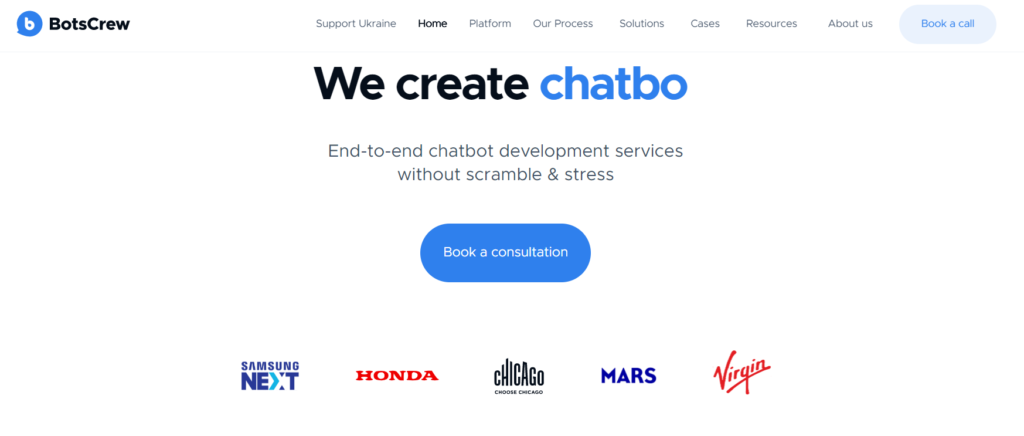 By now you understand that WhatsApp chatbot tools have a broad landscape. 
Botscrew offers an enterprise solution for brands that want to tailor their AI WhatsApp chatbot messages. Moreover, the conversational flow can be managed by category or product, depending on how your business structure.
Price – Schedule a demo to know their pricing.
There are many WhatsApp chatbot tools in the market. While some offer basic integration facilities and functionality, others include detailed features with more business intelligence.
You must know your requirements from a WhatsApp chatbot platform. Do you want it to develop relationships after the initial chat? Or do you want it to simply reduce your customer service department's calls?
When you are clear with your reason, you can better asses various chatbot platforms available in the market. This is because a WhatsApp chatbot platform acts as an extension of your company. Therefore, it must meet you and your requirements.
However, you must remember, the more sophisticated the solution, the better!
FAQs About WhatsApp Chatbots
1. What is the best chatbot for WhatsApp?
Having a WhatsApp chatbot tool enhances your chances of brand exposure. It makes your brand easily accessible via WhatsApp plugins on your website. More importantly, it lets you automate your communication with clients. Some of the best WhatsApp chatbot platforms to use in 2023 are Simplify360, Flow.ai, Freshworks, Landbot.ai, Botsociety and more.
2. How much does a WhatsApp chatbot cost?
Chatbot tools vary in their price. Many of the WhatsApp business chatbots mentioned in this article avoid announcing their pricing details. However, you can always schedule a demo to begin your sales engagement.
3. How do I activate bots on WhatsApp?
No two WhatsApp chatbot platform work similarly.  For example, Agentbot uses Aivo's platform that allows you to design your bot without requiring technical skills for it. You can also upload your questions manually or add content categorized by events.
4. Are WhatsApp bots allowed?
WhatsApp chatbots are pretty simple to use. But, to send business-initiated conversations to 50 or more unique customers within an hour your must be approved by WhatsApp Business API.