Do people actually use chatbots? This was one of the most common questions we came across on a forum. Isn't that strange? The chatbot adoption rate has skyrocketed the past few years and more than 1.4 billion people are using chatbots now!
But questions like "Are chatbots here to stay?" and "Are chatbots good for conversion rates?" are asked often. That's when we decided to come up with this ultimate chatbot statistics article to clear things up!
In this chatbot statistics article, we'll be covering statistics related to both chatbot usage, chatbot future trends, chatbot conversation statistics and a lot more. 
So, all you have to do is, sit back and relax while we bring to you the most important chatbot statistics you should be knowing!
5 Key Chatbot Usage Statistics to Start With
While we have chatbots statistics put under separate categories, we thought why not start with the best? 
These chatbot statistics can give you a clear picture of the demand for chatbots available in the market and how much people love using a chatbot!
1. More than 1.4 Billion People Are Using Chatbots Today (Acquire)
Chatbots were first introduced in the year 1966. And since then, chatbots have continued to grow. Today, we have advanced AI-powered chatbots that are able to provide customer support seamlessly. This has made the chatbot adoption rate go high and businesses from all verticals use chatbots for customer support. And users on the other end, they don't have a problem embracing chatbots as long as it serves the purpose.
2. Top 5 Countries Using Chatbots – India, Germany, USA, UK and Brazil (Chatbots Life)
Like we said, the chatbot adoption rate is so high and almost all countries have started using chatbots in recent years, thanks to the availability of advanced chatbot technology. The USA stands first in chatbot usage (36%). India (11%) comes next on the list followed by Germany (4%) and the United Kingdom (3%).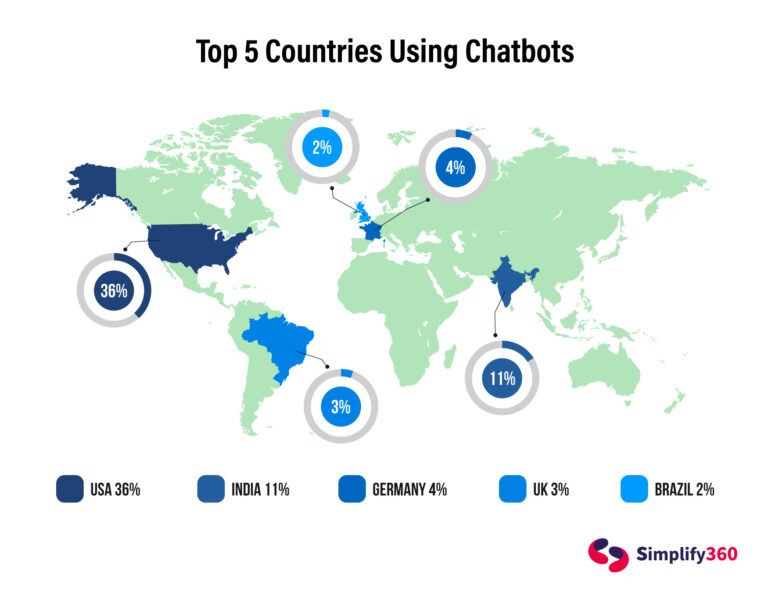 3. Chatbots Can Answer An Approximate 80% of Questions Asked (IBM)
Yes. Chatbots can answer almost all the questions customers ask them provided they are given proper support. Going a step further, with the help of Natural Language Processing (NLP) and Machine Learning (ML), AI chatbots can learn from the queries of customers and start responding to questions they weren't taught in the past.
4. Chatbots Can Cut Down Customer Support Costs By 30% (IBM)
Well, that doesn't surprise us! In the past, customers had to wait in queues for assistance. But today, chatbots have changed the way customer service works. With instant replies and links to FAQs & relevant articles, customers can self-serve themselves most of the time. This can help businesses cut down costs without compromising on customer service.
5. 80% of Businesses Are Expected to Have a Chatbot System By 2022 (Outgrow)
With the chatbot adoption rate going high every day, 80% of businesses are predicted to have some sort of chatbot system by the year 2022. This is mainly due to the multiple purposes a chatbot can serve – customer service, lead generation, marketing activities and more. 
Now that we're done with the key chatbot statistics, let's get to other sections of the article.
Chatbot Customer Service Statistics
One reason why chatbots are becoming popular and used extensively is because of their ability to deliver great customer support. Using chatbots can be beneficial, both for the businesses and the customer – it's a win-win situation. 
While customers enjoy 24×7 instant responses, businesses can cut down on customer support costs and continue to deliver great customer service – every day! 
Let's look at some of the most important chatbot customer service statistics now.
6. Chatbots were used by an approximate 67% of customers in the previous year to get customer service. (Invesp)
7. An approximate 27% of customers were unable to identify whether the last conversation they had for customer support was with a human or a chatbot (PwC)
8. 34% of retail customers say that they would feel more comfortable speaking with AI chatbots for customer service instead of live customer service agents. (Statista)
9. Customers say that the biggest benefit of having chatbots for online services is "24×7" availability. (Drift)
10. 64% of businesses strongly believe that with a chatbot in place, they can deliver an even more customized support experience for customers. (Statista)
11. 56% of consumers would message a business rather than call a customer service agent for support. 
12. A massive 69% of consumers rely on chatbots for receiving immediate responses. Also, they are more likely to go with chatbots in case they have any service-related inquiries.   
13. By the year 2022, banks should be able to automate 90% of customer interactions with chatbots.
Remember that acquiring a new customer costs 5x more than retaining an existing customer. And chatbots can do a pretty good job when it comes to delivering great customer service. The ability of chatbots to deliver accurate, immediate responses 24×7 makes it an ideal customer support tool. That explains the engagement and usage as well!
Speaking of chatbot engagement and usage, we'll look at statistics related to it next!
This is where we'll be looking at the chatbot usage statistics. You'll get to know how chatbots are used and for what purpose. 
14. 47% of consumers would buy products with chatbots as the interacting medium. (HubSpot)
15. An approximate 35% of people use chatbots to get in-depth answers or to resolve the problems they face. (Drift)
16. 37% of users state they would rely on a chatbot to get responses in case of emergencies rather than waiting for a customer service representative. (Drift)
17. In the USA, 27% of adults are okay to purchase basic items via a chatbot. And an approximate 13% of adults in the US have purchased expensive goods at least once using a chatbot. (Drift)
Those were a couple of chatbot usage statistics. Let's look at the chatbot engagement statistics now.
Chatbot Engagement Statistics
When there's usage, there's definitely going to be engagement. And that's what we are about to see here – chatbot engagement statistics. 
18. According to Drift, a massive 87.2% of consumers have rated their experience with a chatbot as positive or neutral.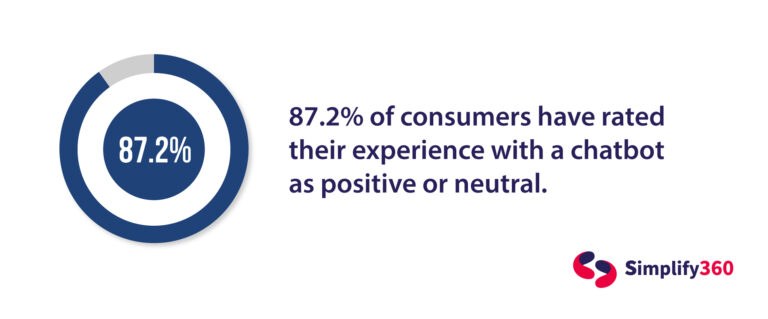 19. Chatbot is the brand communication tool with the highest growth percentage since the year 2019. Chatbot usage has increased a significant 92% since 2019. (Drift)
20. Users are continuously showing interest to use chatbots. They use chatbots to purchase online, schedule meetings, email subscriptions and more. This growth rate was 2x between 2019 to 2020. 
21. 40% of millennials (individuals becoming young adults in the early 21st century) state that they engage with a chatbot bot on a daily basis. (Mobile Marketer)
22. A huge 58% of B2B companies use chatbots on their website. Whereas, only 42% of B2C companies make use of chatbots on their website.
23. Chatbots that provide better experiences can bring in 80-90% response rates. Whereas, low engagement chatbots witness only 35-40% engagement rates. 
Those were the chatbot statistics about chatbot usage and engagement. This brings us to the next section. When there's usage and engagement, there should be conversions. You guessed right! We're about to look at chatbot conversion statistics.
Chatbot Conversion Statistics
If you think chatbots are only for customer support and answering questions, you're totally wrong then. A lot of businesses today use chatbots for conversions – all it takes is a bit of training and your chatbot can take care of the conversions for your business. 
You can use a  chatbot to schedule meetings, book reservations, contact customer support and whatnot? That said, let's look at some of the key chatbot statistics related to conversions. 
24. In the year 2020, an approximate 41.3% of consumers stated that they used chatbots to make purchases. (Drift)
25. 33% of consumers want to use chatbots for making reservations at hotels or restaurants. (Drift)
26. A massive 41.3% of consumers were willing to use a chatbot to make purchases in 2020. This was only 17.1% during 2019. 
27. 55% of businesses that make use of chatbots regularly were able to generate high-quality leads.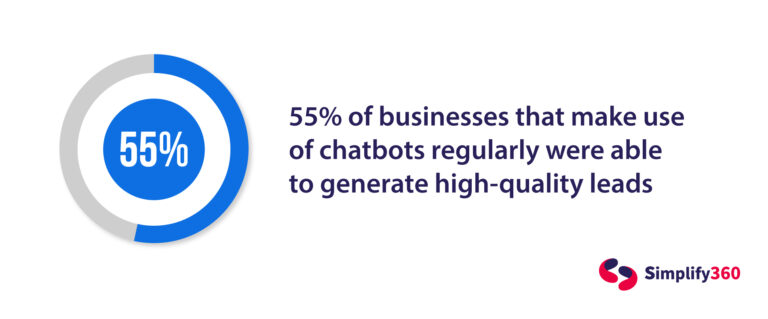 28. Business leaders claimed chatbots have been able to increase sales by 67% on average. 
29. 57% of businesses say that chatbots deliver a huge ROI with a very minimal investment. 
30. The top 5 industries that are benefitting by making use of chatbots are real estate (28%), travel (16%), education (14%), healthcare (10%) followed by finance (5%). (ChatbotsLife)
The above chatbot conversion statistics clearly tells you that chatbots are not only for customer service and support. Businesses use chatbots to drive sales and close conversions as well!
So, that was all from the productivity side. Let's now look at what consumers feel about using chatbots!
Chatbots are a boon to businesses – there's no doubt it! But for a minute, how do consumers feel about having to use chatbots for customer service and other things? 
Well, in short, here's how people feel about using chatbots!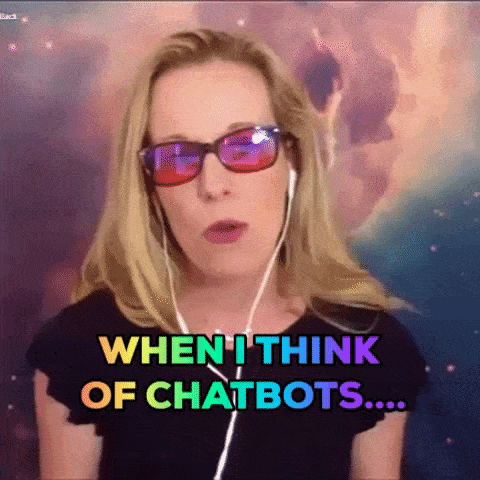 That's true and the statistics below stand proof for this! Okay! Here are the chatbot statistics related to consumers. 
31. Only a meager 9% of consumers think that companies should never make use of chatbots (Userlike)
32. One-quarter of respondents in a survey (22%) stated that they trust chatbot recommendations for product purchasing. (Cognizant)
33. When customers were asked how they would rate their experience with a chatbot, 65% of them said it was for friendliness and ease of use while 62% of respondents said it was for speed and 55% voted for accuracy. (Aspect)
34. A huge 70% of millennials reported having positive experiences with chatbots. (Forbes)
35. 40% of consumers don't care whether they are engaging with a chatbot or a human as long as they receive the support they need. (HubSpot)
It's not all positive. There are a couple of negative stances as well, more of a misunderstanding we would say! 
36. 46% of consumers feel that the chatbots are only present to prevent them from reaching a live customer support agent.
37. 60% of consumers strongly believe that humans can understand their issues better when compared to a chatbot. (Business Insider)
38. 46% of people care whether a chatbot is able to solve their issues more than about its personality.
The above chatbot statistics clearly show how bots are perceived by consumers today. While there might be a bit of uncertainty when it comes to chatbot usage, it just needs time to settle. Advanced chatbot technology is still new to most businesses and they need time to make their chatbots the best! 
That brings us to the last section of our read!
We've come across so many chatbot statistics speaking about the usage, engagement and conversion capabilities of chatbots. We also saw statistics that show how consumers feel about using chatbots on a daily basis.
Now, we'll look at a couple of statistics that give you an idea about chatbot future trends and justify the statement "Chatbots are here to stay!"
39. By the year 2021, $4.5 billion will have been invested in chatbot technology. (Opus Research)
40. By the year 2024, the worldwide chatbot market will be somewhere around $994 million. (ClickZ)
41. By 2022, chatbots will be able to save businesses over $8 billion per year. (Juniper Research)
42. It is predicted that by 2021, more than 50% of companies like IBM, Facebook and Google will spend additional money each year on chatbots than on mobile applications. (Gartner)
43. 70% of white-collar workers will engage with chatbots on a daily basis by 2022. (Gartner)
44. Juniper Research says that by 2022, a massive 75-90% of the queries are expected to be taken care of by chatbots. 
45. With chatbots in place, companies will be able to save an approximate $2.5 billion customer service hours by the end of 2023. (Chatbots Life)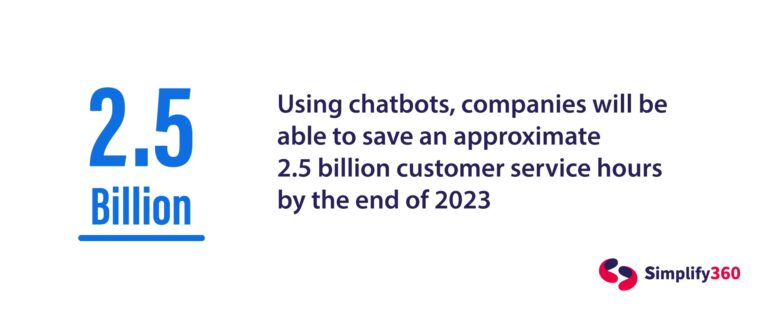 46. Companies that have between 1 and 50 employees are the ones found to use chatbots more than others. (Think Relay)
47. An approximate 96% of businesses strongly believe that chatbots are here to stay. 
48. The projected value of chatbot eCommerce transactions by the year 2023 is $112 billion.
49. According to Google Trends, the interest in chatbots has increased 5x times in the last 5 years. 
50. Calculating a CAGR of 24%, the worldwide chatbot market is expected to reach an astonishing USD $1.3 billion by the year 2025.
The above-mentioned are the chatbot statistics related to chatbot future trends.