Businesses are going in hard with their investments into the digital customer experience to level up from the competition and become customer experience-centric. WhatsApp Business automation offers robust capabilities that help businesses drive customer service beyond the norm and accelerate resolutions. Losing customers over poor customer service is an expensive loss; acquiring new customers is approximately 6 times more expensive than retaining an existing customer.
According to research by HubSpot, 90% of customers rate an "immediate" response as important or very important when they have a customer service question. 60% of customers define "immediate" as 10 minutes or less.
WhatsApp, released in 2009, revolutionized the mobile messaging app market and redefined messaging experience. With over 2 billion users, WhatsApp has tremendous potential to help businesses grow. But simply existing on the channel is not enough, businesses are going above and beyond with the opportunities provided with WhatsApp API and WhatsApp for businesses. Some companies have even gone to the extent of completely automating the entire conversation flow or deploying conversational AI to handle a major chunk of inbound communications.
In this guide, we will walk you through everything you need to know about WhatsApp automation, right from what it is to how you can leverage it to deliver seamless, personalized digital experiences.
What is WhatsApp Business API?
WhatsApp Business API helps large businesses scale their WhatsApp messaging abilities and connect with customers globally.
With WhatsApp Business API, businesses can respond to customers' messages for free for up to 24 hours and pay a fee for outgoing messages for conversations that customers did not initiate.
WhatsApp Business API offers companies the opportunity to connect their systems to send automated messages through WhatsApp. They can also gain control over messaging and track the performance of their WhatsApp campaigns.
What is automation on WhatsApp Business?
WhatsApp Business is a free mobile application for businesses, typically small businesses. It's available to download app stores for Android and iOS and entails basic features such as a verified business profile and fast replies.
Some disadvantages of WhatsApp Business are that companies can only access one account from a single mobile device, meaning all customers must be responded to from that device. Due to these drawbacks, WhatsApp Business is impossible to scale for medium to large businesses.
What are the differences between WhatsApp Business API and WhatsApp Business App?
WhatsApp Business App 
WhatsApp Business API 

Best suited for small businesses 

Best suited for medium and large businesses 

Free to use

Free

responses to customers within 24 hours. Fee for templated messages

Easily available 

Available through a solutions provider 

Accessible only through a single mobile device.  

Accessible through multiple devices and integrates with customer service platforms.
Automation for WhatsApp Business API
With the support of a solution provider like Simplify360, a business can automate its customer service on WhatsApp entirely. WhatsApp API is loaded with state-of-the-art automation capabilities.
The list below highlights the essential automation capabilities on WhatsApp:
Automate message flows from start to finish
You can organize customized messaging flows for the length of a standard conversation and address different conversation stages. This is ideal for frequently asked questions, low complexity issues, and recurring tasks, with WhatsApp automation, you not only reduce first response time, but you also enable your agent to be more productive and target complex issues.
There is a common misconception that automation leads to sacrificing personalization and the human touch, but with platforms like Simplify360, you can customize your messages to be consistent with your brand voice across platforms. With automated WhatsApp messages, you can remove room for any human error.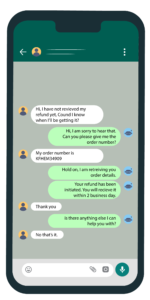 Automate your entire sales journey with a WhatsApp Business bot
WhatsApp bots are a fantastic tool for businesses to automate the complete selling flow without any human intervention. The bot can be customized to ask customers what they need, display product catalogs, and even enable instant payments. With a WhatsApp bot, you can be available 24×7 to help your customers, and for any complex issues, you can seamlessly transfer cases from the bot to a human agent.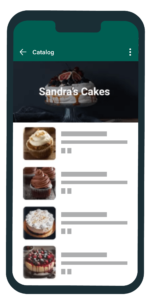 Automate proactive support messages
With WhatsApp API, you can enable proactive message templates, this feature works once your customers opt-in to receive these messages from you. Once customers agree to receive these messages, you can use this feature to automatically share transactional updates related to orders, schedule appointments, and enable payments.
This feature reduces the need for customers to reach out for information about order status, delivery status and reduces repetitive cases on agents.
Automated WhatsApp Business Messages
Automate Welcome Messages
The automated welcome message feature enables you to trigger a response to your customer's message as soon as their query comes in. This ensures customers know they are heard, and quick responses show customers you care. You can set their welcome message from the business tool section in the WhatsApp Business App.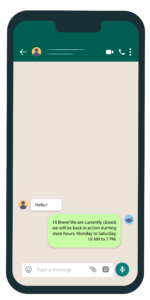 Automated away message for non-business hours
Automate away messages for customers who reach out after business hours to inform them when you'll get back to them. With this feature, you can ensure your customers know their question has been received. This helps prevent customers from walking away feeling ignored and unhappy.
Quick replies to FAQs 
You can save and reuse messages for FAQs with the quick replies feature. You can also assign a 'tag" to saved messages and find them by typing the keyword. By sending saved messages, you respond to a customer faster and reduce the amount of effort your agents have to put in. 
Conclusion 
WhatsApp is a powerful platform to integrate as a primary customer touchpoint, and with the added benefits of WhatsApp API, you can deliver the support your customer deserves. With a platform like Simplify360, you can manage all your customer touchpoints from a centralized platform to maintain consistency in the support you provide and respond to customers from one place regardless of the channel they used. 
With the help of Simplify360, India's leading DTH platform saw a 40% reduction in cost per resolution after integrating WhatsApp Business automation. 
Their focus was to reduce the number of calls their customer care centers received about standard requests or FAQs. By integrating automated messages on WhatsApp Business they were able to deflect over 20% of subscription package related queries.
Deliver seamless customer experience with WhatsApp Business