Let's get to the point!
There could be three reasons why you're searching about "scaling customer support!"
Your business (or the firm you're working for) is growing and you're witnessing an increased number of tickets/case volumes. You want to know how you can scale your customer support and uphold customer experience.

You're witnessing increased first response times and bad CSAT scores. You want to set things right.

You're just a vivid reader who is somehow related to this field and you want to know more about scaling customer support.
If it's the first reason, take a moment to appreciate yourself!
If it's the second one, well, it happens and there's nothing that can't be fixed.
And if it's the third one, sit back and relax! You're going to love this! 
As an omnichannel customer service platform, one thing that we've understood (and practice constantly) is, businesses ought to deliver great customer experiences to thrive!
The landscape has become competitive and good customer service can prove to be a great deal for your business. 
To do this, scaling your customer support is a must! And that's exactly what this read is all about!
Let's get started, shall we? 
7 Ways to Scale Your Customer Service Support Team
Before we look at steps, scaling customer support means making things better for your customer support team.
It is the process of making your support team more efficient by refining existing practices, fixing customer support scaling issues and empowering them!
That being said, let's look at the steps.
1. Empower Your Customer Service Support Team
We wanted to start with this because this is one of the issues that most businesses don't address. Or understand. 
"Customer service is more than just giving responses to customers. It is the process of creating experiences and building long-term relationships!"
At times, your support staff might face a situation that's different from the usual. And at those times, they need to take a judgment call and do what's best for the customer. 
This has to be done quickly and the agent can't expect you to give inputs, especially when the conversation is happening on a call or on a live chat! 
In order for the agent to give the best customer experience, you need to give them the free will to make decisions!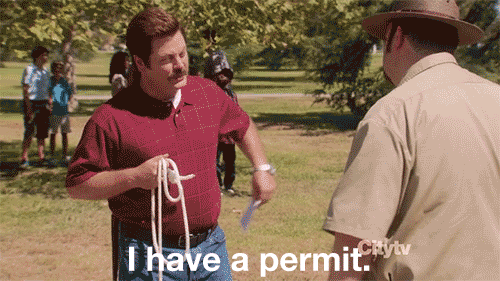 You need to trust your support staff and believe they'll make the best decisions for your customers – decisions that'll make a difference and deliver a great customer experience!
When your support team knows you believe them, they'll go above and beyond to uphold the trust factor. It's a sense of respect and responsibility you give to them!
There's another benefit as well! Customers recognize when a support staff puts in extra effort to resolve their issues. And some might even appreciate this in the form of reviews.
It's a win-win situation. 
Businesses that understood this were able to provide great customer service every day.
One good (and popular) example of customer service support team empowerment is Ritz Carlton's $2000 empowerment rule!
Ritz Carlton is an American multinational company that operates over 100+ luxury hotels across 30 countries. They came up with a rule that allows their customer support agent to spend up to $2000 per customer to resolve their requests during the stay.
The goal is to make customers happy and give them a great experience. And the empowerment rule enabled them to do so!
Ritz-Carlton didn't mind the $2000. What they calculated was the average lifetime value of their customer which is $250,000! 
Clever! 
Here's an article where Ritz-Carlton says how important it is to empower your support team!
Insightful, right? 
Analyze your business and find out the rarest scenarios your customers could face. This helps you come up with an empowerment plan! 
Having a customer service playbook with FAQs and routine processes can come in handy. Your agents can stick to the guidelines and exercise free will at the same time – makes the process more optimized!
When your customer service support team works on free will, you don't have to worry about the CSAT scores! 
2. Embrace Automation to Scale Your Customer Support
You might think, doesn't this take away the personalization factor?
Yes, it does! But, think of the time and effort you could be saving!
For example, assume you're running a cakery! What would be the most common queries you'll get on your website?
Is there a specific type of cake available in your store? 

What are the business hours of the store?

What is the normal delivery time for an order?

Is the store open to receive orders now? 
These are some of the questions you are likely to receive multiple times a day. If you (or your service agent) start responding to these types of questions, it is not only going to consume time but also effort!
Instead, you can automate responses to these questions and the chatbot can take care of these itself!
You know about your business better than anyone. Simply come up with pre-written responses for the most common questions.
This saves huge time and effort. And by huge, we mean really huge! Here's a quick calculation to help you understand this! 
If a customer service support agent spends 5 hours a week answering repetitive questions, he/she is spending 20 hours a month. This quickly adds up to 240 hours per year, per agent.
Calculate it for 10 agents and you'll see why we stress automation so much!
These are valuable hours that can be put for other productive purposes. Your support team might get some breathing space and even deliver better customer experience! 
This is exactly what one of our clients, Goodworker, a job matching platform did!
They automated answers to FAQs and repetitive questions. This helped them bring down their first response time within a week – good for them! 
Similarly, you can come up with pre-written responses and templates for specific questions. And your chatbot is going to shoot answers the minute a customer asks something – 24/7! 
If the case needs human intervention, chatbots can automatically route tickets to agents based on the nature of the issue. This helps specialized agents take care of issues they are experts at! 
Remember, getting instant relevant answers is better than long-waited personalization.  
👉 This beginner's guide to customer automation can help you understand how automation can help improve and grow customer service!
Note: Chatbots and automated responses are great for post-sale chats and service-related inquiries.
3. Bring In the Self-Serve Approach
Since we were speaking about automation, we thought of bringing this up as well!
The self-serve approach is nothing but allowing customers to find solutions for themselves. This might question your entire understanding of customer service but that's how things are today!
In fact, a survey revealed that 70% of consumers expect a company to have a self-service model.
Two things happen here,
Your customer service support team isn't going to be barged in with support requests and tickets.

You don't have to worry about the first response time because it's your customers who are taking care of the process.
But make sure that you give them everything they possibly need – guides, tutorials, FAQs and more.
If you think this isn't a great idea, what's coming below should change your mind!
Tata Sky recently made WhatsApp one of their customer service channels and went for a self-serve approach. Customers can now add new channels or opt for a new subscription without human assistance.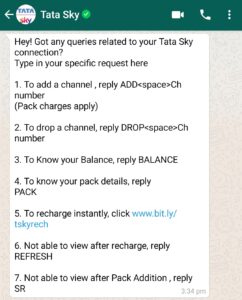 Incredible, right? 
Tata Sky now serves more than 1 million customers on WhatsApp per month and resolves more than 5 million common queries. Also, they were able to decrease their cost per resolution.
The goal is to help customers get instant resolutions – doesn't matter how (as long as they are okay with it). 
👉 This case study here will help you understand how Tata Sky decreased their cost per resolution up to 40% with Simplify360!
Customers are going to get delighted when they get instant solutions rather than waiting for someone to assist. 
One other example is Zomato chatbots! You can accomplish anything with regards to your food delivery with the chatbot – including refunds!
See how you can bring this into your business – a little brainstorming should do the trick.
4. Train Your Support Staff
When trying to scale your customer support, you should make sure that your support team has got the necessary training.
If you're increasing the manpower, it could be a difficult task onboarding the new employees. If you're purchasing a new tool for the team, they need to get used to it at least for a while. 
Whether the employee is new to your company or an existing one, use training sessions to overcome the above challenges. Make training a normal process every month or in a quarter.
Providing training to your customer support service team and improving their skills is as important as introducing new workflows or tools into your company.
Speaking of which, here are the top 5 ways to improve customer service skills!
See to that your support team is sound enough to handle all kinds of queries!
5. Write Down the Important Routines & Processes
Even though there's rigorous training, it's always good to have written documentation of the procedures your company follows, especially the crucial ones.
And every customer support agent should have access to the same. You never know when a least expected or a crisis situation might come up! 
Your support team should be well equipped at these times to make decisions on their own. 
When you document the crucial processes, it can be way more useful than you think  – sometimes, it can even save the face of your business!
6. Hire the Right Kind of People
Of all the ways to scale customer support, you've got to give great importance to this one! Because this is where it all begins!
Our marketing team would be happy if this read performs well. Similarly, your support team agent should feel happy when a customer leaves delighted. And they should do everything in their power to make that happen. 
It's only these kind of people that are going to help scale your support. Also, your support staff should have the ability to make the right decisions at the most crucial times. 
Include aptitude and personality tests as a part of your interview process. And make sure the individual you hire is a team player!
7. Monitor, Analyse and Tweak Constantly
There's no fixed routine when it comes to scaling customer support. It's just about following the best practices and giving your customers the best experience.
So, it is important that you check the key metrics like Customer Satisfaction Score and First Response time to get an idea about how your support team is performing.
Going forward, you should take a look at other important customer service metrics as well!
When you find that these scores are depleting, you need to find out the issues and fix them at the earliest. 
Make it a practice that you periodically analyze metrics, explore new strategies & tools and find areas that need improvement. This makes the overall process super easy. 
So, those mentioned above are the 7 best practices to scale your customer support! That said, it's time we wrap it up! 
Scaling customer support is a common problem these days and almost all businesses face it. It's all about how you overcome this and continue to uphold your brand's image and tone.
Starbucks doesn't deliver the best coffee. But it is known to keep its customers happy by delivering the best customer experiences!
Similarly, when you manage to scale your customer support and deliver great customer experience, you are going to witness loyal brand advocates in the long run.
Just make sure you don't lose your brand's identity and personal touch in the process!
Here's a quick summary about what we just discussed above,
Empower your customers and allow them to make decisions that are best for customers and your business.

Automate responses for repetitive questions and FAQs. This saves time and improves productivity within.

Introduce the self-serve approach and let customers help themselves.

Give your support staff the training they need to deliver great customer experiences. 

Hire people who you think are a good fit for the role.

Constantly monitor your team's performance, key metrics and make the necessary changes. 
So, that's pretty much it! 
Now that you have a clear idea as to how you should go forward, why wait? 
Start scaling your customer support right away! 
And yes! Feel free to reach out to us in the comments section if you have any questions on this!
Cheers!