That's a great initiative you've taken right here! You've realized that the business you're about to start or the one you're currently operating, needs a customer service strategy in place.
If it's the first case, then you're starting off on the right track. If it is the latter, your business might have delivered poor customer experiences or they could have been a couple of fierce conversations with the support team. And you're planning to make things right by having a customer service strategy in place.
Whatever the scenario be, this blog is all you need! We have covered everything you need to know about customer service strategy including the importance of customer service strategy, the benefits of having one and even a couple of best customer service strategy examples.
That said, let's get started with the blog by covering the basics first.
Understanding What Is Customer Service Strategy
A customer service strategy, in simple terms, is the action plan you have set in place to resolve customer issues and meet their expectations.
It includes the way your business interacts with your customers, the service modules you have implemented to provide support, actions you have taken to gauge their satisfaction, agent empowerment and more.
A good customer service strategy should take into account customer happiness as the key focus and how they can delight them across the different touchpoints of their business throughout their journey.
This starts by understanding what exactly are the needs of your customers, what they want from you and their continued expectations from you as a business. Only when you have a clear understanding of this part, you'll know how to build a successful customer service strategy framework.
Now that you know what a customer service strategy is, let's look at the benefits.
Benefits of Creating a Customer Service Strategy Framework
Businesses that use a customer service strategy are always known to enjoy the benefits that come along with it. And in this section, that's what'll be taking you through – the benefits of implementing a customer service strategy framework.
1. Improved Customer Satisfaction
A good customer service strategy can directly contribute to improved customer satisfaction. Because when customers' needs are met constantly and they get what they want along with great support, their satisfaction levels are going to be at the peak level!
This will lead to what we're about to talk about next!
2. Increased Customer Loyalty
When your customers are satisfied, they have no need to look for other options – mainly your competitors. And if you keep them satisfied for a long time, they slowly become your loyal customers.
The best part is, they even promote your business to other potential customers – free word-of-mouth marketing.
3. Better Sales & Revenue
When you have a loyal customer base by your side, you can witness an evident increase in the number of repeat purchases. This simply means better sales and revenue on the go.
4. Upper Hand Over Your Competitors
A good customer service strategy is the key to satisfied customers and sales. This likely means you have a higher hand when compared to your competitors.
No matter how much they try to win your customers over, they stick loyal to your business. But again, when they start to feel even the slightest discomfort or if your customer service strategy framework is falling apart, you can expect customer churn.
5. Improved Brand Reputation and CLTV
This is again closely related to word-of-mouth marketing. Satisfied customers can directly contribute to your brand reputation. When the word spreads, there's going to be even more customers onboard.
Also, the more loyal your customers are, the longer they tend to stick around – increased customer lifetime value.
Now that you know the importance of a customer service strategy, let's look at some of the best customer service strategy examples before we tell you how to build a customer service strategy framework.
Best Customer Service Strategy Examples
As we said already, businesses that use customer service strategy wisely benefit to a great extent both in terms of branding and revenue. Here are some of the best examples where businesses mastered "customer service strategy" like a PRO!
1. Starbucks Customer Service Strategy
Starbucks is one of the best examples when it comes to customer service strategy. Based on our research and what we observed, here are a couple of key points to note in Starbucks' customer service strategy.
1. Focused on creating personalized CX
Though a B2C company that mostly sells beverages to make a profit, it managed to deliver personalized experiences for each customer with customized drinks, human-touch service and a great atmosphere. The drinks written with customers' names also made a great difference.
2. Quick, Convenient Service
Though the landscape constantly changed, Starbucks leveraged tech and made the most out of it. WOith mobile ordering and points to redeem for orders, Starbucks really made ordering easy for customers, not to mention drive-thru pick-ups. One can even place an order in their nearest store and pick it up on the go.
3. Instant Customer Service, Especially on Social Media
You should definitely check up on the social profiles of Starbucks. They come up with great tweets and instant support for any queries that customers come up with – effective social media monitoring!
Here, even though Starbucks wasn't tagged, they were able to monitor the tweet and respond to it.
Though we can come up with a lot of other points on Starbucks customer service strategy, for the moment, we can say that Starbucks is focused on delivering customers amazing experiences, super quick support and easy ordering.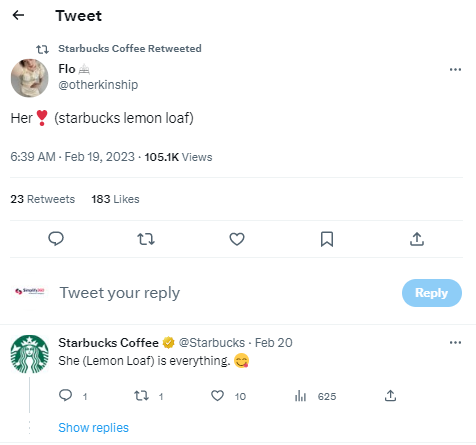 2. Amazon Customer Service Strategy
As an individual, how many times have you ordered, canceled and returned on Amazon? And every single time, they might have been ensured seamless delivery That's what Amazon is known about – providing customers with the best experiences whether it be order queries or returns, or cancellations.
Amazon makes sure that its customers are empowered and allows them to take decisions based on scenarios. 
All you have to do as an individual is, give them your order number and the support representatives will give you everything you need!
The key takeaway here is – treating customers as top-priority no matter what and empowering agents to provide the best support possible.
Ritz Carlton is another great example of customer service strategy.
They go above and beyond to deliver great customer service. One classic example is, the employees of Ritz Carlton are empowered with $2000. This is to enable agents to provide customers with their instant requests – in case they need something to be purchased or looking for some services that are not available.
This makes customers more loyal to the brand making them their repeat customers. Ritz Carlton might not end up spending $2000 on every customer. But even if they do, the customer's lifetime value is far greater than that!
Again, the key strategy here is to make customers happy even if it costs them $2000, making them their loyal customers forever.
So, those are some of the best customer service strategy examples. Now that we've covered the basics, let's see how to build a customer service strategy for your business!
7 Steps Build a Successful Customer Service Strategy
In this section, we'll take you through the step-by-step procedure to successfully build a customer service strategy that works for your business.
1. Creating a Customer-Centric Culture
The first step to creating a customer service strategy is making sure that you promote a customer-centric culture within your organization.
Because only if you and your agents believe that the customer is the top priority, the customer service strategy you create will be of use.
Now, customer-centric culture simply means doing everything within your company with customers at the heart. Even though it's the top people who define the customer service vision and values, it's the employees who execute it on a daily basis. So, it's important to make sure that your employees align with the vision
To encourage employees, make sure there are additional incentives, rewards, recognition and shoutouts. This will keep them motivated and helps you keep the customer-centric culture intact.
2. Gather Data to Understand Customer Needs
To know what you need to build a customer service strategy, you need to understand what your customers need in the first place. And to do that, you need to effectively map your customer journey across all touch points.
Talk to different teams within your organization to understand what the most common customer pain points are and what customers expect out of your business. It's the minor points that are overlooked that have the most valuable insights that you can focus and grow on. 
While it's important that you hear from your team, it's equally important that you talk to customers. Get in touch with your customers via surveys and know what they are expecting from you.
This can help you figure out issues that you have to resolve immediately and the ones you need to figure out in the long term. Other information like opportunities to grow, things you have been missing out on and how satisfied your customers are can be figured out from these surveys.
3. Understand Your Customer Service Team's Performance
Again, before you make any plans, it's important to gather data on your customer support team's performance as well.
The data can help you figure out what your customer support team is facing. Increased support tickets? Increase handling times? Poor CSAT Scores? These kinds of issues can be figured out and you can align your customer service strategy accordingly.
4. Figuring Out What Can Be Done to Resolve the Issues
Now you have clearly visible problems on your hand. Your part is to figure out what can be done to resolve these issues.
If you're facing a high number of tickets, you should consider increasing the manpower. If there's an increase in the average handle time, consider enhancing your knowledge base.
If you have tickets coming in from multiple channels, deploy an omnichannel support software to manage all your queries from one inbox.
Once you know what's the problem, finding a solution is pretty easy.
5. Set Goals in the Form of Metrics
So far, you have implemented a customer-centric culture, gathered customer feedback & data, understood your customer service team's performance and even the solutions to queries.
Now, the next step is to set goals for your support team. And these mostly are in the form of metrics. You already know what your support team is lagging in. Make those metrics as benchmarks.
Some of the most important customer service metrics are,
Customer Satisfaction Score (CSAT)
Net Promoter Score (NPS)
First Response Time (FRT)
Average Handling Time (AHT)
Ensuring that these metrics are good will give you a basic outline of your support team's performance.
6. Empowering Your Support Team With the Right Tools
This is an unsaid part of a customer service strategy. Even though you find all the root causes of the problems, to ensure smooth support at all times, you need to empower your agents with the right tools.
Here, we've mentioned the customer service tools you need to provide great support.
Omnichannel Support – Allows your agents to monitor and respond to all support queries from one place.
Live Chat – Provide customers with 1-1 human support when they need it.
AI Chatbots – 24*7 automated, intelligent support.
Review Management Platform – Monitor and respond to online reviews and improve online reputation.
Social Listening – Monitor customer conversations and offer proactive feedback
With these tools by your side, can provide seamless customer support at all times and ace those metrics. Apart from this, you need to constantly train your support team and make sure they stay updated with the products and customer issues.
7. Hiring the Right People for Your Support Team
As mentioned before, it all starts with your customer support team. Only people who are compassionate and show empathy will be a perfect fit for your support team.
So, while hiring support agents, make sure their interests align with your company's interests – customer happiness and satisfaction.
That said, those are the seven steps to build a customer service strategy. It's great that you're trying to build a customer service strategy but it's equally important that you make sure you constantly monitor if the strategy is still intact.
It does take time to settle in and see changes but consistency is key, not only from you but from your entire team. If there's something falling apart, make sure to find the root cause and fix it at the earliest possible, to make sure it doesn't go out of hand.
Now that you know how to build a customer service strategy framework for your business, go get started right away!