Dear readers,
As we approach 2023, the social media world has introduced some new features. While some platforms are excited to be showing off their strategies, others have found themselves stuck in a rut.
To see what platform is up to what, continue reading till the last!
1. Introducing Twitter 2.0
First up, we have Twitter 2.0. Only last month, we informed you that Musk had taken over Twitter. Now, with a series of presentation slides, Mr. Musk has introduced his insights for twitter's future.
But before we dig into the pointers of Twitter 2.0, did you know that the platform will soon be pushing its hiring? And, this sure is needed. After all, Musk and his team have already fired almost 65% of its workforce!🤯
Yeap! Let that sink in!
Moving onto Musk's grand vision, which as noted, is evolving quickly.
The first slide shows that new account sign-ups are now at an all-time high.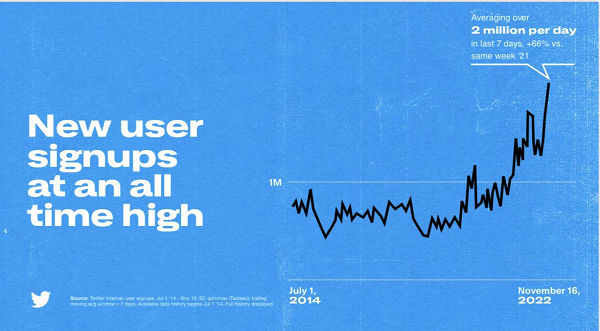 The data gathered goes as back to 2014. This doesn't claim any substantial growth in Twitter's fame. Rather, if you think, this can be due to Instagram being stuck in its current identity crisis phase.
As active users, what we really want to know is the location of these new sign-ups. Are these US users? Or, are these scammers signing up with different accounts to get a blue tick? Let us know what you think in the comments below.  
Moving on to the next slide. It talks about User Active Minutes – again at an all-time high!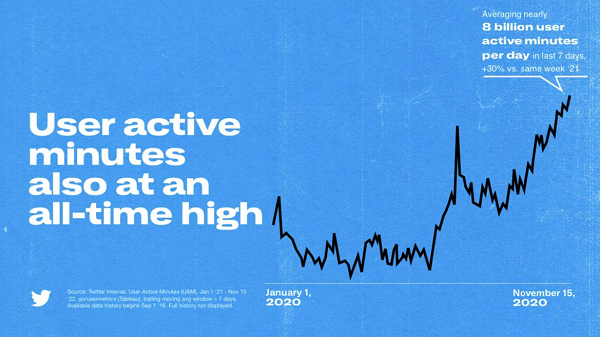 The graph, when divided by the currently active users, shows that the average time spent by Twitteratis is 31.5 minutes per day. This isn't very different from the previous reports. Although many reports (of course not by Twitter) have claimed that the average time spent by users on Twitter has been on a decline. 
If anything, the data concludes that the platform is back to its previous performance level. And, we may thank Musk and his capacity to spark controversy.🤷
Continued data also claims a decline in hate speech. However, the slide does seem questionable.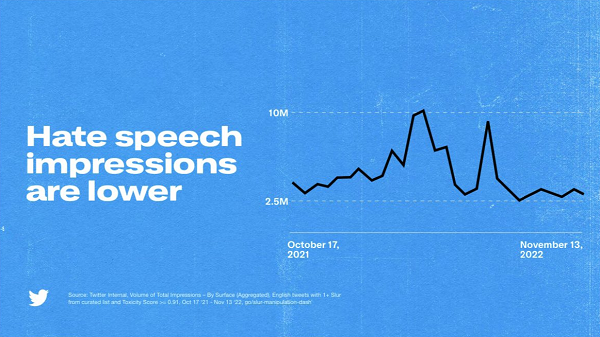 If you can make it from the small text content, the qualifying category is a bit vague. With tweets having '1+ slur' from a curated list and a 'Toxicity score' of 0.91 or higher, it lacks full context.  
Other reports by Twitter also claim a decline in impersonation. Now, this may be due to the platform initiating the $8 verification plan. Only time can tell. 
While this is all about Twitter's data reports, we are not nearly done discussing Twitter 2.0.
Musk has also introduced his overview of the current roadmap which we must say is a re-angling of Twitter's existing features. 
Look at the image attached below.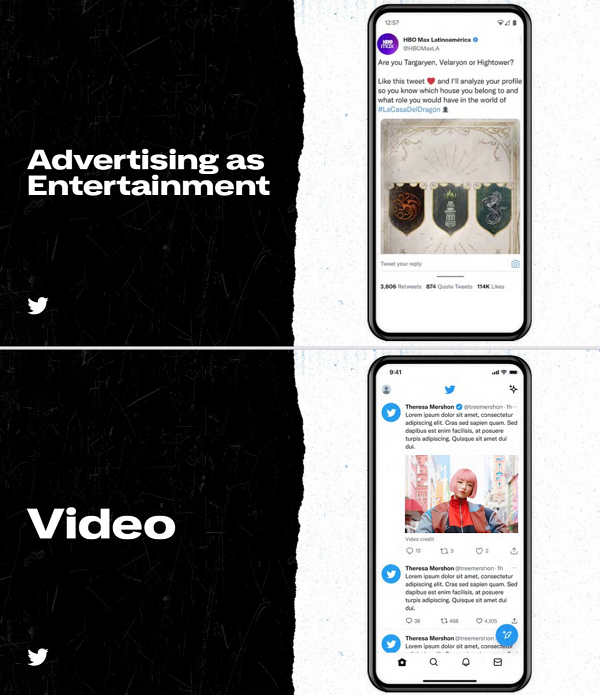 Much isn't clear from this image. All that we know is the feature Advertising for Entertainment aims at creating a more engaging ad experience. The Video feature, on the hand, is abstract. While we don't know what it means, we do know that musk has flagged attaching longer video clips to tweets. 
Other important features to keep in mind are, Branded Likes, Encrypted DMs, and Longform Tweets. 
Let us know in the comments below if you want to know more about the new (but not so new) Twitter 2.0. And, we sure will come up with an entire blog dedicated to this!
2. The End of Pinterest's Creator Rewards Program
If you've ever spent more than 20 minutes on Pinterest, you must be aware of its functioning. 
The platform allows created content as well as themed Idea Pins. Earlier the platform enabled visitors to make money by creating these themes Pins – delivered by Pinterest itself as monthly prompts. And this very feature is now coming to its conclusion. 
As reported by The Information, 
"After the program's conclusion on Wednesday, [Pinterest] will pay a one-time bonus to creators in the program who participated in at least one reward goal in August, September or October, a Pinterest spokesperson said. The company declined to share how much it was giving away in bonuses or how many people were part of the creator rewards program."
However, the feature's end isn't surprising.
Other social platforms that have offered similar incentive schemes have also found it unsustainable. For example, Snapchat's Spotlight Program has now been routed to be more aligned with more targeted themes. And, TikTok's still figuring out ways to ensure its top stars get paid.
What's the failure of this feature?🤔
For starters, direct payments from platforms ideally guide creators into other monetizing ventures. This feature however gears them towards building resilience on those payments themselves.
PS – We are NOT discussing Pinterest's latest $500k Creator Fund Program.
The program is closed since November last week.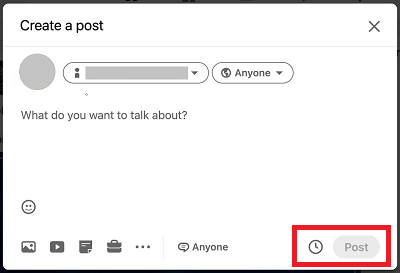 As can be seen in the above image, the new feature will enable users to maximize their presence on the platform. As explained by LinkedIn itself, it will be a straightforward process. 
All you need to do is – tap on the clock icon, enter the date and time for the post to go live, tap next, and then schedule.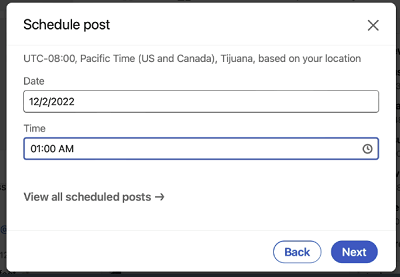 This isn't really a game-changer. Various third-party social media management apps exist to do the same. However, the native scheduling option is a bit more reliable. Especially, when it comes to seeing a preview of your scheduled posts. 
The feature is not live yet and is still being tested internally. 
LinkedIn has also assured that the feature will soon be made accessible for Groups and Company Pages. 
Now that is a great way of being mobile-friendly!📲
4. WhatsApp Enables Self-Messaging
Have you ever blocked a certain contact on your WhatsApp and then used their chat window as your grocery shopping notepad?
Well, you can save yourself from the trauma of revisiting this infamous note-cum-chat window! With WhatsApp's new feature, the app is all set to allow users to send messages to themselves.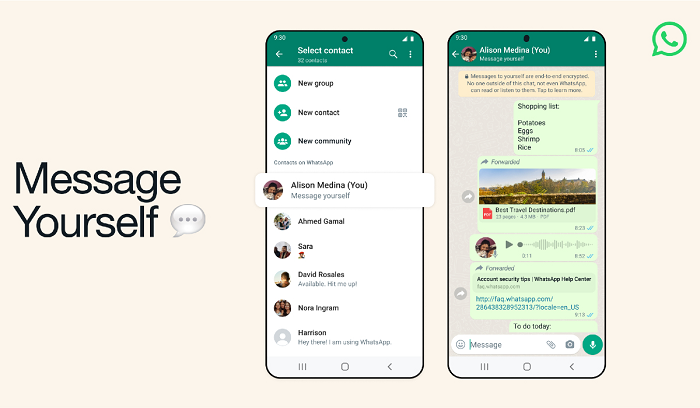 As can be seen in the above image, you can now find yourself as a contact in your WhatsApp recipient list. 
The feature has been in test for some time now. Beta users got access to it in October. And now, the platform has confirmed the feature is being rolled out to all users, Android and iOS alike!
So take self-love to next level and send yourself that "Good Morning Beautiful" text!💝
5. YouTube Enables Editing Image Posts And Quizzes for Communities
Do you all recall YouTube's Community Post feature?
Community posts were introduced as feed-based updates to be used within the 'Community' tab. Essentially a social media-style update feed, the feature was designed to help creators enhance engagement with their community. 
Note – You must have over 500 subscribers to have the community tab.
In its recent attempt to enhance this feature, YouTube has launched two new tests.
First off, the video-based social media platform is expanding its editing process. The feature is available for image-based posts, now providing more ways to compose Community updates.
According to YouTube, 
"If you're a creator in this experiment, you'll be able to use the YouTube app to add filters, text, and stickers to images for posts. This experiment will roll out to a small percentage of creators who use iOS devices and have the Community tab enabled."
Secondly, the platform is also adding quizzes as Community posting option. This can help creators generate direct engagement and interaction with viewers. 
The significance of Community Posts is still a vague concept when it comes to user engagement. But, it sure is a valuable complement to your video uploads. 
It simply enables you to share more, engage more, and increase more! 🥳
6. Meta Streamlining Facebook - Promises Easy Navigation
Social Media expert Matt Navarra announced that Meta has been sending out notifications regarding the removal of various fields. These fields include
Dating Preference
Religion
Political Views
Address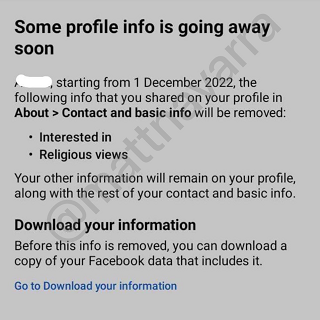 Meta claims that the removal of these profile elements is to ensure easy navigation for users. In an official  statement, the company stated,
"As part of our efforts to make Facebook easier to navigate and use, we're removing a handful of profile fields: Interested In, Religious Views, Political Views, and Address. We're sending notifications to people who have these fields filled out, letting them know these fields will be removed. This change doesn't affect anyone's ability to share this information about themselves elsewhere on Facebook."
Wondering if this will impact their ad targeting? 🤔
You are right if you're wondering this. After all, if people won't list their religious affiliation, it cant be used as an ad element. 
In truth, Meta has removed these aspects as part of revising its data option. In other words, these aspects have already been removed from ad targeting options. The initiative is also aimed at better aligning with Europe's GDPR. 
Europe, in 2018, came out with a law that prohibited user targeting based on such elements – unless consensual. Since then, meta has been railing against it. However, considering the current global shift that prioritizes privacy and data control, Meta eventually gave up. 
The removal of these personal information fields shows that these have no individual significance. Rather, each of these elements has led to discrimination.  
As claimed by Meta, all of these fields have been ineffective since December 1st.
7. The Beginning of a Musical Instagram Feed
As you must be aware by now, Instagram has completely shifted its focus to video-form content. 
Back in September, 'Gram gave videos up to 60 seconds a green signal for Insta Stories. Now, the platform has decided to allow users to add up to 90 seconds of music to their in-feed photos.
Thinking how enhancing image-based content related to prioritizing video-form content?
Well, the feature that was announced on @creators Instagram feed stated,
"Music is a huge part of expression on Instagram, and we're excited to provide the ability to add music to Feed photo posts like you can with Reels and Stories."
Hence, you guessed right, 'Gram is trying to lure users into making more videos by introducing musical feeds. What are your thoughts on this?
Are you a video-content enthusiast? Or, would you prefer to post photos with songs?
8. New Snapchat Features Celebrate 2022 World Cup
Snapchat announced a range of new features to help fans engage with the 2022 World Cup. These include team-based AR filters and new AR Try-On features, alongside live updates from the game.
First, we have snap's new face-paint feature, inspired by team color Lenses. What a simple yet interesting way to show your support via the app!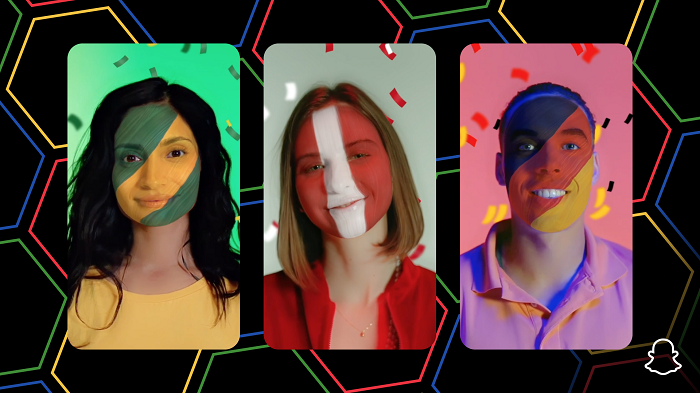 Snap ensures that all the participating teams will have their own Lenses to enable their supporters.
Second, we have Snap's new experience called 'Live Garment Transfer Lenses'. This feature will enable you to virtually try on the participating team's uniform.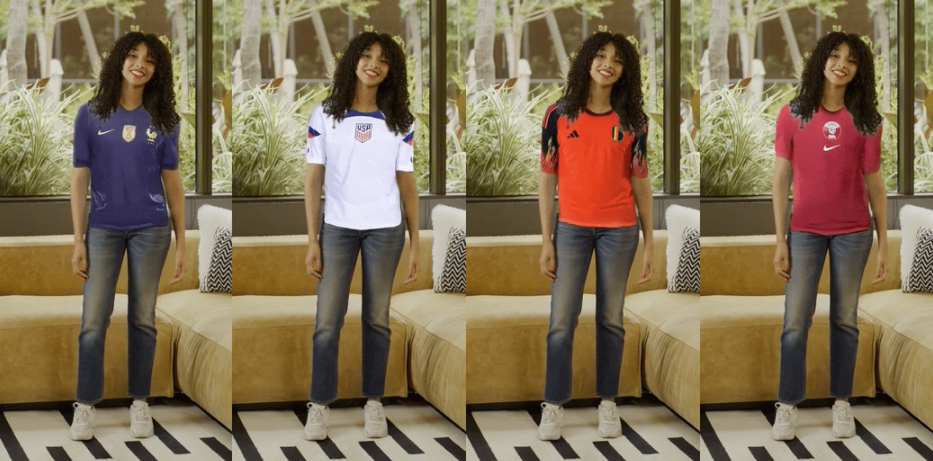 This feature utilizes the latest clothing simulation technology. It will act as a realistic depiction of what each clothing item would look like on you. The clothing would align itself with your body. Hence, if you move, it moves with you.
How crazy is that?🤯
Another update on this front is Snap launching a Global Match Data Lens.
The feature will be responsible for dynamically updating live match visualizations from the tournament.
Other features for you to holistically enjoy the event include – themes clothing for your Bitmoji, new stickers, and Filters and a range of highlights within the Discover program.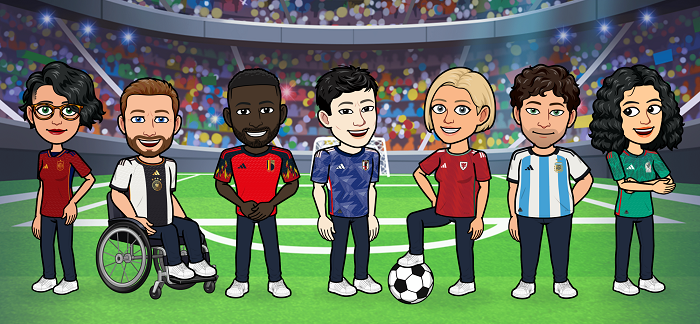 The world cup will be a huge event for all social media platforms to drive engagement. And, we will be right here updating you on what each platform comes up with for this!😉
9. Facebook's 'Every Member Moderator' Feature
Recently, Facebook has come up with a new feature for groups. With this, every member in a group will now be able to make themselves moderators.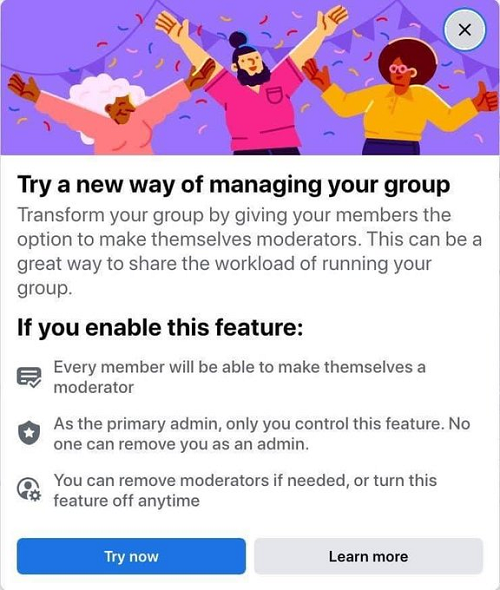 Our verdict on this feature – IGNORE IT!
Ever heard, too many cooks spoil the soup? That's exactly what the feature does.
You will have all the members acting as moderators – different people, different views, and different edits. Sounds like a perfect recipe for confusion, angst, and endless arguments!
Hence, we recommend you ignore the notification when it pops. Do not activate it!
10. Revisiting 'TikTok - A Threat to National Security' Debate
Since its inception in the US, TikTok has been facing the above-mentioned accusation.
The US Committee on Foreign Investment (CFIUS) has been investigating the platform for years. Its senior officials have also recommended the app be banned over privacy concerns.
In a recent turn of events, the FBI has also joined these calls. 
FBI director Chris Wray has claimed that the app does pose a national security threat. 
If we look at the recent developments in this debate 
2021- Former US President, Donald Trump, threatened a full ban on the app over its link to the Chinese government.
June – FCC Commissioner Brendan Carr published an open letter asking Apple and Google to remove TikTok from their app stores.
September – Republican Senator Josh Hawley urged CFIUS to force TikTok to sever all ties with parent company ByteDance. 
The Reuters' statement explain this debate very well. 
"[According to Wray] the risks include "the possibility that the Chinese government could use [TikTok] to control data collection on millions of users or control the recommendation algorithm, which could be used for influence operations," Wray also said that Beijing could use the popular app to "control software on millions of devices," giving it the opportunity to "technically compromise" those devices."
What is TikTok's take on these accusations?
The platform has continuously reassured users that their data is not being accessed by CCP. Yet, TikTok's user agreement clearly states that China-based staff can access user data for 'certain functions'. 
However, the outcome has sure not been positive. 
With concerns still lingering, CFIUS continued to investigate the app. And now, a separate exploration is being done in the UK and other regions. What happens next hinges on the Chinese Government. Will they be willing to make a statement on the matter? Will it have any impact?
While we contemplate a full ban on TikTok, let's not forget that the platform is currently the largest space for video-form marketing. 
Do you believe TikTok will face a full ban in the western world? Let us know your thoughts o=in the comments below. 
We have now reached the end of our article for today. Worry not, for we will be back with more exciting updates next month. 
Till then. Stay Tech Savvy!!