Welcome back to yet another post filled with surprising, intriguing, and exciting social media updates. 
This month the social media platforms are sailing in whichever direction the wind takes them. 
From promoting and collaborating with big TV channels to disapproving of new apps, we've got it all covered. So why wait? Let's begin.
1. Twitter's New Format for Tweeted Links
Twitter is testing a new format for publisher links – 'Tweet Tiles'.
As seen in the above image, Tweet Tiles is set to provide new visual formats for tweeted links, larger images, variable fonts, and prominent CTAs to drive more clicks. 😱
See the given below image for reference.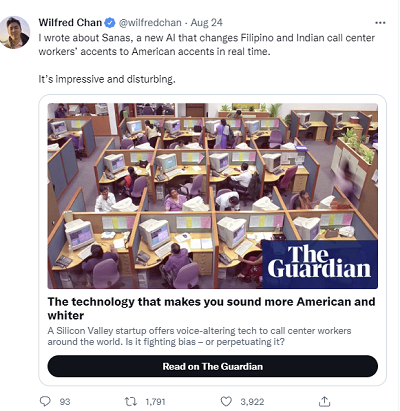 As explained by Twitter, 
"Right now, people on iOS and web may see and interact with Tweet Tiles that include text, images, videos, or other elements like a button from people in the initial test group. These formats are designed to easily engage with content and make your timeline more dynamic and visual."
The feature is aimed to provide more ways to stand out in the fast-moving tweet feed and will drive better performance. 
However, the update is no news. 
Twitter, for some time now, has been working on various updated tweet formats. 
The first one to be included in this list is the 'Quote Tweet with Reaction' option. The feature has taken over the key elements of its now retired Fleets process – an updated text editor option for tweets. This feature will enable users to add more color and visual presence to their comments and integrate support for various content formats within a single tweet.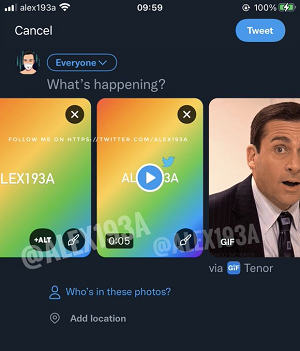 The feature is limited to certain publishers only at this stage. This is because the feature is still an experiment.
It could be a helpful addition for publishers, and it must be interesting to see if it helps drive more referral traffic from tweets as a result.
2. Youtube Maximizing its Most Celebrated Feature - Shorts
YouTube shorts have quite a popularity. About 75% of YouTube users engage with shorts regularly. It entails all categories from DIYs to product review clips. But being a tech enthusiast, you already knew that!
So what's new?🤔
The recent series of updates announced by YouTube shows its determination to make the most of this feature. 
First on our list is YouTube enabling its users to search for Shorts exclusively now.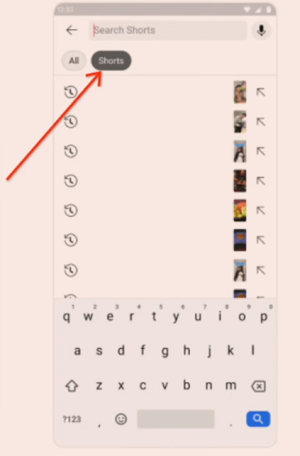 As you can see in the above image, The new 'Shorts' chip in YouTube search will enable you to narrow down your search to Shorts specifically. 
The second, and probably the most interesting one is YouTube attempting to expand the scope for smaller channels.
Back in 2020, YouTube launched 'Other Videos Your Audience Watched'. With this feature, the social platform enabled its creators to understand the viewing pattern of their audience. This had helped YouTubers identify key trends, and adopt strategies around rising trends. However, the feature was initially available to only channels that met a certain traffic threshold.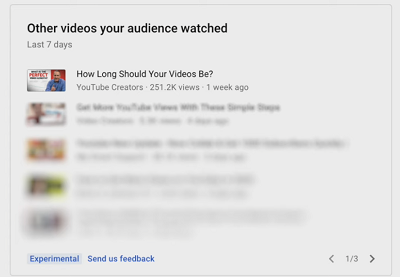 But in the recent update, it has lowered its traffic parameters. In other words, it has given more creators access to this data. 
Third, YouTube has been looking at ways to filter content by its type. For example, YouTubers engaging with Shorts of a certain category will be provided with more such Shorts on their feed. So, if you're a creator creating Shorts in a specific niche, you will soon have direct insight into trends in your category. 
That being said, it is also rumored that the platform is testing some new elements, like text filters. Owing to the popularity of text fonts, it is only natural for YouTube to dabble with them leading to habitual behavior. Different text filters also enable creators to communicate their ideas and update smoothly.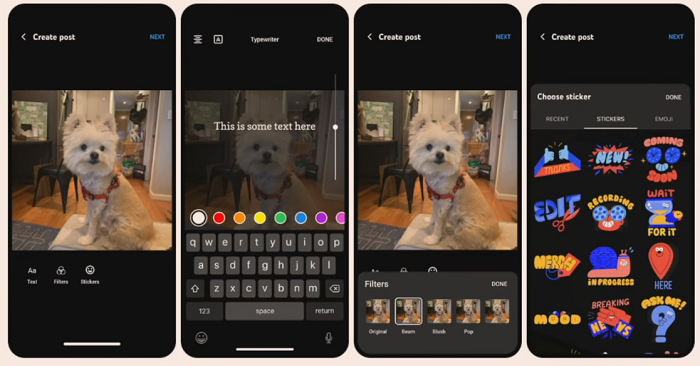 3. 'Viral Post Generator' - LinkedIn's Frenemy?
Are you aware of the infamous 'crying CEO' LinkedIn post? 
It is no doubt that the post has garnered major media attention owing to its cringe-worthy, artificially staged content. But, the post has also raised some serious concerns related to the ethos of social media. Are social media platforms only about increasing Likes and Engagement as opposed to sharing tangible substance? 
However, as the famous saying goes, if you can't beat the crowd, you might as well join it! 👯
And, this is exactly where our newest app in the market comes into the picture. 
Developed by Tom Orbach, the new app 'Viral Post Generator' provides users with customized LinkedIn thought pieces with the help of machine learning.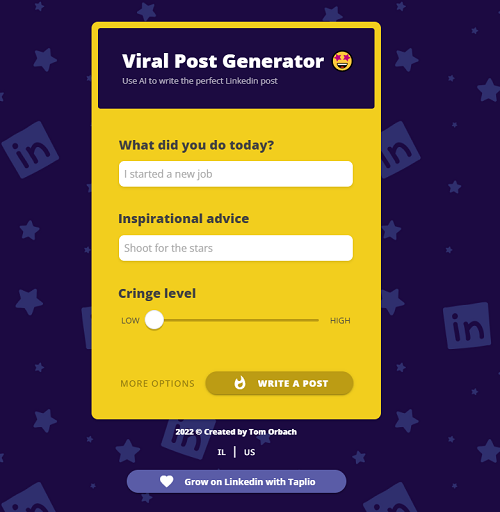 All you need to do is add in what you've done and the inspirational advice that you want to share. You can then select the 'cringe level' you want for your post.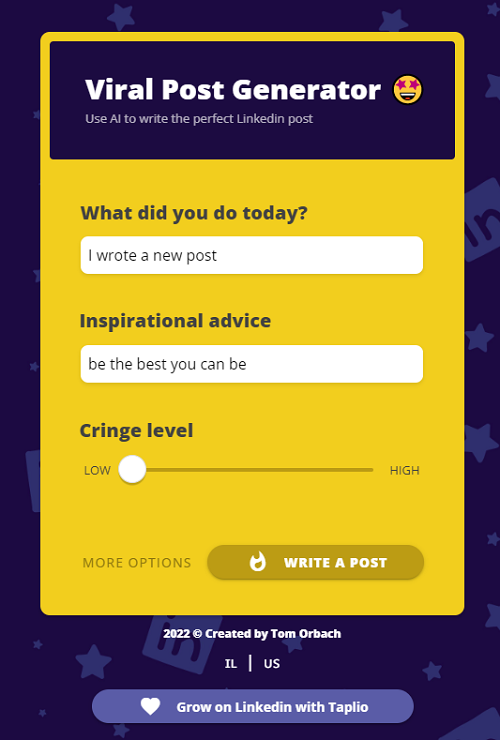 The app uses other examples, morphed into temples, and provides you with the most suited LinkedIn post. And the best part is, you can keep re-running the app as many times as you want until you find your perfect post. Once found the post you can take a screenshot and share it. You can also copy the text to LinkedIn.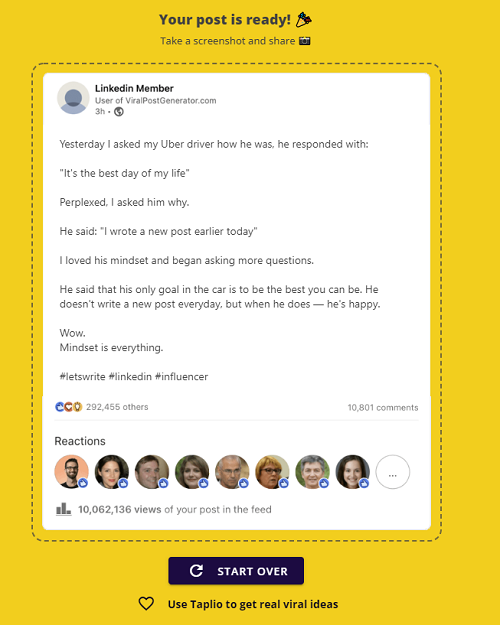 Till now the app seems more like a friend for LinkedIn users. So what is it about the app that is bothering LinkedIn?
One of the major concerns raised by LinkedIn is accuracy.  How similar the posts it churns out are actual to LinkedIn updates? Moreover, if an individual shares the screenshot it still shows tags that clearly mention 'ViralPostGenerator'. However, if the text is copy-pasted, it poses a challenge for LinkedIn to detect top creators.  
LinkedIn of course prefers originality over AI-generated think pieces. 
And while we do not condone the use of automated tools for social media posts, we believe the apps are to be used for comedic purposes and not actual thought leadership content. 
You can check out the ViralPostGenerator here.
4. Is There Truth To Musk's Twitter Accusation?
Twitter for some time now has been facing slack owing to security reasons raised by Elon Musk. 
We covered all the issues raised by Musk and his team in our July Social Media Updates. Do check it out!
Recently, the accusations made by Twitter Security Chief Peter 'Mudge' Zatko' has further highlighted an overall dysfunction within the company. Is this suggesting there might as well be various internal issues that the platform is hiding from the public? 🤔
According to reports, Zatko has accused Twitter executives of deceiving federal regulators, deliberately misleading the company's board, and lying about the presence of bots and spam on the service. 
The real question is how much Zatko's accusations weigh.
Zatko was hired to board the security team back in 2020, to 'help the world address platform's problem'.
Twitter suffered the biggest hack in history in 2020 when various high-profile accounts such as Barrack Obama, Joe Biden, and Elon Musk, suddenly started posting Bitcoin scam links. This was eventually traced back to human exploitation. Twitter claimed that hackers had convinced the Twitter employee to provide access to the platform's control console. As a result, they were able to take over any account they wanted.  
In the wake of this event, Twitter CEO Jack Dorsey reached out to Zatko. 
As per Washington Post:
"In 12 months, Zatko could manage only six one-on-one calls, all less than 30 minutes, with his direct boss Dorsey, who also served as CEO of payments company Square, now known as Block, according to the complaint. Zatko allegedly did almost all of the talking, and Dorsey said perhaps 50 words in the entire year to him. "A couple dozen text messages" rounded out their electronic communication, the complaint alleges."
Could this mean Zatko's hiring was nothing less than a PR stunt?
Let us know your thoughts in the comments below. 
Whatever it may be, it surely has made several former and current Twitter employees state that Zatko was never considered an authority. And, regardless of his historical achievements and status, he was termed as "a clown".
That being said, Zatko has also made several extreme statements in the past regarding perceived security vulnerabilities. 
As per Yahoo Finance:
In 1998, Zatko testified to the Senate alongside his L0pht colleagues about critical internet infrastructure vulnerabilities. He said the group had discovered an exploit that would allow him and his colleagues to take the entire internet offline in 30 minutes."
Comments like these weaken Zatko's Twitter complaints.
Nevertheless, it doesn't put our doubts to rest. Was Zatko bought into Twitter at least partially for PR purposes?
5. Google's New Digital Background for Google Meets
Are you still working from home?
Are you still trapped in the entire process of the 'can you keep your camera open' process?😖 
Well, Google just brought in relief for you!
Google has just outlined a new update for its 'virtual green screen' tools in Google Meet. This new update is all set to enhance its background morphing tools to help minimize the weird glitches in the digital fabric when you move around on-screen.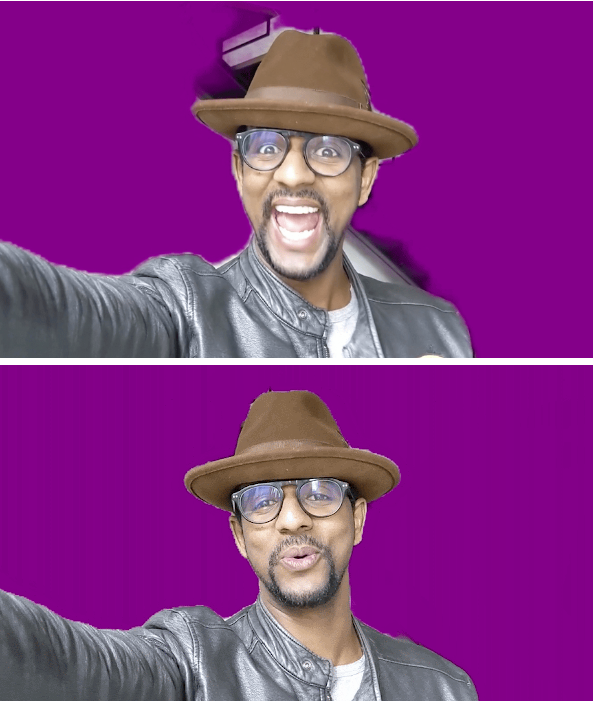 As you can see in the above image, your movement on-screen was followed by ghostly trails around your body. With the updated tools, the virtual background will be less susceptible to movement interference.
What is more exciting is that the new process also runs directly in the browser and not on CPU inference.
As stated by Google,
"With the latest update to Google Meet, we are now harnessing the power of GPUs to significantly improve the fidelity and performance of these background effects. These advances are powered by two major components: 1) a novel real-time video segmentation model and 2) a new, highly efficient approach for in-browser ML acceleration using WebGL. We leverage this capability to develop fast ML inference via fragment shaders. This combination results in substantial gains in accuracy and latency, leading to crisper foreground boundaries."
In short, the new background effect is to help you utilize variable computing resources to improve performance. The process will either utilize an on-device process (when possible) or refer to cloud-based computing for systems less capable of running real-time video effects.
You can read more about Google improving its virtual background effects here.
6. Instagram's Updated Teen Safety Tools
If you are an active Instagram user, you must be aware of the impact it has on its users, especially teens.
Researchers from the UK's Royal Society for Public Health have claimed that Instagram usage is often associated with anxiety, depression, and bullying. Additionally, American Psychological Association has reported that:
"The frequency of Instagram use is correlated with depressive symptoms, self-esteem, general and physical appearance anxiety, and body dissatisfaction and that the relationship between Instagram use and each of these variables is mediated by social comparison orientation."
These claims were further justified when released its own reports, as part of last year's Facebook's Files Expose. The report claimed that about 32% of teen girls who suffer from body image issues realized that Instagram made them feel worse.
Therefore, it was quite natural for 'Gram to take a step to counter this.
Meta already has a range of safety tools and features like 'Take a Break' reminders and updated in-app 'nudges' to re-direct users away from potentially harmful topics.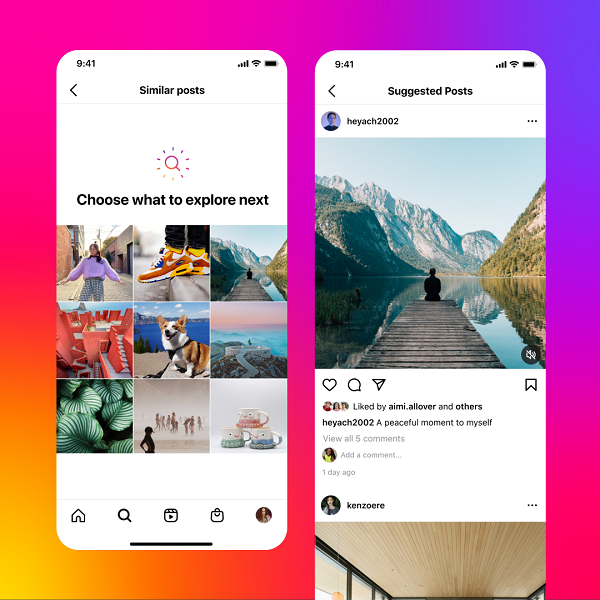 In a recent update, Instagram has ensured that it is expanding its sensitive content defaults for young users. Now, the account holders under the age of 16 will be put into its most restrictive exposure category, unless they manually change the setting.
The feature was termed active immediately from August 25th, 2022.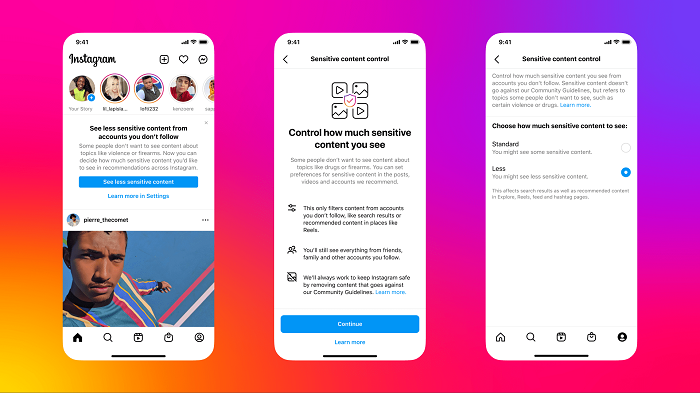 Instagram also released an official statement saying:
"Last December, we announced our commitment to building a safer search and discovery experience for teens on Instagram. Now, we're defaulting new teens under 16 into the most restrictive setting (aka 'Less') of our 'Sensitive Content Control' on Instagram – which works to limit potentially sensitive content in Explore, Explore, Hashtag Pages, Reels, Feed Recommendations and Suggested Accounts."
There is no doubt that these safety measures could have a big impact on protecting teens. And, they also show Meta's activeness in doing what it can do to limit harm via its apps.
7. LinkedIn Improving its Search Engine Algorithm
In a recent update, LinkedIn has shared a new overview entailing ways it will be refining its search and discovery elements. 
From now onwards, the search algorithm will put less focus on the alignment of your interests noted over time, and more on maximizing broader discovery. Meanwhile, it will also incorporate diversity considerations into the mix. 
In a statement LinkedIn stated:
"Post search saw strong organic growth in 2020, with a 35% year-over-year increase in user engagement. As we watched content continue to grow and diversify on the platform, the Flagship Search team saw an opportunity to improve the Post search tech stack's agility, with a strategic priority to enable members to create, find, share, and have productive conversations around high-quality content on LinkedIn."
With the rise of engagement levels within the app, the platform has been working to surface more relevant and engaging content. This will enable it to keep people commenting and interacting. This will eventually lead to re-thinking of its search tools and highlight matches to improve stats.
Quite interesting, right?
In the words of LinkedIn itself, this re-imagined search architecture will comprise:
"The first phase removed feed-mixer from the call stack and moved fanout and blending into the search federator. The second phase removed interest-discovery. This enabled us to get rid of all the cruft built up over the years and simplified the stack by removing additional layers of data manipulation."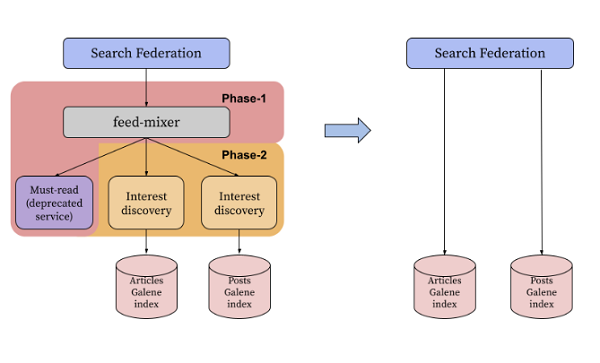 In simple words, LinkedIn has eliminated some of the elements that narrowed your search results based on your noted interests, which the platform identified with its previously established search system that worked on your engagement patterns.
Let's understand this change with the help of an example.
Up until now, LinkedIn's search engine enabled you to see content posted by people working in certain sectors or on specific topics. But now, the system will take a broader view of content from across the app. It will show you a wider scope of possible matches.
This will also help LinkedIn highlight more engaging content from all users. 
We would like to remind you that this approach is similar to that of TikTok.
TikTok uses a similar algorithm to highlight engaging content from across the app in its 'For You' feed. As this expanded approach enables the system to provide users with more scope to show the best content, it facilitates more engagement and interaction.
Following a pictorial representation of LinkedIn's new algorithm.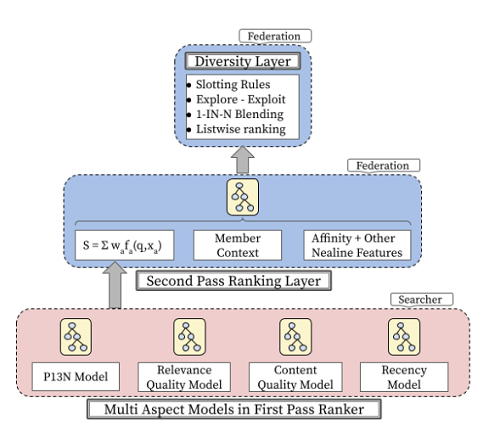 Another update on LinkedIn's front is its new diversity element that will ensure more expor=sure to a wider spectrum of creators.
"The Diversity re-ranker forms our last layer and helps us inject diverse content in the top positions. This includes increasing discovery of potentially viral content for trending queries, reducing duplication of similar content, etc."
This has also led to significant engagement improvements. 
"Pertinent results, which are highly relevant to the user's search query, have led to an aggregate click-through rate improvement of over 10%. Increased distribution of posts from within the searcher's social network, their geographic location, and in their preferred language have led to a 20% increase in messaging within the searcher's network."
This is not all though. 
LinkedIn is nowhere near done refining its search results yet!
The platform is also working on highlighting more topical results within search results. This will help users tap into related, trending topics. Moreover, it's also testing ways to better highlight content from prominent LinkedIn creators.
Suddenly, LinkedIn's disappointment with the new Viral Post Generator App makes more sense!
8. Snapchat's New Localized Lens to Promote 'House of Dragon'🐲
Hold your breath for this next update.
Or the heat from your excited sigh might as well just forge a thousand swords into a throne!⚔️
For the first time ever, the social media standpoint will witness an HBO/Snap Campaign.
"Snap and HBO Max have also coordinated with members of Snap's Lens Network from around the world to build custom Landmarker AR experiences in their local markets. This is the first partnership to pair a brand with a diverse group of Lens Creators at a global scale."
In other words, the latest Snapchat filter will enable its users to transform themselves into dragons via various AR activations within the app's Lens tools.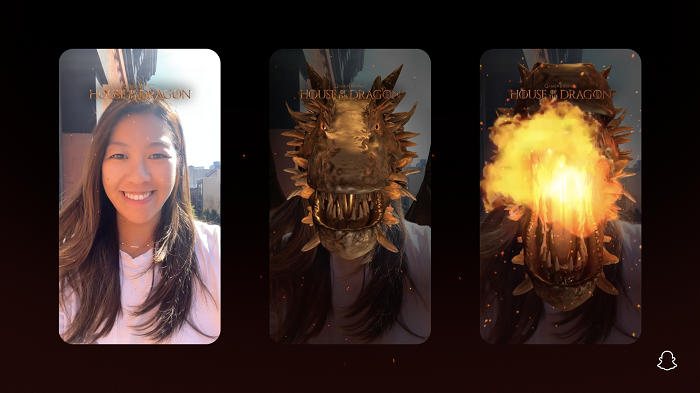 This partnership could very well launch a new consideration for various large-scale and even smaller brands. Snap has facilitated a global partnership with various Lens makers, to enable new forms of localized engagement with these Lens activations. 
"In order to execute the campaign, HBO Max provided the Lens Creators with AR assets for each dragon to build the new Landmarker Lenses. Each Lens Creator personally selected the location for their individual Landmarker Lens, bringing a powerful local element to this global campaign."
The lenses will be made available at the following locations:
Los Angeles – Venice Beach Grand Canals, built by Francis Chen
Rio De Janeiro – Princess Isabel Statue, built by Vitulo & Co
London – Tower Bridge, built by Clara Bacou
Chennai – Sankagiri Fort, built by RBKavin Studio
Mumbai – CST Station (IE Chhatrapati Shivaji Maharaj Terminus), built by Mohnish Raut and Persica Picardo
Prague – Charles Bridge, built by Inna Horobchuk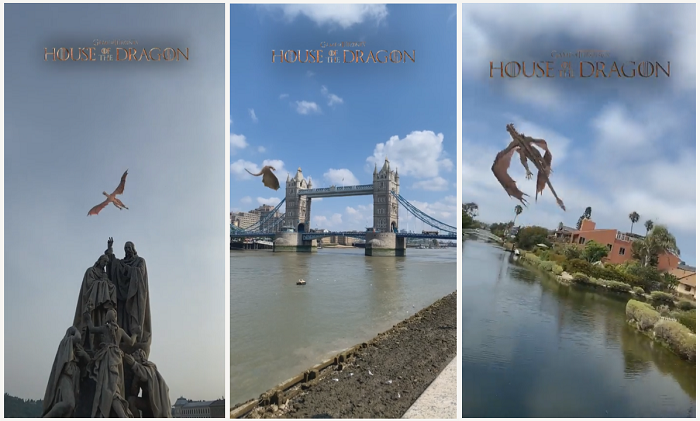 Moreover, the activations will evolve throughout the season with new dragons that appear in the show. These will also be available on display.
We believe it to be a fruitful expansion of the usual Lens Campaign approach. It is a more localized approach with the potential to improve engagement on the app, as well as to the show.
From a digital marketing perspective, it also highlights Snap's growing network of creators to build more inclusive, regionally relevant engaging experiences. 
By now, more than 250,000 lens creators have built over 2.5 million Lenses through Snap's 'Lens Studio' AR creation tool.
9. TikTok Tests New "Nearby" Content Feed
As we mentioned earlier, TikTok's recent search algorithm is a 'For You' feed. Alongside it also has 'Following' tabs. 
Recently TikTok has confirmed that it is testing a new 'Nearby' content feed. It will display content posted by users in your current location. Look at the image posted by TikTok user @sofeashra

The feature will enable TikTok to showcase locally relevant updates which may relate to your interests. 
It was further explained by TechCrunch:
"For example, if your For You page often displays restaurant recommendations or must-see hiking spots, the Nearby feed should show you videos of restaurants and hiking trails that are near you."
The highlight of this update is its value for brands. TikTok is THE app of the moment. Its projections that it'll reach 1.5 billion users before 2022 is over, also puts it on the third rank, i.e. after Facebook and YouTube. 
As far as its advantages for users are concerned, it can act as a dedicated local feed providing you access to a huge, engaged nearby group of users. According to Google, almost 40% of young people now refer TikTok or Instagram instead of Google Search when they're looking for a place to eat. Therefore, the app has a greater promotional opportunity for brands.
Details of this new feature are relatively limited at this point. It is only being conducted with a small group of users in South East Asia. 
Meanwhile, the platform also recently added a location tagging option for posts. 
Will the new Nearby Feed automatically base itself on this location tagging feature?? What do you think?🤔
All that we have at the moment from TikTok is:
"We're always thinking about new ways to bring value to our community and enrich the TikTok experience."
10. Zuckerberg Defends Metaverse Development
The second week of August saw the opening of Horizon Worlds VR creation sandbox to creators in Spain and France. Meta CEO Mark Zuckerberg announced the launch with the following post. 
Since then, the post has been subjected to all manners of comments pointing out how bad, and basic the current VR environment looks.
The VR does look simply no better than early 90s-style graphics. Given the billion that Meta's pouring into metaverse development, it actually is disappointing.😕
Moreover, it's far from the initial vision that Zuckerberg shared last year in October. 
So what happened?
For starters, as Meta has repeatedly explained, its still in its early phase. It is years away from touching the full potential of the metaverse, as seen by Zuck and Co. Moreover, there have been very impressive VR experiences already buit. However, Horizon Worlds, which will enable users to create their own basic VR environments is, by design, basic. This is because the processing power of full graphic rendering and spatial elements is a lot to build the tool for now. 
Zuckerberg also posted another update a few days after receiving the online backlash claiming that it's not that bad. He promised that more metaverse advances are coming soon.
It is worth noting that the CEO felt the need to explain itself here, as online criticism continues to grow, with the metaverse pile-on now in full effect.
Meta cannot risk a reputational shift as it will increase the difficulty to shake criticism once it continues with metaverse expansion. If you remember, the very reason to change the name to 'Meta' was to distance metaverse vision from Facebook and the negative connotations that people have with that brand.
But, the recent backlash has more to do with people's keenness to highlight Zuckerberg's failure than the company's drawbacks. 
A little recap then. Back in 2013 Google introduced its own future tech vision with Google Glass – its transformative AR device that enabled users to access digital transformation via wearable devices.
The device had garnered a good reputation up until tech evangelist Robert Scoble posted a picture of himself wearing his Google Glasses in the shower.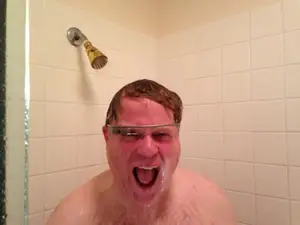 Shortly afterward, Google was forced to shelve the consumer version of the product. The shelving was attributed to issues with battery life and privacy concerns. However, the overarching sense was that the device was conceived as uncool after Robert and various tech bros adopted it like some competitors in Olympic rifle competition.
The bottom line is that online criticism when not nipped at the start becomes the pest festering your product's growth. 
Therefore, even with the risk of Meta being mocked and criticized, the product cannot be shunned at this point. It would be a massive concern right now in Meta HQ.
If Meta fails to make metaverse cool and loses connection with younger audiences, in particular, the company could end up spending billions on buckets to bail water out of a sinking ship. 
And that's all from us for this month's update. 
Let us know in the comments below which update tweaked your interest the most. 
Until then, we bid farewell and promise to come back next month with more exciting updates. 
Adios!👋