Are you also missing all the sizzling fun that Diwali came with? 
Well, you need not worry!
The major social media updates of this month are nothing less than all the Diwali fun. We have listed the ten most sizzling, sweet, and exasperating updates for you. 
So without any delay, let's directly jump into them.
1. TikTok Launched 'TikTok Pulse'
There is no second-guessing YouTube's popularity as the most creator-friendly platform. But this new launch by TikTok will definitely be a challenge for YouTube. 
The feature was first introduced during its creation in May. The 'TikTok Pulse' program has been launched to share ad revenue with top creators. With this, marketers can place their ads next to top videos on the platform. To ensure relevancy, the program provides 12 Pulse categories i.e. trending categories, such as beauty, fashion, cooking, and gaming.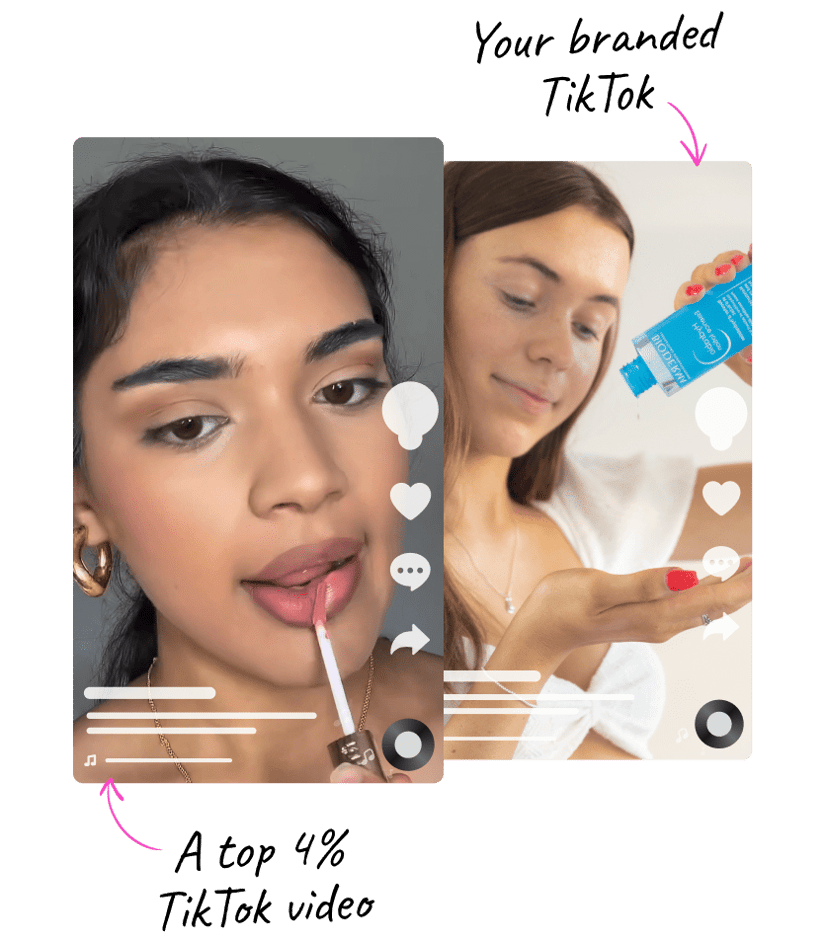 The biggest highlight of this program is that creators can earn up to 50% of the revenue from Pulse ads which will be placed next to their videos!🤑
The program hasn't been officially launched yet. However, there has been a flood of tweets on Twitter regarding reports of selected creators receiving eligibility notices for TikTok Pulse.
Woah.. TikTok launched its Pulse program!?

Creators with 100,000+ followers will receive a 50% split of ad revenue from TikTok

Brands will put ads on TikToks that are in the top 4% of performers on any given day

Creators get 50% of revenue TikTok brings in from the brands pic.twitter.com/kkdKJnaVGQ

— Muaaz (@mws) October 19, 2022
The following are the eligibility criteria for creators to qualify for TikTok Pulse:
Follow all Community Guidelines
Have at least 100k followers
Post at least 5 videos in the last 30 days
Be at least 18 years old
2. LinkedIn Report Record Engagement in Latest Performance Update
LinkedIn has once again posted its 'record engagement' under Microsoft's latest earning report.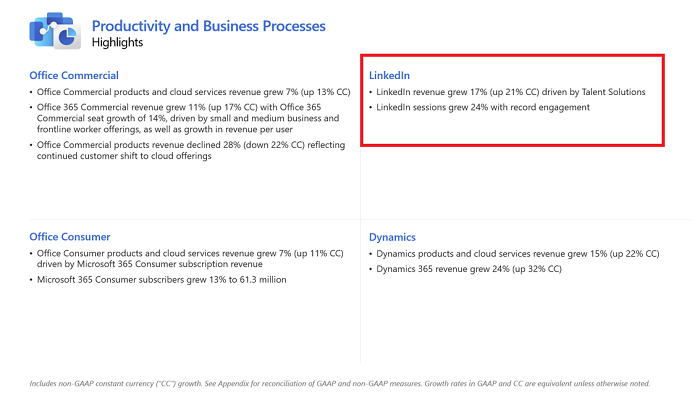 Microsoft has reported its 'record levels of engagement for straight 16 quarters now. The contradictory part here is, nothing in these reports quantifies what record engagement means! While LinkedIn notes claims growth by 24%, it seems quite obvious seeing LinkedIn is adding more users. 
So, what message is LinkedIn trying to convey with these reports?😕
Alongside the report, LinkedIn also published its user engagement map.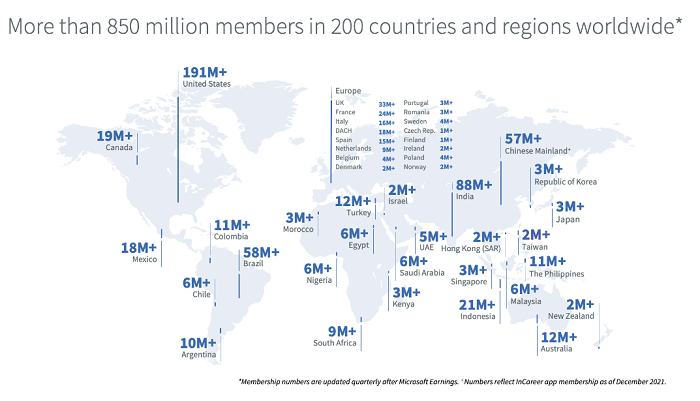 It is difficult to make any real sense of what the platform's usage data means. This is especially due to a lack of contextual markers that would illustrate its performance. Moreover, if you see the map, LinkedIn claims to have 57 million users in China. But, the app was shut down in China last year, owing to the increasing pressure from the CCP on foreign companies operating in the region!
We understand that an active user count is valuable. But, does that really serve the purpose if we don't know what sort of audience is engaging in the app?
Microsoft seems to be claiming that LinkedIn is doing well due to 
Its approach to content trends and engagement
Maximizing usage through various means
And, let's not forget that the platform also owes its revenue growth to Talent Solutions recruitment tools and job ads. This is in contrast with how other apps have aligned with short-form video content. However, LinkedIn has always moved at a slower pace and this likely lessens its engagement potential. 
An important point to remember here is LinkedIn's professional focus. 
Therefore, even though the platform has introduced generic features like stickers, post templates, reactions, and more, it can never introduce something like 'LinkedIn Clips'. 
Why? 
Because, in all honesty, short-form video content doesn't fit the platform's ethos. Professional experiences and focus are the core of the app. 
However, based on its recent, more lighter and personal posts, it can be said that the platform is finding a balance between the two approaches. Leaning exclusively towards one or the other will be a mistake. More than anything else, it is a question of 'what LinkedIn should be on a fundamental level'. 
For now, based on its noted usage stats, LinkedIn has been able to maintain the right balance. But then again, if Twitter's fall intrigues people to look for alternatives, many professionals may end up spending more time scrolling through their LinkedIn feed. That may force the platform to stray from its original purpose.
What are your thoughts about it? Should LinkedIn continue finding a balance between a lighter and professional approach? Or should it match the ongoing trend? Let us know your thoughts in the comments below.
3. Twitter's New 'Communities' Module for Professional Profiles
Twitter users will now be able to highlight a Twitter community on their main display in the app.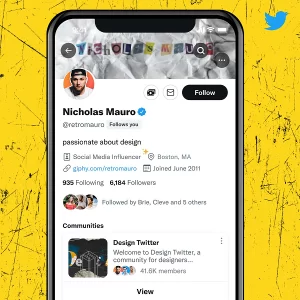 As can be seen in the above image, professional accounts will now be able to showcase their dedicated Twitter communities. The display will appear right beneath their details and above the tweet timeline. The feature is expected to derive more interest in focused tweet discussions in the app. 
It is important to remember that Twitter has more Professional Profile features available for those who convert their accounts. These features include – Improved Analytics Display, Professional Category Options, Additional Contact Details, and more. 
With the new addition though, Professional profiles will have a total of five Spotlight elements. 
The other four Spotlight elements are
Location Spotlight – To show your business' location, operational hours, and contact details
Shop Module – To highlight products, with direct purchasing links
Mobile App Spotlight – To display an app at the top of your feed
Link Spotlight – To add a link, with CTA, via a prominent button on your page
With the new Community Spotlight, Twitter has sure added to its growing range of prompts. This helps drive more traffic to users' Twitter presence.
Twitter hasn't provided any official Communities usage insights. So, we cannot comment on it being an essential element just now. Although, the company does claim that the new spotlight feature was requested by pro users. 
All that you need to know for now is, if you want to promote more enclosed, niche discussions in the app, Twitter Communities is your option. 
You can learn more about Twitter's Professional Profiles here.
4. Instagram's New 'Achievement' Badge to Incentivize Reel Creators
By now there's rarely someone who doesn't know Instagram's growing obsession with Reels. The major reason behind this is (obviously) to fend off competition from TikTok. 
Every time one tries to understand the situation of Reels, we are reminded of the chicken and the egg conundrum. Are people watching Reels on Instagram because they like them, or because Instagram's showing more Reels to you?🤔
Either way, as Instagram Chief Adam Mosseri said, people are watching Reels, Obsessively. 
So what is Instagram really doing with the new Achievement Badge?
Do you remember Snap Streaks? Well, that's exactly what Instagram Achievement badges aim to achieve. To get a snap streak started, there must be Snaps exchanged between two users within 24 hours. Once done for three days and you can get an emoji marking the beginning of your streak. 
The feature became such a huge hit that it had people coming back to the platform just to maintain the streak. 
Similarly, Instagram's achievement badges would serve as incentives for users to keep resting more Reels.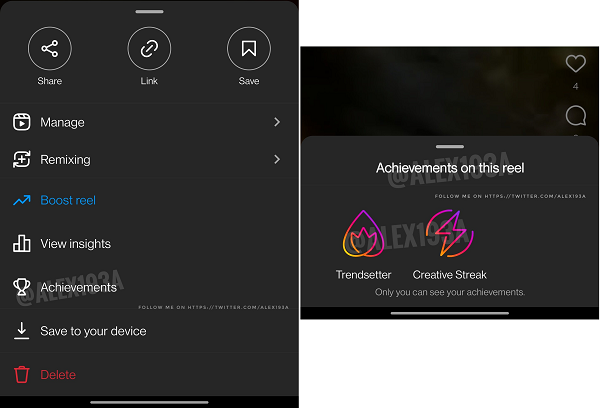 As you can see in the images, these badges would act as trendsetters i.e. cool. 
As these achievements would only be visible to you, these will act as an incentive for users. 
The feature could also potentially be tied into the platform's Reels Play Bonus program. Or maybe the feature will simply help Instagram better identify top creators. 
Either way, this is going to escalate the ongoing tussle between TikTok, Instagram, and YouTube to become the most preferred short-form video content platform!
5. Pinterest Advances Video Content by the Louvre Partnership
Pinterest has announced its new partnership with The Louvre which will enable users to experience the historic art gallery via video elements within the app.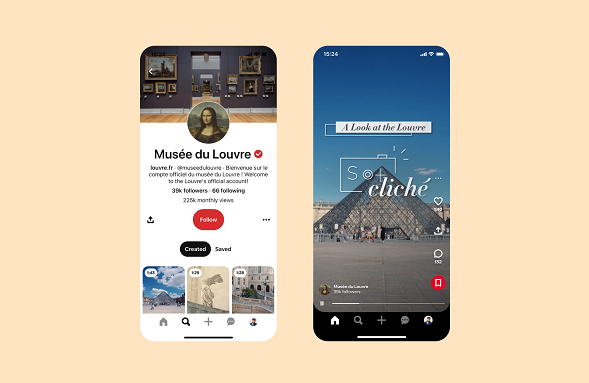 The highlight of the outcome of this partnership is it provides users with behind-the-scenes elements. Yes, you read the right. The outcome video series will showcase unseen elements of the space thus, increasing engagement opportunities for the app. 
In the words of Pinterest,
"Through a series of original videos, "A look at the Louvre," shares the museum's masterpieces and architecture at the crossroads of centuries. The content features off-the-beaten-path tours to discover both its collections and the museum's courtyards and staircases, as well as unusual places. The videos invite viewers to admire details within the museum, such as beautifully crafted ceilings and views from the windows."
This new initiative has been taken to expand Pinterest's original programming.
In other words, to make it more of an entertainment destination along with shopping! 🛍️
However, by no means the platform wishes to shift its focus from shopping, But, a little boost to its live-streaming credentials can't hurt.
"The goal is to develop an ecosystem of creators, enrich content production and accelerate live streaming on Pinterest. In the coming months, more original programs will be introduced across Pinterest's core categories such as cooking, travel, decoration, and much more."
As we all know, live streaming has become the holy grail of eCommerce. Almost every platform that aims for in-app selling is looking for ways to integrate live-stream shopping.  
Let's take China's example. Live-stream shopping is habitual behavior in China and other Asian countries. Western audiences, on the other hand, are not as open to this experience yet. But, the fact that it provides a lifeline for creators, keeps the platform hoping for a turnabout in western market behavior. 
Pinterest, which has not declared itself as a 'discovery platform', focuses on products. And, this new initiative is inclined towards a focus on cultural history and engagement through thematic content. 
You can check out Pinterest's Louvre video series here.
6. TikTok to Allow Embedding Six Videos on Linktree
Thanks to TikTok's new feature, Profile Kit, users can now display up to six videos on an external site. The feature was announced in partnership with Linktree – one of the most popular link-in-bio tools.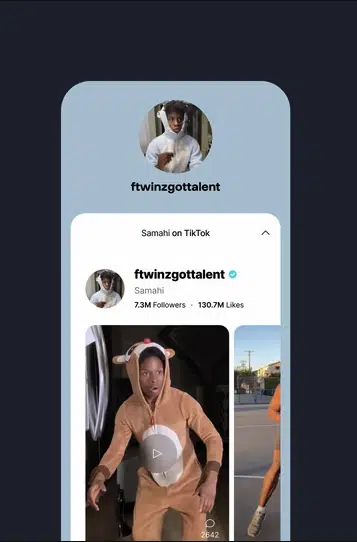 With the help of this feature, creators can now choose to display the latest, most popular, and/or favorite TikToks on their Linktree landing pages. 
Additionally, visitors will also be able to play videos within the Linktree platform, all without having to navigate away from the app. 
Initially, TikTok allowed users to embed on Linktree in 2019. However, the latest update means more robust landing pages. 
The update is being viewed as a part of TikTok's Developers Program – a program that will allow developers to build TikTok-based apps and API integrations.
7. YouTube Announces Range of UI Updates
Are you a YouTube Buff? Do you prefer watching videos that talk about new gadgets but are irritated when they don't zoom in on the products?
Well, it's time to say goodbye to those frustrating days. 
With its new Range of design changes and UI updates, YouTube has ensured that good days are around the corner.
Imagine being able to zoom into your YouTube videos!🤩
You read that right. 
The newest "pinch to zoom" feature of YouTube has become a buzz especially because it will enable users to expand the playback screen to examine certain details or elements.
The feature will provide ways to interact with video content and will be handy for more precise tutorials. If nothing else, it sure is a benefit for creators to ensure that their background is what they want it to be. 
Moreover, the platform's also looking to help users skip to an exact point in a clip they need to.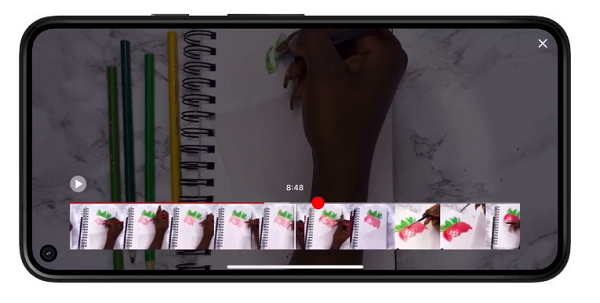 In YouTube's words,
"Have you ever followed along to a tutorial on your phone, but needed to keep rewinding so you could master that one small step? Precise seeking helps solve this problem. Whether you're on a desktop or your mobile device, simply drag or swipe up while seeking to display a row of thumbnails in the video player and you'll be able to make fine-tuned adjustments to get to the exact part in each video."
Thirdly, YouTube's also rolling out some visual presentation updates. This includes Ambient Mode, which would provide a more visually aligned viewing experience.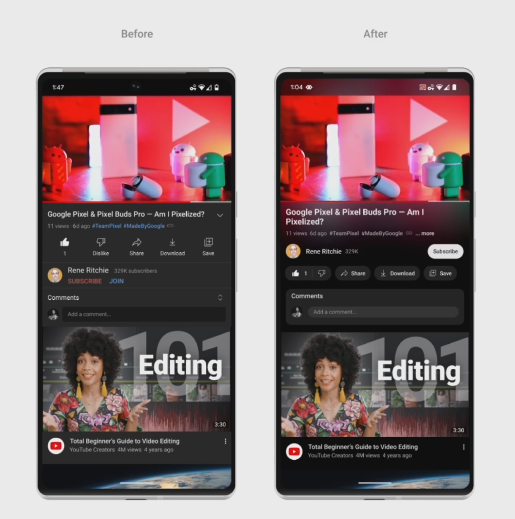 The Ambient Mode will adapt to the color of the videos on screen and the background shifting slightly to put more focus on the main content. 
"Using dynamic color sampling, ambient mode introduces a subtle effect so the app background color adapts to match the video. We were inspired by the light that screens cast out in a darkened room and wanted to recreate the effect so viewers were drawn right into the content and the video takes an even greater focus on our watch page."
Other rollouts include
'Darker' Dark mode – to make the colors truly pop on your screen.
Changing the Like, Share, Subscribe, and Download button format – to minimize background distraction.
New White hashtags instead of older blue ones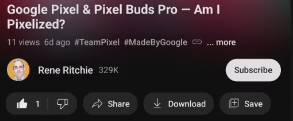 All these changes are sure to make the app feel 'cleaner, more lively, and easier to use for a different purposes.
8. Meta Showcased Latest VR Developments at Connect 2022
Not long ago, in August, Zuckerberg was seen defending Metaverse VR features that had received immense backlash. 
Fast forward to this month, Meta held its Connect conference for 2022 where it announced a range of new cutting-edge VR features. This included a new Quest headset, new professional integrations to facilitate workplace collaboration, updated interaction tools, and many more. However, the highlight was your avatars having legs now.
Yeap, the days when your Meta avatar looked like a genie without legs are over!🧞
We understand the buzz that Meta has created with its avatars and figured you might want to know of the key updates of the events. 
Firstly, Meta is releasing a new and upgraded version of its standalone Quest VR headset. It will be with the Quest Pro, the next evolution in VR interaction. 
As Meta explained,
"Meta Quest Pro is the first entry in our new high-end line of devices, and it's packed with innovative features like high-res sensors for robust mixed reality experiences, crisp LCD displays for sharp visuals, a completely new and sleeker design, plus eye tracking and Natural Facial Expressions to help your avatar reflect you more naturally in VR."
Originally titled 'Project Cambria', The Quest Pro can display 37% more pixels per inch. This will enable a more immersive and realistic experience. 
This advanced device will also facilitate a range of new professional features like multi-screen displays, workrooms for collaboration in VR, and 'Magic Rooms' – a combination of pf VR and video participants. 
Secondly, Meta has also announced a partnership with Microsoft. The two tech giants will work together on a range of professional integrations, including Microsoft Teams immersive meeting experiences. 
While it all sounds like a step toward the future it sure will burn a hole in our pockets. 
Meta's Quest Pro is now available for pre-sale at a whopping $1,499.99. To help you understand the price difference the current standalone headset of Meta's Quest 2 sells for $399!😯
This 4x price increase is a huge leap and is sure to leave the Pro version as a theoretical concept for most regular consumers. 
Thirdly, Meta noted that it is working with Accenture, Autodesk, and Adobe, among others, in helping them build VR into their process. It will also guide their staff and clients into the next phase of professional collaboration. 
Fourth, Meta has announced that it is developing Horizon Worlds on the web for you to "eventually pick up your phone or laptop and visit friends who are hanging out in VR, and vice versa".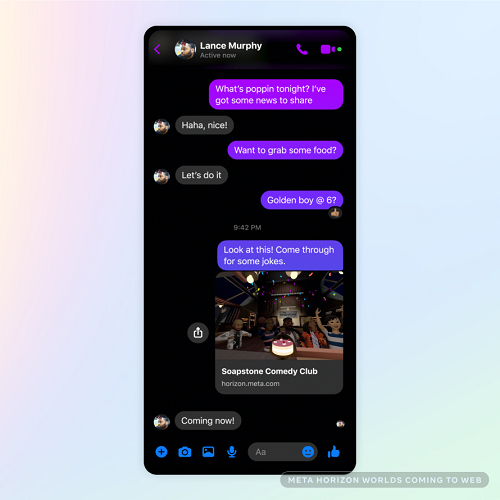 The broader view here is to integrate additional access points and interaction options for VR. This would essentially enable you to use your VR avatars in various online spaces, in other words, it would help you cross the limitations of the VR realm.
Interestingly, Meta has also noted that it is working with the YouTube VR team. This collaboration is to build more engaging entertainment experiences in VR spaces. For example, YouTube watch parties in Horizon Home. 
Last but not the least, Meta's avatars with legs!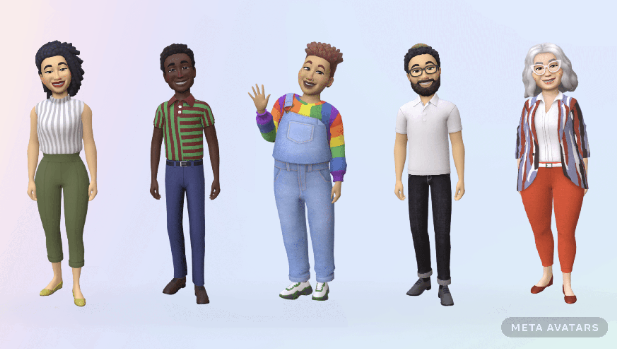 The new full-body VR avatars will roll out to Horizon World shortly. Meanwhile, users will also be able to use these new avatars in video chat, on Messenger, and WhatsApp.
9. Instagram Officially Announced 'Creator Portfolio' Showcase Option
Finally, Instagram has announced the coming of its 'Creator Portfolio' option. 
The feature will enable creators to build a media kit package, to showcase their audience reach and previous brand work.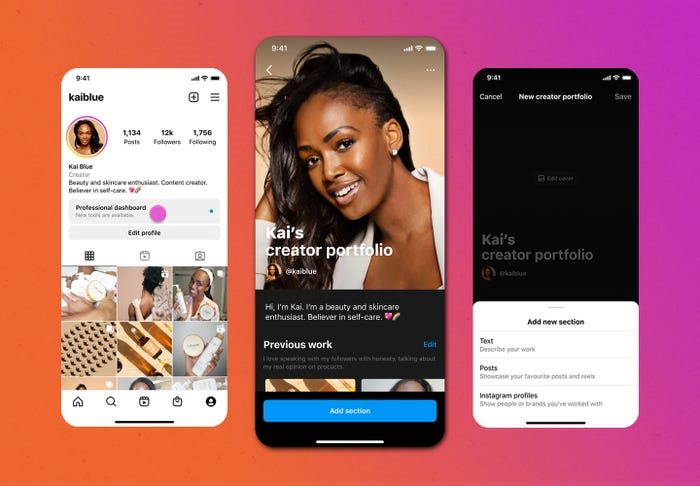 The option will provide creators with the opportunity to create their own portfolios from the Professional Dashboard in the app. This will facilitate creators in building their pitch to brands. It will also secure more influencer marketing deals for them. 
The feature is quite similar to the platform's Creator's Marketplace listings. The only difference is with the Portfolio option, creators will be able to share their profile directly with potential partners. 
The option was actually in tests last month and was first sighted by researcher Alessandro Paluzzi who spotted this welcome screen for the option.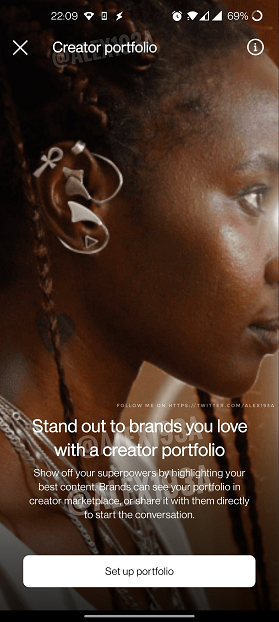 Creator Portfolio is a great way to boost Instagram's appeal to creative talents. In other words, the attempt is to keep its top stars from migrating to TikTok or YouTube. 
The idea is also to get a wider variety of content in front of more people. This will not only maximize engagement but also facilitate a wider distribution of content. In turn, this will boost Creator engagement stats and opportunities – another way to keep them posting on IG.  
The battle for top talent is definitely rising! And, it will be interesting to see how Instagram's pitch to top talent matches up with its competitor(s). 
We were saving the best one for the last (at least that's what we think)! Here it goes!
10. Elon Musk Takes Over Twitter. Fires CEO
The inevitable is finally here. What started out as a tweet a couple of years ago has become true now. Musk has finally taken over Twitter and has claimed that the 'bird is freed'.
For some time now netizens have been speculating what will be the future of Twitter's takeover deal. Musk, who had earlier raised concerns about the platform's performance authenticity, had also been trying to get out of the deal. 
However, the deal was closed finally and Musk has taken over the platform. 
Musk closed his $44 billion deal to buy the social media service on Thursday night and said only three people were aware of the situation. As reported by Reuters, Parag Agarwal and Segal were in Twitter's San Francisco HQ, when the deal was signed and they were escorted out of the office. 
Musk has also claimed that the takeover was crucial for the "future of the civilization". 
He said, 
"The reason I acquired Twitter is because it is important for the future of civilization to have a common digital town square, where a wide range of beliefs can be debated in a healthy manner, without resorting to violence…. There is currently great danger that social media will splinter into far right wing and far left wing echo chambers that generate more hate and divide our society".
Although the unusually long tweet is positive in its nature, we can't help but think of the meme he shared teasing a merger with the right-wing social apps Parler and Truth Social.
The concern here is that, under the Tesla owner, Twitter is expected to adopt a new approach to free speech. And, knowing the current online hate culture, one can only speculate what will unfold if things are not kept in check!
Only time can tell how things will take a turn in the future. 
For now, all that we know is the months of waffling, lawsuits, and a near miss of a full-blown trial, Elon Musk owns Twitter. 
What are your thoughts about this midnight takeover newsbreak? Do you feel the new Twitter era will bring a new dawn or will it complicate online culture more? 
Let us know in the comments below. And that's all that we have for now. 
But don't forget to turn back in next month for another round of the most exciting social media updates.