Hey all, we are back with the most lit social media updates of the month.🔥
From Musk taking a step back on his Twitter deal to TikTok taking a step further with its focus on SMBs, this post covers it all. 
So without wasting any time, let's dig into it!
1. TikTok's New Translation and Captioning Tools
TikTok's looking to expand its reach even more with a range of new translation and captioning tools. The initiative will help users engage with the latest trending clips in the app. 
First on the list, we have TikTok's Auto-Captions to provide users with more ways to add text descriptions to their clips. This feature is especially important for sound-off environments.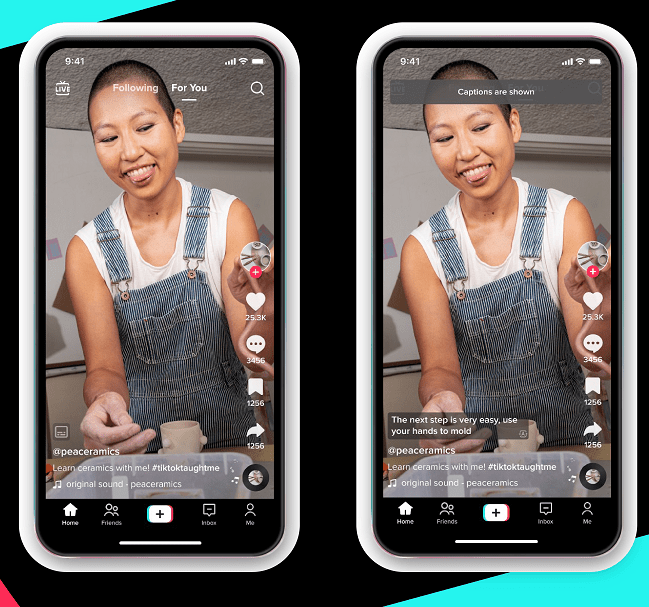 As shown in the above image, the icon for this feature will appear on the lower left-hand side of the screen. 
The feature to add a variation of auto-captions was added last year to make it easier for creators to provide captions overlaid on their clips. 
Second on the list, we have TikTok adding Translation for Captions and Descriptions. This could help increase engagement with video clips all around the world.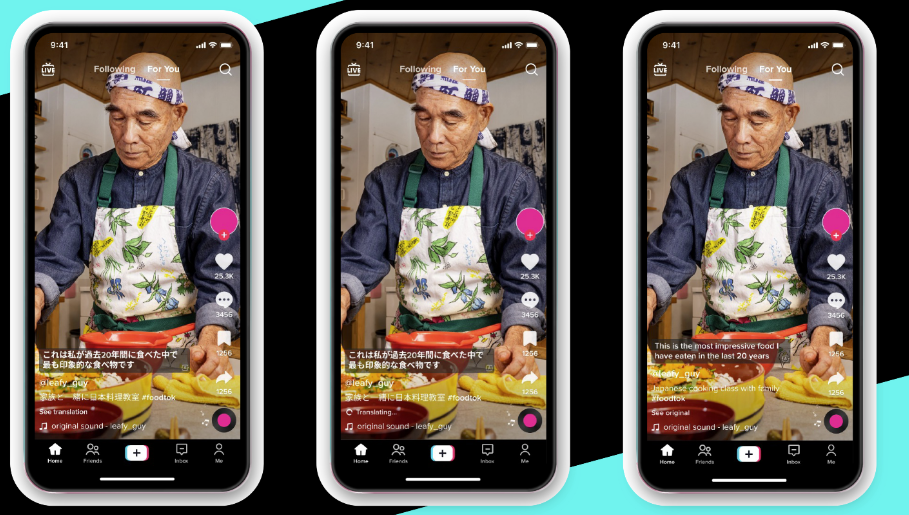 As shown in the image, the feature will enable users to translate caption text within their clips.
So if you're a TikTok creator looking to reach new markets, or connect with different audiences, the platform has just provided you with more options to maximize your preferences. 
Finally, TikTok is also adding Translation for Text-Based Stickers and Overlays to provide more context for non-native speakers.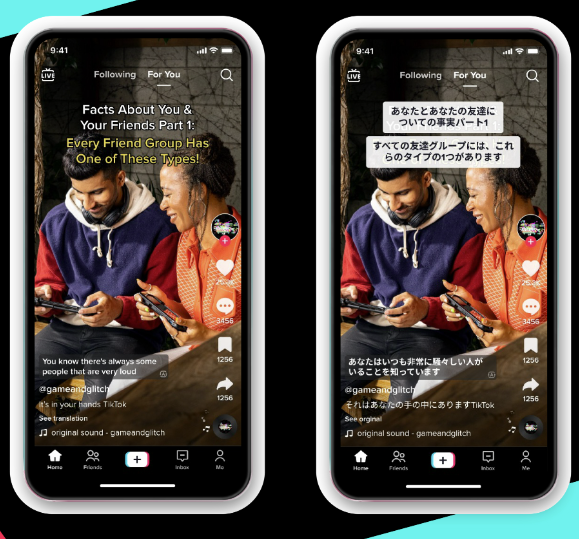 The primary languages that these features will support are English, Portuguese, German, Indonesian, Italian, Korean, Mandarin, Spanish and Turkish. 
The features are still in their early stage of rolling out and will thus only be available on selected videos.
2. Reddit Integrates with GIPHY
Are you a GIF enthusiast? 
Well, Reddit just granted your wish!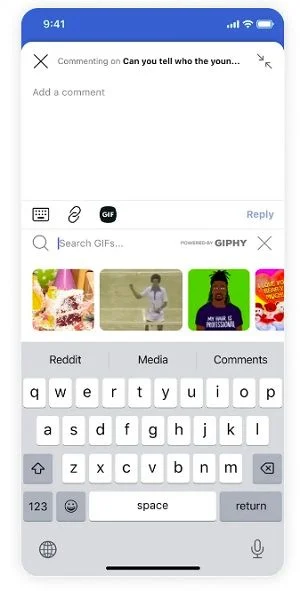 In an official statement, Reddit announced its integration with GIPHY which will enable users to insert GIPHY's GIFs into comment streams within the app.
"Starting today, users in enabled subreddits will be able to search GIPHY's moderated library of GIFs, and insert them directly into a comment on Reddit (along with any text). This functionality will be available as an opt-in feature on all pre-existing SFW and non-quarantined subreddits – so moderators will have the ability to decide if it's right for their communities. For all newly created subreddits, the feature will automatically be available, with the ability for moderators to opt-out."
-Reddit
The initiative for this was taken over the past year when Reddit enabled GIFs for selected users via a feature called 'Powerups'. The feature requires the user to pay a monthly fee before allocating power-ups for various additional functionalities within that community. 
Despite the accessibility to GIFs, the integration between GIPHY and Reddit itself is an interesting one. 
Wondering why? 
Back in 2020, Meta announced that it was acquiring GIPHY. The purchase however faced strong opposition in the UK on grounds of antitrust. Since then, GIPHY has announced multiple integrations with Meta's rivals. This has led to social media buffs questioning if GIPHY belongs to Meta or not!
Would GIPHY be partnering with Meta's rivals if Zuck and Co. were in charge? Or maybe GIPHY does belong to Meta and partnering with rivals is an attempt at garnering added exposure. 
Either way, the integration between GIPHY and Reddit is sure to have a big impact on the latter's in-app engagement.
3. TikTok's Free Marketing Education Series for SMBs
Last month, we informed you that TikTok has increasingly become a popular choice among SMBs. 
Adding on to that, TikTok has launched a new initiative to help small businesses learn key tips and tricks to maximize their success on the platform.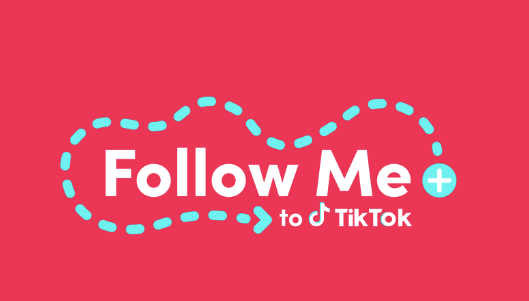 Known as 'Follow Me', the new initiative is a free education program. It is said to include expert tips and insights to help you improve your TikTok marketing approach. 
A whole new definition to being self-sustaining, isn't it?😎 
The program will be six-week-long email-based series. It will provide an overview of best practices and will include notes on: 
Setting up a free business account
Using TikTok's Creative Centre for content inspiration
TikTok's Ads Manager and other promotion features
Additionally, Small Business Ambassadors like Cassie Sorenson, Tassel Amor, and Jacob Zander will also share their SMB journeys in the app.
All of these together may prove beneficial to learning the nuances of TikTok Marketing. And, with the platform continuously dominating pop culture trends, businesses are looking to tap into TikTok to boost promotion, to increase their brand awareness.
Surveys claim that TikTok is to exceed 1.5 billion users in 2022 making it one of the top three most used social media platforms. This ubiquity will definitely add value in making brands reach a wider audience.
You can sign up for TikTok's 'Follow Me' course here.
4. Meta to Improve its Monetization and Community Building Tools
Meta has come with two new features to improve its monetization and community-building tools for creators.
First off, we have Meta's Subscriber Chats. The feature will enable creators to host exclusive chat sessions with up to 30 people at a time. This will provide an intimate and enclosed space to help build a community.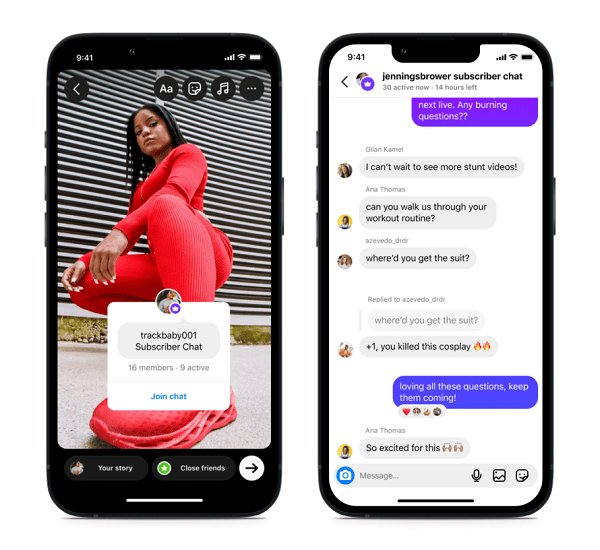 As seen in the images, the feature will be activated via a new 'Joint Chat' sticker from your Facebook or Instagram story. This sends an invitation to users for an exclusive session to gain more insight and maintain a connection. 
Explaining the reason behind this feature meta says,
"Subscriber chats, powered by Messenger, can be created directly from your inbox or story and end automatically after 24 hours, so you can maintain balance and decide when and how you engage with your subscribers."
Secondly, creators will now also be able to create exclusive posts and reels, especially for their subscribers.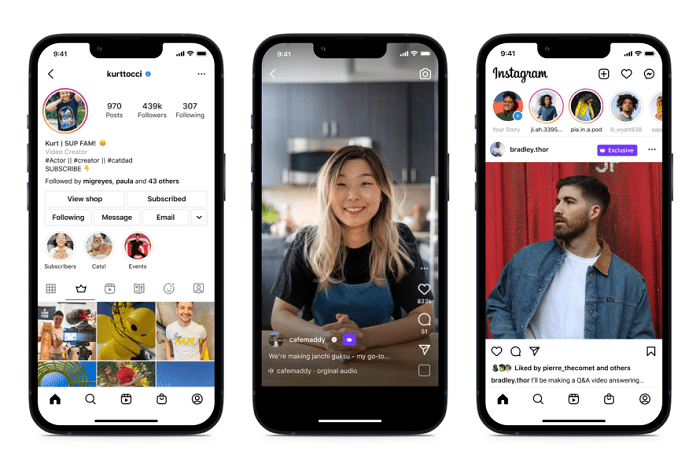 These exclusive posts will be live in a separate tab on creator profiles, displayed with a purple crown badge to signify that are only visible to subscribers. 
Earlier we had Meta adding exclusive Stories and Live Broadcasts, in January 2022. 
All these additions have provided a more direct means to share unique content with your paying audience. These will also add value to a creator's subscription offerings which can then generate more interest in their paid content. 
If you're wondering why Meta is focused on adding more such features, the answer is simple – to provide better monetization potential for creators. In other words, these features will help increase user engagement.
Meta needs creators to fuel its metaverse shift. And what can be better than building a whole new digital world to attract more users? However, the key focus right now is to build monetization potential to win creators away from TikTok and YouTube. 
As we know, TikTok still lags in this field and is thus still vulnerable. Therefore, this is the perfect chance for Meta and YouTube to exploit this field by sweetening their deals, adding new functionality, etc.
5. LinkedIn Ditches PDF Format for Carousal Posts
If you're an active LinkedIn user, you must be aware of its makeshift carousel posts. This feature that earlier used the PDF attachment option to create individual frames has finally been declared as fully functioning.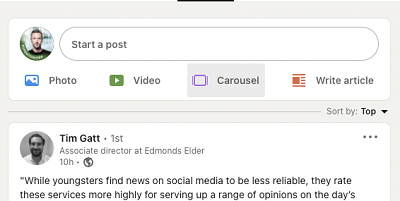 As shown in the image, the new carousel post option has been added to the updated tools section.
Once you tap on that, you'll be taken through the carousel creation process. This will enable you to choose multiple still images and/or video clips to add to your post.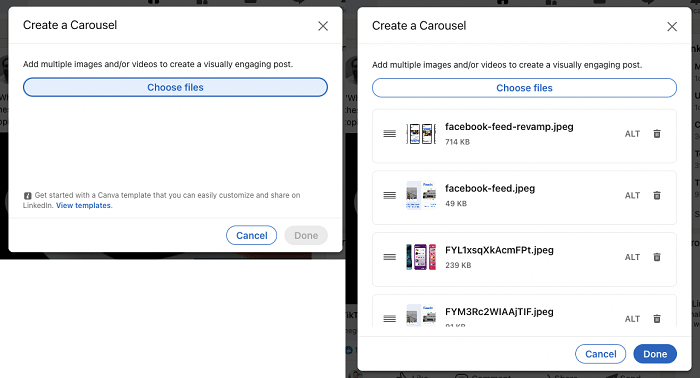 The initiative has been taken in hopes of empowering creators to share knowledge more visually.
The option of carousel posts was introduced back in 2019 when LinkedIn added the capacity to attach PDFs to your LinkedIn updates, which then converted your document into a multi-frame preview deck.
The feature has been a hit ever since it was introduced. As reported by Socialinsider, native documents i.e. posts consisting of PDFs generate 3 times more clicks than any other type of document.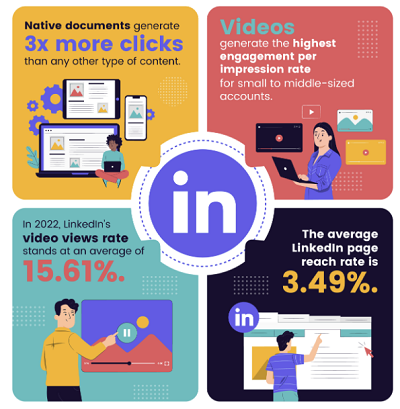 Based on all that we have read so far, it seems pretty safe to assume that carousel posts are largely responsible for LinkedIn's increasing popularity and usage. And with LinkedIn converting it into a legit posting option, we only have higher expectations from it!
6. Snapchat Tip-Toes with AR-NFT Integration
Contrary to rumors that the NFT hype has died down, we can witness various social media platforms invest in it. The latest to join this trend is none other than our beloved Snapchat 👻.
The company is all set to enable users to convert their NFTs into AR Lenses. Additionally, an option to later insert these NFTs into users' snaps is also being looked at. 
Essentially, Snapchat aims to enable its users to display a 3-D version of their NFTs to be used as either a virtual face mask, background, or even an additional item. Intriguingly, Snap's looking to take a step further into the digital connection. 
Till now, Twitter has a whole new profile display option for NFT art. Instagram is also experimenting with a new profile element where users can display their 'owned' items. But, Snapchat's integration will move users' NFT display options into its AR tools.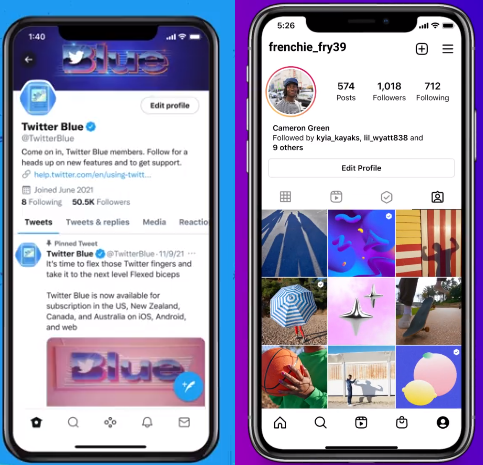 Meta, on the other hand, is focusing on VR to evolve its metaverse experience.  
It is quite clear that Snapchat is making use of the AR boom (thanks to AR glasses!) to make its plan of NFT integration more significant than its competitors. Rather than pinning it to be a "legacy system", Snap's aiming to capitalize on the rising market for digital goods in new ways. 
The investment in rising digital items is the company's approach to achieving a sure-shot success. This is because while NFT offerings may not yield the same result as hoped for, there's still a solid business case for digital items. For example, buying and selling things like digital clothes for avatars, digital jewelry, etc. also signify status and achievement. 
In a nutshell, Snapchat could get ahead of its competitors because of AR-enabled digital items. Furthermore, its integration of Bitmoji characters could help it take it to the next stage.
7. Elon Musk to Terminate Twitter Takeover Deal
Just last month, netizens contemplated that the Twitter deal was moving forward when Mr. Musk met the Twitter staff. Not even 30 days since the meeting and the once claimed inevitable has now been proven wrong. 
Elon Musk has officially filed a motion with the SEC to terminate his $44 billion takeover of Twitter. And the reason isn't a head-scratcher! For some time now, Musk's team had been questioning the accuracy of the information on the number of fake accounts on its platform. 
As mentioned in the letter filed on behalf of Musk and his investment partners at Morgan Stanley, there is a 'material breach of multiple provisions in the original merger agreement. 
"[Twitter] appears to have made false and misleading representations upon which Mr. Musk relied when entering into the Merger Agreement, and is likely to suffer a Company Material Adverse Effect (as that term is defined in the Merger Agreement)."
The letter also notes that Musk's team is still unconvinced of Twitter's metrics that it provided last month. Moreover, based on its analysis his team even claimed that the presence of fake accounts is more prevalent in the app than claimed by Twitter.
Musk and his company execs also believe Twitter includes accounts that have been suspended within its active user metrics. Overall, Musk's team has listed the following areas where Twitter has failed to provide adequate information: 
Twitter's auditing process for inclusion of spam and fake accounts in mDAU
Twitter's process for identifying and suspending spam and fake accounts
Twitter's  financial condition
Daily measures of mDAU for the past eight quarters
Board materials related to Twitter's mDAU calculations
But the real question here is if this is good news for Twitter or not!
And the answer is a big NO!
It is clear that the deal falling apart would raise questions over Twitter's future and its capacity as a business to become a more viable, value proposition. Not to forget that owing to the pending Musk takeover, Twitter had cut executive jobs and shifted its entire business approach.
Reportedly, Twitter's CEO Parag Agrawal is even 'willing to go to war' to make Musk go through with his takeover bid. The overriding consensus also indicates that Musk eventually will have to go through with his Twitter takeover deal because of the various measures he took initially to expedite the transaction. 
However, Musk's team provided a note of clarity stating,
"Despite public speculation on this point, Mr. Musk did not waive his right to review Twitter's data and information simply because he chose not to seek this data and information before entering into the Merger Agreement. In fact, he negotiated access and information rights within the Merger Agreement precisely so that he could review data and information that is important to Twitter's business before financing and completing the transaction."
Twitter board chairman Bret Taylor was quick to respond to the news:
The Twitter Board is committed to closing the transaction on the price and terms agreed upon with Mr. Musk and plans to pursue legal action to enforce the merger agreement. We are confident we will prevail in the Delaware Court of Chancery.

— Bret Taylor (@btaylor) July 8, 2022
Will Musk be able to get out of the deal or will Twitter indeed force Musk to pay up?
Let us know your thoughts in the comments below.
8. LinkedIn Expanding Creator Accelerator Program
Like all social media platforms, LinkedIn too is looking to accelerate its most engaging creators active. The platform has also witnessed 'record levels' of engagement. This has further nudged it to come up with ways to promote more thought leadership content onto people's feeds. 
As a result, LinkedIn has announced an expansion of its Creator Accelerator Program.

This new initiative aims at helping chosen creators to improve their LinkedIn Skills, and maximize their in-app presence. 
This 6-week-long program will provide its participants with 'access to tools and products that will enable them to start conversations, build engaged communities, and to connect to meaningful opportunities' on LinkedIn. 
Additionally, a sum of $12000 will be offered to the participants. 
Moreover, the platform will also add a range of new mentors to the training process like Sherrel Dorsey, (the founder of The Plug), and podcasters Colin Rosenblum and Samir Chaudry.
The initial stage of the program was launched last September which was a 10-week course with a $15k cash stipend.  
You might be wondering if it is required for LinkedIn to build more incentives for its creators. After all, where else can we publish business thought content? 
While we do lack more authentic platforms like LinkedIn, creators can still opt to make more money through guest blogging and posting on other sites. 
Hence, even if this isn't as same as the battle for creative talent like that of other social media platforms, it makes sense for LinkedIn to provide more direct incentives.
To qualify, you must 
Have a track of  'driving professional conversations about the world of work'

Be living in the US
Be over 18 years of age
9. Snapchat's Increasing Daily Actives, Reducing Revenue Growth
The recent Q2 2022 numbers posted by Snapchat show a steady increase in usage, but slower growth on the revenue side.
Before we unearth the depths of this data, it is important to highlight that Snapchat has added 15 million users in Q2, i.e. 347 million daily active users! 😲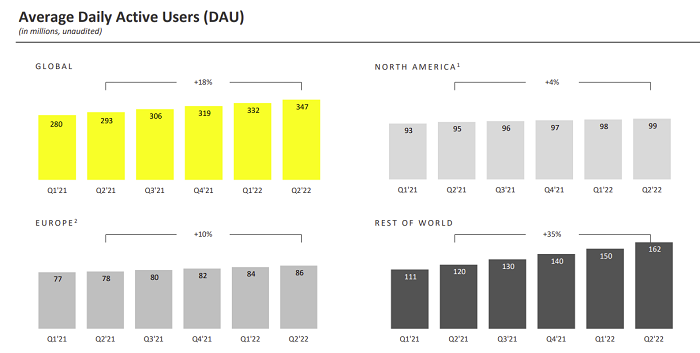 However, the average revenue per user is relatively low in other markets, especially in the 'Rest of the World' category where the platform has added the majority of its new users. 
If we think in terms of India, Snapchat has seen significant growth in the country. The advancing mobile adoption and connectivity has expanded the platform's reach and presence. While this is a positive sign for the app's longer term growth plans, it fails to provide any major boost for the app's revenue. 
Moreover, its stagnant status in the US and European market is another cause of concern among investors. 
Do you think this can pose a threat to Snap's future-looking expansion plans?  
At this point, we would also like to highlight that Snap's revenue growth isn't a pause. It's just much slower than the company has seen so far. As per the company, 
"We observed a 25 percentage point deceleration in revenue growth quarter-over-quarter, with revenue decelerating as we moved through the quarter. The deceleration in revenue growth was observed across both our direct-response and brand advertising businesses, even as direct-response advertising grew modestly faster. Additionally, we continued to see demand grow faster for mid and upper-funnel objectives while growing relatively slower for lower-funnel app-based goal-based bidding (GBB) that have been most directly impacted by platform policy changes."
To address this, the company has assured its investors that it will look for ways to maximize its community growth initiatives and invest heavily in direct response offerings. 
Who knows maybe these will be the measurable returns that snap will introduce soon!
However, it is difficult to say if this will change things. Yet, Snap has been proactive in advising the market of its position and is keen to underline the fact that it is working to maximize its revenue benefits. 
Currently, Snap is the leader in the AR space with its users spending a lot of time using AR Lenses. The app is also rumored to soon launch its own AR glasses to compete with Meta, Apple, and Google in Space.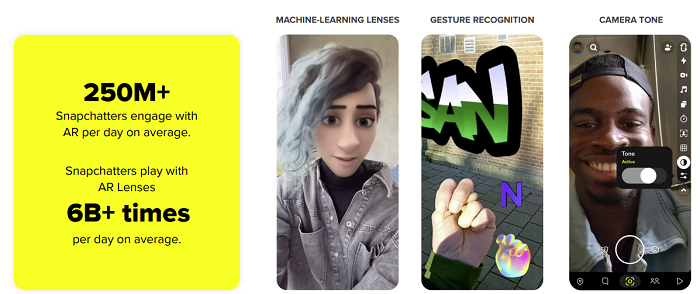 10. YouTube Expanding Product Tagging Process
Back in April, YouTube launched the first iteration of its product tagging process.
In a bid to take this program a bit further, it's been inviting more and more creators into the fold. This will enable chosen creators to tag the products that are featured in their video clips. YouTube will also directly pay the creators for using these items in highlight.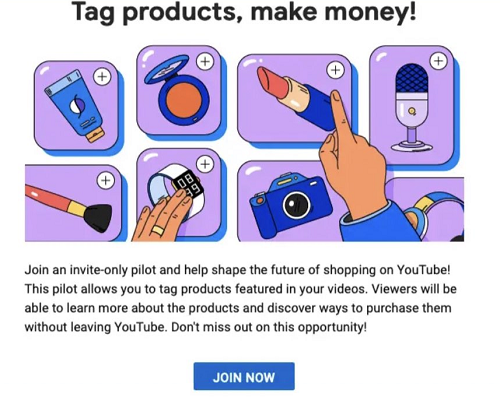 Although the expanded feature looks very similar to Instagram's product tagging process (also launched in April), it is not the same. Instagram's process enables its creators to earn a commission from any direct sales generated as a result of their product tags. But, YouTube's system is not based on commission per sale. Instead, YouTube will be paying a monthly rate to creators for using the tool.
YouTube will eventually move to a direct affiliate program and enable creators to earn a direct cut from sales generated and establish another ecosystem to facilitate monetization in the app. Talk about YouTube joining the race to – integrate commerce options with its app!
The major question that is attached to any social app integrating shopping experience with it is if viewers even prefer in-stream shopping.
Currently, in-stream shopping is a transformative trend in China. More and more Asian markets are also taking to the streamlined product display-to-purchase process. Yet, the idea isn't exactly a hit among western audiences.
Apps that are actively integrating their business with live-stream commerce are TikTok, Meta, and YouTube. All three have incorporated varying forms of live-stream shopping tools to align with viewers' impulsive shopping behavior and modern engagement trends.
While this is a thing, we still don't know if people are inclined toward buying from social apps.
As a user, when we come across a product being featured on our pages it doesn't necessarily upset us. Yet, we often prefer buying the product from the company's website. This presents a larger issue than it reflects. Users not willing to directly purchase from social apps show distrust in the payment services offered within social apps, and in registering your bank details in connection with your in-app data.
But are you not surprised how China has managed to trend in-stream shopping?
The answer to this can be found in all the bad press that data sharing has received in the past year. Chinese regulators have far more control over how businesses operate in their region than western countries.
Either western countries can take their data privacy issues seriously, or we can simply wait for the younger consumers to grow up and become the target audience for these businesses.
Either way, it's a long way before YouTube, along with its peers, get to experience the benefits of in-stream shopping.
Do you think instream-shopping is a rising trend in making or is it just a short-term fad destined to die out soon?
Let us know your thoughts in the comments below!
And with this, we have reached the end of our July social media updates.
We will be back soon with major social media updates next month.
Stay tuned and stay tech savvy!!