Social media in March was exciting. We came across a lot of new features that aim to improve the platform usability and make it more feature-rich. We've pulled out the major social updates that happened in March for you here.
Let's dive in and look at what they are.
1. Twitter's New Creator Monetization Option - Tweet Awards
Lately, Twitter has been coming up with plenty of monetization options for creators. With rival social media platforms Instagram and TikTok increasing their user base substantially, Twitter is left with no choice but to be more innovative.
Tweet Awards is a new creator monetization method just like Twitter's other monetization ways (Tipping, Super Follow, etc). The new monetization method would ideally be another way for creators to generate revenue from their platform presence.
The new Tweet Award option will appear as a gift icon in the right-most corner of the lower tweet function bar (you can see in the image above).
Twitter's Tweet Awards are similar to Facebook's virtual gifts, YouTube's "Super Stickers" and TikTok's live gifts. The only difference is that instead of donating, audiences will be able to allocate an award for individual tweets.
Here's what Twitter had to say about this, 
"We're always looking into new ways for people to engage with others on Twitter and don't have further information to share at this time."
Though there's no specific timeline as to when the feature will be live, it can be expected some time soon.
2. Instagram's New Moderator Option for IG Live Streams
Instagram has been working on this feature for the past few months. It should also be noted that TikTok came up with the same feature in July last year.
The new moderator option allows creators to gain more control over their live streams by assigning a moderator within the stream.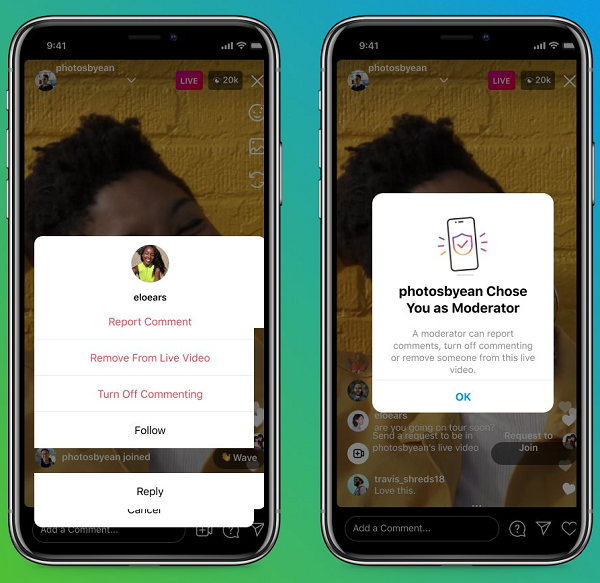 As shown in the image, a moderator can report a comment, remove someone from a live video or turn off commenting for a specific viewer. 
This paves the way to better and controlled streaming experiences for both the creator and the audience, blocking and reporting inappropriate comments during IG live sessions. This feature would be extremely useful for streamers who have a large following. They can simply add a moderator they trust and let them deal with the comments and reporting.
Creators can add a moderator by clicking the menu icon in the comment bar. They can search for specific users or add a person from the live stream. If not, they can also choose a moderator suggested by Instagram.
3. WhatsApp to Introduce a Polling Feature Very Soon
We've been seeing updates from WhatsApp often now. In our February social media updates blog, we saw WhatsApp allowing users to listen to voice notes outside the chat and an option to add cover photos for businesses. 
WhatsApp is now working on a feature that allows you to create polls within WhatsApp groups.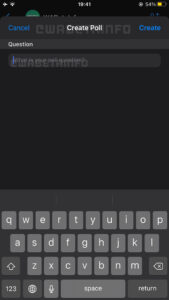 Users will be able to create polls only within group chats and the same is end-to-end encrypted. It should be noted that Telegram, WhatsApp's most popular rival, had introduced this feature back in 2018. Though WhatsApp is planning to introduce this feature only now, the two billion-plus users who use WhatsApp should find it useful – no doubts!
4. Twitter Launches New Creator Dashboard
Like we already said, Twitter has been introducing a lot of new creator monetization options lately. And it only makes sense to have a dashboard that allows creators to track their revenue. 
They have come up with a new dashboard that helps creators to keep track of their monetization.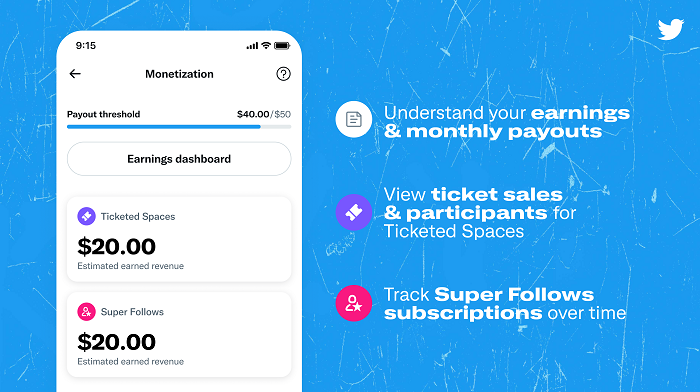 The new dashboard will provide insights like your income from various streams within the app, data on Super Follows and Ticketed Spaces and there's also an overall payout tracker that'll help you stay motivated.
Here's what Twitter said on this, 
"[Creator Dashboard] is designed to help creators further understand how they make money on Twitter and how much they are earning from monetization features, Ticketed Spaces and Super Follows. Easily accessible from the Monetization tab, the dashboard is a clear way for creators to search through their payment history and see details about upcoming payouts."
Twitter is bringing in all kinds of changes and introducing a lot of features to stay in the competition and this new creator dashboard is one of the many features yet to come.
5. Instagram Launches a "Creator Lab" To Help Creators Out
Here's another update from Instagram. This one helps social media marketers to a great extent. Instagram has recently launched a new Creator Lab that allows creators to maximize their performance within the platform. 
You can visit Instagram's Creator Lab here – Instagram Creator Lab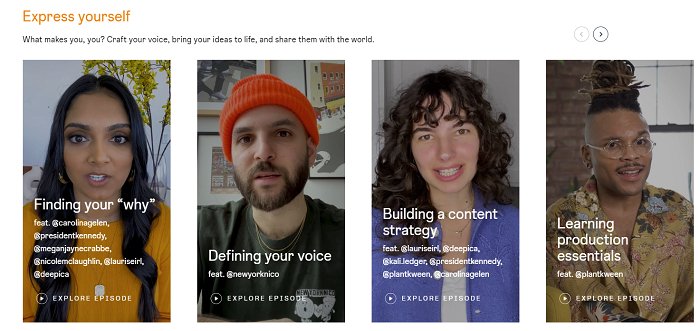 The creator lab enables creators to perform better on Instagram by giving useful information about strategy, optimization, and Instagram algorithm in the form of short & long video clips and FAQs. The creator lab also has a dedicated section where you can meet featured creators from different industries.
Instagram is pushing itself to be the number one social platform by introducing new monetization options and useful features. If you're an IG creator you must definitely take a look at the creator lab. Also, here's something you might find useful.
100+ Instagram Growth Hacks No One Will Tell You About
6. YouTube to Allow Users Watch TV Shows for Free
In another major social media update, YouTube has stated that it'll allow users to stream thousands of TV shows within the app for free.
YouTube has become the new-age television. Research shows that the consumption of content over mobile phones and other connected devices is steadily increasing. Such an update could plummet the usage of traditional media even further. 
YouTube, for some time now, has been offering on-demand movies and TV shows. But with this update, users will be able to watch thousands of TV shows and movies for free. Of course, there will be ads in between. But again, it will be very less when compared to ads displayed on Television.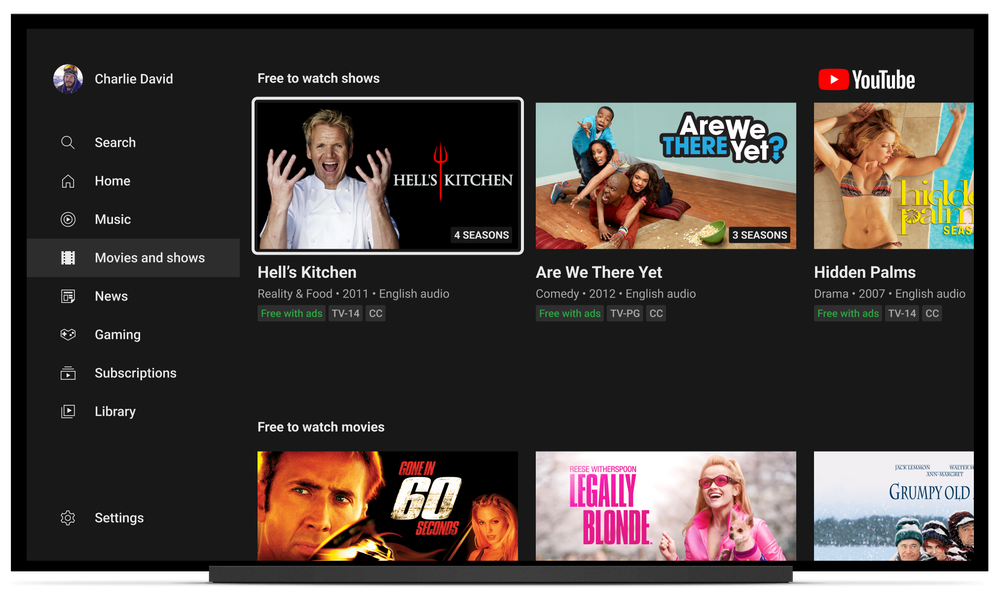 Here's what YouTube said on this,
"YouTube is at the forefront of the consumer shift to CTV viewership as the top ad-supported streaming platform with the content people enjoy and the creators they love. And now US viewers for the first time will be able to watch full seasons of TV shows on YouTube for free with ads. Now you can stream nearly 4,000 episodes of your favorite TV shows, including Hell's Kitchen, Andromeda, Heartland and more."
4,000 episodes and over 1,500 movies is definitely a lot. As the usage time increases, it will provide an ideal opportunity for businesses to display ad campaigns at an affordable price with abundant targeting options.
This feature is currently available to users in the U.S. and can be accessed via web browsers, mobile devices and connected TVs. This update from YouTube is a significant and noteworthy shift in the digital space.
7. LinkedIn Comes Up With Newsletter Option for Company Pages
LinkedIn has its fair share of social media updates. Earlier this year, LinkedIn was testing clubhouse-like audio rooms and now they've come up with a new way that allows businesses to stay in touch with their audience.
Businesses, with the help of their Company Pages, can now create their own newsletters in the app. And the best part is, page followers will get notifications for newsletter updates.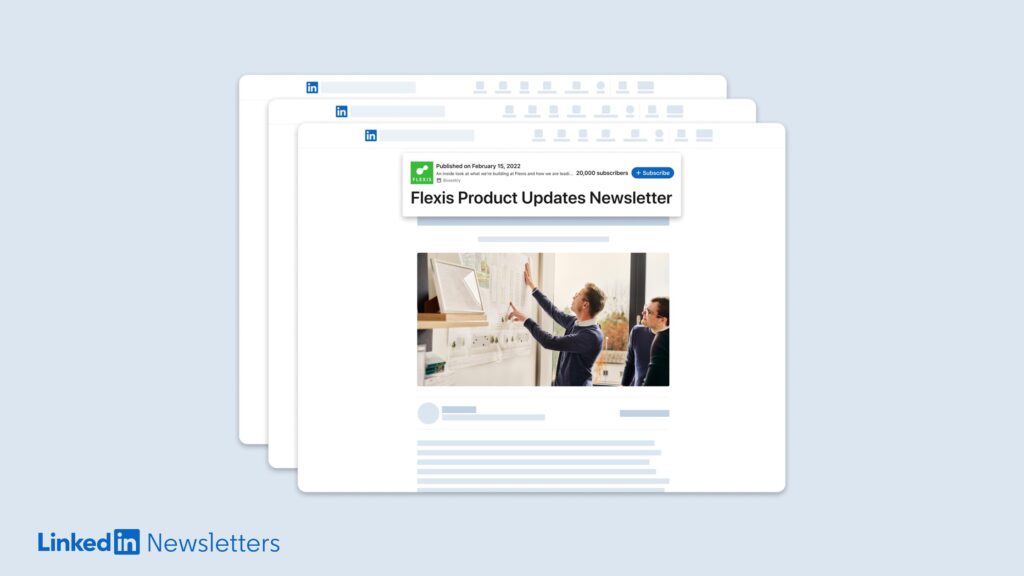 LinkedIn's statement on this,
"We debuted Articles for Pages last year to help you publish long-form professional content to spark conversations and drive greater engagement. We continue to look for meaningful ways to connect as we navigate our new world of work, and that's why we're introducing Newsletters, a new way to build communities around topics that matter most to your customers with recurring Articles from your Page that members can subscribe to."
The newsletter feature was available only to creator mode users but now, company pages also get to leverage this feature. The notification will be sent automatically to followers every time a newsletter is created.
This feature can be a good way to help brands stay in touch with their audience and initial tests have also delivered positive responses. Businesses like Zoom and Insider witnessed results like increased subscribers.
With LinkedIn bringing in such a feature, this could be the next new way for businesses to stay in touch with their potential audience. And whether it's going to work out or not, we'll just have to wait and see!
8. Twitter and Its Keyword Search For DMs
Here's another update from Twitter and it's a good one.
Twitter has finally launched the option to search within Direct Messages using keywords. This makes it easy for users to search anything within the messages – conversations, products mentions, particular links and more. 
The team came up with a Tweet on this like they always do,
We know you've been waiting for the option to search your DMs…

Now you can use the search bar in your inbox to find specific messages using keywords and names. pic.twitter.com/A41G8Y45QI

— Twitter Support (@TwitterSupport) March 23, 2022
As seen in the Tweet, the DM search option filters the query into four segments, 
All – Displays all results for the query – includes key term matches and username
People – Shows only relevant usernames that match the search term
Groups – Shows matches within group chat for the search term
Messages – Displays keyword matches if any across all DMs
Earlier, search was possible within DMs by entering a username but the results weren't efficient. This update could help brands that use Twitter as a support channel to a great extent. And everyday users who converse on Twitter will find it pretty useful as well. 
It's the small steps that make a platform more user-friendly and Twitter has been nailing that for some time now!
9. Instagram Launches Algorithm-Free Feed to Users
This one is a major social media update from Instagram. 
Instagram's new algorithm-free feed option was a work in progress back in December. But now, it's live. Instagram has finally launched its algorithm-free, chronological feed option to platform users.
As you can see in the image, Instagram now allows you to choose between two different feeds – Following and Favorites. 
Here's what they mean, 
Following – This feed shows you posts from all the accounts that you are following using your Instagram account
Favorites – This particular feed shows posts only from accounts that you've added to the Favorites list. It should be noted that you can add only up to 50 accounts to the Favorites list. This will help Instagram prioritize updates for the users. 
And here's the best part – all posts shown in these two feeds will display posts in chronological order (exactly in the order they are posted). This means that users will no more face algorithm interference – it's just the posts getting displayed in an old-fashioned, orderly way.
This option gives the users more control over how they use their social media profiles. Now that Instagram has brought in the most requested feature by users, let's see how it works out for the social media giant!
10. Instagram To Enable All Users to Tag Products in Their Feed Posts
This one's another update from Instagram.
Instagram is super focused on expanding its eCommerce listing and this new update is to boost the process. Over the last few years, Instagram has been making it possible to sell products within the app by improving visibility and directing users to pages. With this update, Instagram will allow all users on the platform to tag products they use on their feed posts. It should start with users in the United States.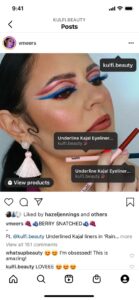 Earlier, Instagram allowed only approved creators to tag and give direct links to products. But now, all U.S. users will be able to tag products from businesses that are set up for Instagram shopping. With the focus to expand eCommerce listings and give a boost to brands, Instagram has come up with this decision.
Instagram's explanation on this, 
"Scored a new pair of earrings from a small business you love? Tag the product in your Feed post so your friends and followers can learn more about the earnings and shop them!! People come to Instagram to share and discover trends and inspiration. Product tagging will make it possible for anyone to support their favorite small businesses, share how they styled their looks along with the products they used, and more." 
This new tagging feature will slowly develop a product discovery mindset among users and businesses can benefit from the free marketing.
Businesses will be receiving a notification when someone tags their products and can also see the tagged content. And at the same time, businesses can control who can tag their products and even remove tags if they want to. 
The product tagging feature is to be rolled out to all IG users in the US as of now. It is expected to be available to all other users in the next few months. With Instagram bringing in more features to benefit both the users and businesses, it's no doubt the platform will continue to remain as one of the top social media platforms around.
Social media platforms are switching towards more of a user and creator-centric approach. They want more users and more engagement within the platform and the best way is to onboard more creators. And that's exactly what social platforms are doing today. 
So, those were major social media updates that happened during March. Let's see what's in store for April.