No small talk! Let's get to business directly! In this social media update edition, we'll be looking at the top social media updates for January 2022.
We do not have to tell you how huge social media has become every time we come up with a social media update blog! It's big and you know it already!
The battle between social platforms to drive more audience and engagement on the platform has become fierce than ever! And here's what social media platforms do to stay in the battle – they constantly innovate!
That said, let's get to it!
1. Instagram Enables IG Live Badges - More Like YouTube's SuperChat
Instagram is one of the social media platforms that's constantly pushing and adding new features to drive more traffic and engagement.
In a recent development, Instagram announced that it'll be enabling IG Live Badges by default for eligible creators. What this means for the audience is that they can start making donations when their favorite creators go LIVE.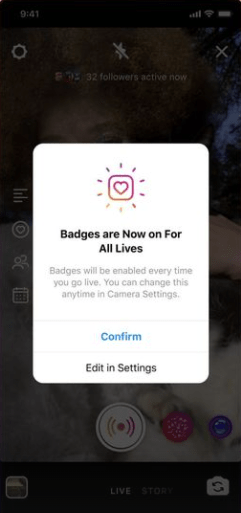 As for creators, they'll be receiving donations from audiences which will want them to go live frequently.
Instagram revealed this feature to a select number of creators last year. But this year, they've rolled out the feature for all eligible creators across specific countries. The idea is to draw top talent to the platform and increase the engagement factor by making them go live often. With a good monetization plan in place, creators wouldn't hesitate as well!
When a creator goes live, the audience will be able to buy a badge from the comments section – badges range from $0.99 for one heart and $4.99 for three hearts. The donation (minus any charges) will be sent to the creator, offering them financial support. And the audience will be given a way to highlight their comments – helps the creator acknowledge the donation and respond to the audience!
This feature is similar to that of the SuperChat option in YouTube where users can donate to creators and respond with a message.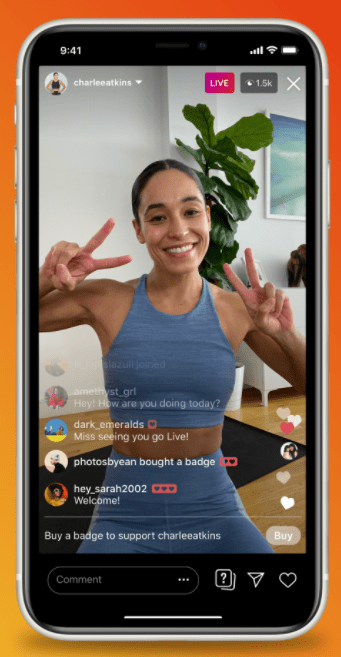 In order to be eligible for IG Live Badges, creators must,
Be aged at least 18
Have a Creator or a Business Account on Instagram
Have a minimum of 10,000 IG followers
Strictly adhere to the platform monetization policies and community guidelines
As of now, IG Live Badges are available to creators only from these countries – the US, Spain, France, UK, Germany, Australia, Mexico, Brazil, Spain, Turkey and Italy.
With the creator monetization battle growing huge, especially with the advent of TikTok, Instagram has made it clear that it's going to ramp up its game here!
2. Twitter Starts Live Testing of Full-Screen & Engaging Tweet Reactions
It's no surprise that Twitter is trying a lot of new things to stay in the game! Twitter has planned to increase its platform users by 50% within the next two years. And they are constantly coming up with new features to achieve this.
Twitter recently announced that it has started live testing of "Quote With Tweet Reaction" on iOS devices.
Tweet reaction videos can now start on Twitter!

Testing on iOS: when you tap the Retweet icon, choose "Quote Tweet with reaction" to create and customize your very own Tweet Take –– a reaction video (or photo) with the Tweet embedded. pic.twitter.com/1E30F8rKYh

— Twitter Support (@TwitterSupport) January 6, 2022
As you can see, when a Twitter user wants to respond to a tweet, they can now respond using full-sized images or videos. All they have to do is, click "Quote Tweet with reaction" and they'll be able to upload the image or video they choose.
It is to be noted that Twitter is taking these features from Fleets, its failed story plan. Apart from this, Twitter is testing an updated text editor option for tweets. This allows users to add colors to their responses, creating more visually engaging experiences.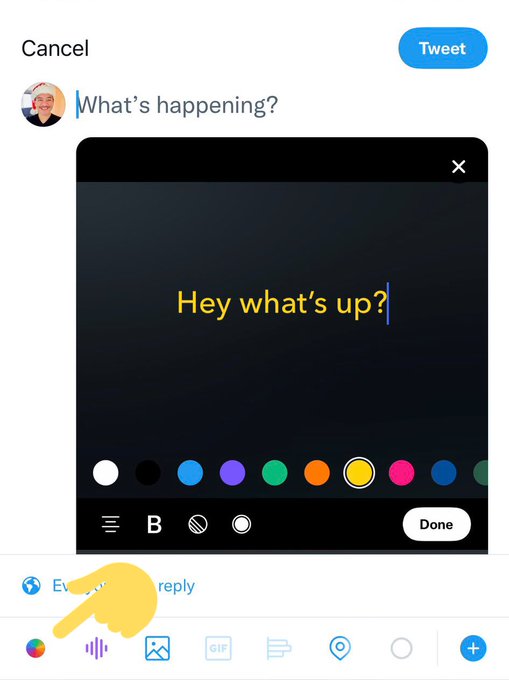 You can know more about this by taking a look at Matt Navarras's Tweet. Twitter is also now following the full-size approach for photographs in the "Explore" section – this is already practiced in the feeds.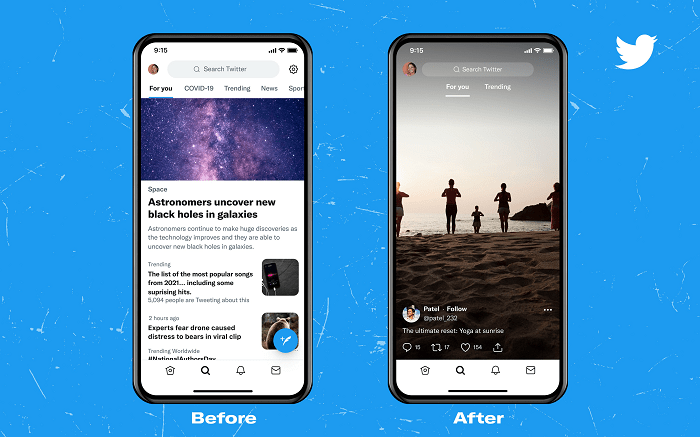 With TikTok following the full-screen approach, almost all other social media platforms have started following the same. And Twitter is no exception to it! 
During the last 12 months, Twitter has added 12 million customers to the platform. And trying out such experiments totally makes sense. Twitter, no matter what, is pushing to increase the followers on the platform by coming up with new features that could possibly improve engagement, experience and sharing.
We'll just have to wait and watch what else Twitter has got under their sleeve for 2022.
3. LinkedIn Starts Testing Clubhouse-like Audio Rooms
If you're someone who is using LinkedIn a lot, this update is going to mean a lot to you!
It's no doubt that the pandemic has brought the world to a halt. Businesses & professionals are looking for alternative ways to improve their networking methods. 
Speaking of which, LinkedIn's Live feature has got immense traction building up a 150% increase in live events hosted on the platform. After all, LinkedIn is a business community platform and this comes as no surprise!
With the massive increase in usage, LinkedIn has started to leverage this and maximize its potential by introducing new features!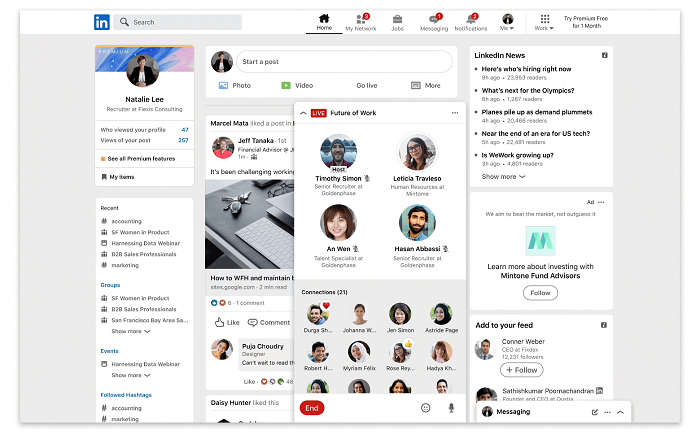 As seen in the image, LinkedIn has started to test its own audio rooms within the platform. The interface and functionalities are similar to that of Clubhouse – users will be able to join discussions, raise hands virtually to join as a speaker, or simply respond to chat with likes. 
What makes LinkedIn's audio rooms different from similar platforms like Clubhouse and Twitter spaces is that LinkedIn suggests highly relevant audio sessions to members of the platform. Considering the nature of the users on the platform, this is a good feature – allows users to stay away from irrelevant sessions. 
The audio room testing began sometime during the March of last year and it took them a couple of months to roll out. Apart from this, LinkedIn is using the same audio room layout for its other features like live meetings – both video events and single-user live streams.
LinkedIn believes that with more companies switching to hybrid working models and the pandemic nowhere near the end, these new connection features could play a major role in helping businesses stay connected and network efficiently. 
As of now, only a few thousand creators will be able to test the new event options. It is expected that more creators will be able to host events in the upcoming months. Also, LinkedIn will start rolling out its Video Events Format later this spring.
4. Facebook Launches New Privacy Center Tool
User privacy and data-sharing have always been the topic of discussion when it comes to social media platforms. How platforms collect data and what they use it for is one of the biggest concerns of social media users today.
Meta recently came up with a new tool called Privacy Center on Facebook that lets users know how their data is being utilized and how one can control the same.
The Privacy Center tool is mainly focused on five modules with every single one of them containing related guides and controls. We've listed them out below,
– Security: General information on account security, options to set up two-factor authentication and learn more about steps taken by Meta to fight data scraping.
– Sharing: A guide that lets you know about your post visibility and ways to clean old posts on your profile. 
– Collection: Information about the different types of data that Meta collects and how the same can be viewed.
– Use: Information about how and why Meta uses your data and the controls offered to manage the way information is being used. 
– Ads: How collected data is used to display ads and options to control them.
Though most of these options were previously available, Meta has given a clear approach on how people can use it with the new Privacy Center tool. As of now, the privacy center is available to only a couple of Facebook desktop users in the US and it is expected to roll out to other users in the coming months.
5. Twitter Tries Out New Place for the Tweet Composer
Here's another important social media update from Twitter. Though this might seem small, it could really make a huge difference to the platform users. 
Twitter recently launched a new feature (currently tested by a few iOS users) where the tweet composer is pushed directly below the main feed. The image below can help you understand better.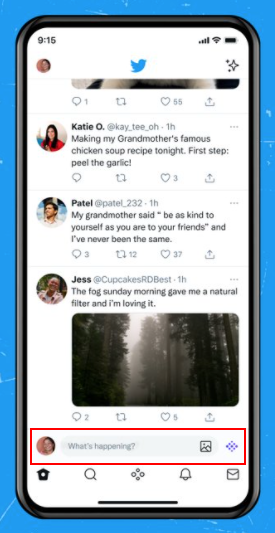 As opposed to the blue color "+" button in the current version, Twitter is opting for a new composer bar. The motive behind this is to increase the activity on the platform by allowing users to tweet more.
Honestly, new users would have no idea or find it difficult to tweet when they are scrolling through their feed. And the new composer bar puts an end to those sorts of questions. 
Like we said earlier, Twitter is planning to increase its users base by up to 50% over the next two years and every small change or feature they introduce is going to help the bigger picture!
And with that, we're done with this social media update blog! With social media usage reaching new heights every day, it's no surprise that social media giants are continuously finding new ways to make their platforms better! 
Stay tuned for our next social media updates blog! Also, let us know in the comments section if you've come across any major social media updates we possibly might have missed out on!