We recently sent out a survey regarding chatbots in customer service and how chatbots help improve customer experience for both businesses and consumers. Here are two answers that stood out.
Business Perspective: Chatbots have been making a great impact in customer service for some time now. Instant responses, accurate resolutions and fewer chances of errors all combined make chatbots an ideal choice for customer service. Audiences also have started using chatbots for support increasingly. 
End-User Perspective: I love using chatbots for support. There's like no waiting time and most of the time, I get what I am looking for. Certain chatbots are not cool but the ones that work well are really effective in providing great support.
One factor that's extremely important when it comes to growing your business is "customer experience". How your customers feel about you at the end of an interaction can make or break your business. And with chatbots slowly becoming a primary customer support channel, you don't have to worry about customer experiences.
In this read, we'll be looking at 9 ways how chatbots help improve customer experience. Also, here's a brief introduction to chatbots before we dive into the "how chatbots improve customer experience" section.
Chatbots are special artificial intelligence (AI) interfaces that can converse with a user. Some of the most common applications of chatbots in today's modern world are customer support, lead generation, scheduling, return & refund, feedback collection and more. 
Here's a support and lead generation chatbot from 1800 Flowers: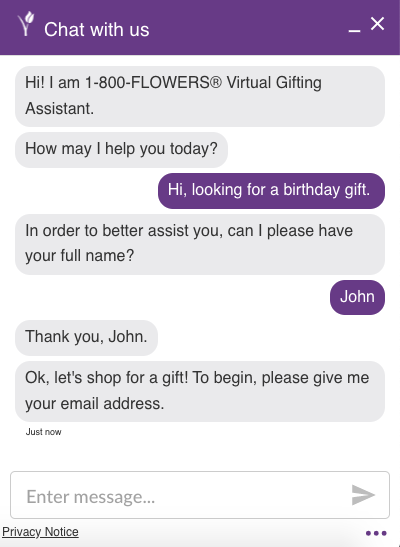 The chatbot collects leads first and then helps the user with what they are looking for.
Today, more than 14 billion people are using chatbots and countries like USA, India and Germany are top chatbot users. 
Based on what your business is and what challenges you face the most, you can deploy a chatbot to take care of it. Whether it's customer support for trivial questions or lead generation, a chatbot can take care of it all.
Here's a read that will help you understand more about chatbots – the types of chatbots, how it works, the benefits of using AI chatbots and even the future of chatbots. 
👉 Conversational AI Chatbot – The What, Why and Everything Else
Key Chatbot Statistics
Chatbots can cut down customer support costs by 30%.
80% of businesses are expected to have a chatbot system by 2022
34% of retail customers say that they would feel more comfortable speaking with AI chatbots for customer service instead of live customer service agents.
Customers say that the biggest benefit of having chatbots for online services is "24×7" availability.
47% of consumers would buy products with chatbots as the interacting medium.
According to Drift, a massive 87.2% of consumers have rated their experience with a chatbot as positive or neutral.
Those are a couple of chatbot statistics that tell how businesses and consumers embrace chatbots. If you're looking for more statistics, you can find them in this read, 
👉 50 Chatbot Statistics You Should Be Knowing for 2022
Now, let's look at how chatbots help improve customer experience.
9 Ways Chatbots Improve Customer Experience
1. An Easy, Additional Way to Get Support
Earlier, users had to pick up their phone and dial for support or search for the support email and draft the context. Both these (and other traditional support channels) were time-consuming and seemed non-feasible especially when the user needs immediate assistance.
But with chatbots, the user can simply open the web browser or the mobile app and start interacting with the bot. The easily accessible factor makes chatbots an additional customer support channel that's convenient and easy to use.
All one has to do is, type in their query, the chatbot asks a couple of questions (which could come with options to choose from) and you'll have the resolution right in front of you.
The user doesn't have to skim pages of information or wait on calls so an agent could get back to them. This approach enhances the overall customer journey, delivering them a great support experience.
When we helped Tata Play integrate a WhatsApp chatbot for their customer support, they witnessed great results. An increased number of common support questions were solved by the WhatsApp bot (20% of the total traffic) without agent interference and Tata Play was able to cut down their Cost per Resolution by up to 40%.
That speaks for chatbots improving customer experience! Here, you can know more about it in this case study.
👉 Simplify360 x Tata Play – How We Helped India's Top DTH Provider Reduce CPR By 40%
2. Promotes a Self-Service Approach
Some people love when they are able to sort things out for themselves. In fact, 77% of consumers have reported using a self-service support portal. It's because they don't have to depend on anyone else to help them out. They can sort it out themselves provided what they need is in place. 
And with chatbots, you can promote the self-service approach with ease. Deploying chatbots with FAQs and helpful articles can help end-users find what they need – improves the customer experience to a great extent.
This is one of the important factors that improve the customer experience. You never know when your customer needs you and having support agents 24/7 could take a financial toll on your business. 
But chatbots, on the other hand, provide 24/7 support. They don't wear nor do their support quality gets diminished. 
"64% of customers say the 24/7 availability of chatbots is its best feature."
Your customers can reach out to the chatbot anytime for support. Giving your customers the "sense of anytime availability" helps them feel safe and this contributes to the CX factor.
4. Boosts Agent Productivity & Morale
One of the best features of chatbots is that it helps you automate support which directly boosts your agent productivity. Chatbots, when programmed right, are known to take care of trivial support questions and even complex tasks, thus saving agent time and boosting productivity. 
This helps the agent to concentrate on other complex issues and offers even greater support.
Also, certain chatbots identify complex and high-priority tickets based on sentiment analysis and route them to respective, best agents. This ensures that all customers get the best solutions.
5. AI Chatbots Deliver Human-like Interactions
Artificial intelligence (AI) chatbots are self-learning chatbots that learn from your customer queries and make themselves better over time. AI chatbots are Natural Language Processing (NLP) and Machine Language (ML) powered which makes them understand the sentiment of human queries, words they use and respond accordingly, making the interaction more human-like.
At times, people have stated that they weren't able to differentiate between a chatbot and a human agent. SimplyBot is AI-powered which makes it understand customers' intent, learn and respond to customer queries accordingly.
Human-like interactions improve the overall customer experience when it comes to support.
6. AI Chatbots Can Provide Personalized Suggestions
What could possibly be better than this? AI Chatbots are so powerful that when trained, they can pick up customer queries and offer them personalized recommendations and suggest what they should be doing next.
This helps customers save themselves from doing all the research work and time, making it one of the best ways how chatbots improve customer experience.
Chatbots have a great accuracy rate. Rule-based chatbots (chatbots that work on a set of tree-flow decisions), though their functions are limited, they provide accurate support for pre-defined scenarios.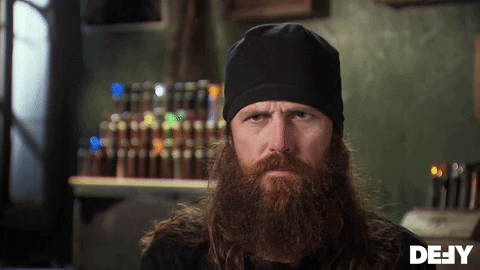 Whereas AI chatbots, on the other hand, require training in the beginning and later self-learns and provide great support down the lane with very minimal errors. 
Customer support without error directly relates to a better customer experience.
Note: SimplyBot has an accuracy rate of over 90% and it keeps on improving over time.
8. Collect Feedback for Better Decisions
Chatbots can collect customer feedback and insights that will help you align your business with customers' needs.
Also, when customers are asked for feedback, they feel a sense of importance and share it gladly over chatbots. This is a win-win – you get to collect customer feedback and deliver a great customer experience at the same time.
9. Chatbots With a Personality Establish a Connection
Customers love brand experiences and with your chatbot, you can just do that. Naming your chatbot and giving it a personality helps create a connection with your customers.
It eliminates the feeling they are talking to a programmed software and makes the conversation more lively. This can improve customer experience up to a certain extent. Make sure your chatbot has a name, avatar and gender to it.