A couple of years before, there were discussions about whether businesses should use a chatbot! But now, we've embraced bots to such an extent that there are blogs about chatbot marketing. In fact, that's why you're here – to know how to use chatbots for marketing.
Modern chatbots can be used for various purposes but the most important use cases are customer support and marketing. The ability of bots to mimic human conversations and provide appropriate responses makes them an ideal addition to your marketing suite.
In this article, we'll be taking you through,
What is chatbot marketing?
The benefits of using chatbots in marketing
How to set up a marketing chatbot?
Best practices for a marketing chatbot
Now that you're clear about what you'll be getting out of this article, let's get started with the basics first.
What is Chatbot Marketing?
Like the title says, chatbot marketing is where you use a chatbot to automate completely or take care of your day-to-day marketing activities partially.
Here's a definition of chatbot marketing for you.

While the term "marketing activities" can cover a wide range of tasks, here are some tasks you can use a marketing chatbot for,

Conversations with prospects and existing customers
Qualifying and generating leads
Product recommendations
Scheduling meetings
Order tracking
Sharing newsletters
End-to-end purchase assistance and more
With chatbots being able to take care of the initial phase of marketing, your team will only have to converse with individuals who are more inclined to use your products/services.
P.S. This is just one use case of a marketing chatbot. We'll come up with a separate article on marketing chatbot use cases in a short while.
Now that you have a basic understanding of what is chatbot marketing, let's look at the benefits of chatbots in marketing. But before that, if you need to have a better understanding of how chatbots work, this guide should be helpful for you.
Conversational AI Chatbots – The What, Why and Everything
Chatbot Marketing Benefits
In this section, we'll be looking at the benefits of using chatbots in marketing. Whilst there are many, we have listed only the most important ones here.
1. Improved Customer Engagement
This is one of the key benefits of using chatbots in marketing.
One of the reasons why your prospects are not being converted to customers is poor engagement. When your prospects are not engaged properly, they lose interest in you and switch over to better alternatives.
"A massive 68% of users feel delighted at the speed that chatbots answer."
We are just not talking about the greetings part here. It goes beyond which includes clarifying any queries individuals may have.
A chatbot will proactively ask your customers
What they are looking for?
Is there anything specific they want to be helped on?
Follow-up questions to help understand their needs better
Though not direct human conversations, end-users feel they are being listened to and taken care of. All this contributes to the engagement factor and the probability of a conversion happening will increase by multiple folds.
2. Increased Lead Generation
With a couple of basic questions put in place, a chatbot can identify whether the end user is a potential lead or not.
"According to Drift, chatbots help 55% of businesses generate high-quality leads".
This automatically increases the count in the leads database and your sales team can get in touch with people who have already exhibited a genuine interest in your products and services.
3. Better Segmentation & Product Recommendations
Not every prospect/customer wants the same product/service – it differs from person to person.
Marketing chatbots can identify what your customers are looking for and offer them personalized product recommendations. Personalization is a great conversion and stickiness factor from the marketing perspective.
Also, chatbots can segment traffic based on their interests. This makes it super easy for the team to be prepared while reaching out to prospects in the later phases.
The second and third benefit simply means that a marketing chatbot can qualify leads and segment them based on their interest making it super easy for the sales team to reach out to them.
4. 24×7 Assistance
This is one other important benefit of marketing chatbots. Even when your agents aren't there, a chatbot can take care of the first level of conversation.
They don't fail, they don't wear out which makes them a 24×7 active agent for your business.
5. Instant Responses
Marketing chatbots, since they are computer programs, they don't need time to respond to queries. The responses are instant with accurate information paving the way for good customer experiences.
"A massive 82% of consumers stated that instant responses are what they expect when making contact with brands."
Customers don't like to wait and with a chatbot, there's no such thing you have to be worried about.
6. Incredible Data for Analysis
Once it has been some time after deploying a chatbot, you'll have a huge number of conversations to gain insights.
You can easily figure out what your customers are most interested in your offerings and what they are looking for in general. This can help you customize your chatbot marketing strategy to offer even better recommendations and personalized experiences.
In fact, you can even use this data to tweak your overall business marketing strategy.
7. Saves Time and Money
Engaging with customers, understanding their needs, qualifying them as a lead, and segmenting them based on their interests takes a huge amount of time and effort if done manually.
"Deploying chatbots can reduce support costs up to 30%"
You can eliminate this by simply deploying a marketing chatbot and letting it do the work. All you have to do is, train the chatbot/deploy a set of rules and the chatbot starts working accordingly.
So, those are the key benefits of using chatbots in marketing. With a marketing chatbot in place, you don't have to worry about engaging customers or generating leads. It all happens on autopilot.
Ice Breaker
Too much information? Let's break some ice – The world's first chatbot was created in 1967 and was named "Eliza".
Now that you know the benefits of using chatbots in marketing, let's move on to the next section of the article.
How to Set Up a Marketing Chatbot?
In order for your marketing chatbot to be effective, you need to put in the essential groundwork. And that's exactly what we've discussed in this section – the steps to set up a marketing chatbot for your business.
1. Understanding Why You Need a Marketing Chatbot
As we saw above, a marketing chatbot can be used for various purposes. And if you're clear about why need a marketing chatbot in the first place, it's going to be chaos later. You should define the goal and use cases of your chatbot.
Ask yourself what is it that you want to achieve with your marketing chatbot.
Do you want to engage your visitors?
Do you want to promote your new products or services
Do you want to assess and generate more leads for your business?
Or do you want to do a bit of everything?
Asking questions like these can you help you understand what purpose you need a marketing chatbot for.
2. Finalizing Where You Need to Deploy Your Chatbots
As a business, you must build your online presence on multiple platforms. And as a result, you'll receive traffic from all these sources. It could be from social platforms like Facebook or Instagram, your website, or even WhatsApp!
While it's good that you're receiving engagement from different sources, it's equally important that you engage the traffic.
It's understood that you either need a lot of free time on your plate or a huge marketing team to engage with the traffic. But that's where marketing chatbots come in.
By partnering with an advanced marketing chatbots solution provider, you can easily deploy a bot on channels like,
Facebook
Instagram
WhatsApp
Twitter
Website
But the question is, do you really want a marketing chatbot deployed across all these platforms?
The ideal way to go about this would be to assess how much traffic you get from each source and then decide whether you need a chatbot or not.
Do not have second thoughts about deploying a chatbot for your website. But for other platforms, it's your call.
Pro Tip: Let's say you're receiving traffic from all the above-mentioned sources. But the traffic isn't significant enough to deploy a chatbot and you're concerned about the queries. What you can do is, you can choose an omnichannel support platform that helps bring all your communications to one place. Even if you don't deploy a chatbot, you get the queries in one place which makes it easier for you or your agents to respond to the same.
Finalizing where to deploy chatbots for marketing is one of the most important marketing strategies.
3. Deciding the Tone and Appearance for Your Chatbot
Here's a question for you. Would you be interested in talking to a stranger who is not all that impressive and charming? Let's cut the courtesy part here. The answer would be, NO!
The same concept applies to your marketing chatbot as well. No matter how well you plan, strategize and deploy a marketing chatbot, if you fail to overlook the tone and appearance of your chatbot, it's as good as it's not there.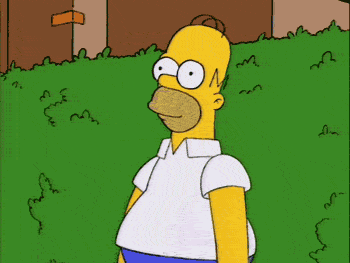 Because how your chatbot looks and the tone it uses to communicate directly reflects on your business. And since your chatbot is the first line of communication from your side, it's the first impression your prospect is going to have. 
Based on this, your prospect will decide whether or not to go forward with your business. And that's why you need to decide the tone and appearance of your chatbot.
When it comes to the tone of your marketing chatbot, make sure it's welcoming, proactive, engaging and most importantly, friendly. It's also important that you name your chatbot so it humanizes your chatbot.
As for the appearance, make sure it resonates with your brand. Because if it looks odd and out of place, it does more harm than good.
4. Planning Chatbot Scripts and End-to-End Conversations
Every conversation a chatbot has with a user, they are all scripts that were planned. Even if it's a conversational AI chatbot you need to train them in the early stages of deployment.
So, you must plan out the conversation journey of your chatbot with customers.
An easy way to start would be to think of what questions your customers would end up asking/want to know from your business.
Let's say you're running a furniture store. Once when a user enters your website and the chatbot greets them, here are a couple of questions your can list out.
What are the working hours of your store?
Do we have any special offers this month?
How long does it take for door delivery?
Do you provide installation services?
How can I redeem my loyalty points?
You can have such sorts of questions listed by the chatbot. And your users can simply self-serve themselves by clicking on the question.
Remember that each question should have an appropriate response lined up. And follow-up questions wherever appropriate.
Also, there can be scenarios where the answers are not straight and you have to provide users with an alternative – "more like if yes go to A. If no, go to B" scenarios. Plan out these journeys accordingly. 
Simply said, have the conversation tree map in place. Because for every question and answer, there will be a follow-up question asked either by the user or you have to put in place for better experiences.
5. Getting In Touch With a Chatbot Service Provider
So far, we've discussed the goals of your marketing chatbot, places where you need to deploy it, the tone and appearance of your chatbot and the scripts. These are the basics of your marketing chatbot. Once you are done with all of them, the next step is to get in touch with a service provider.
Choosing the best chatbot solutions provider who has been in the industry for a good number of years and has a good experience is important. Because chatbots are a great deal and only when executed properly, it's going to do you any good. On the other hand, poor execution will only deliver poor experiences resulting in bad word-of-mouth marketing.
Once you're in touch with a marketing chatbot service provider, take them through the exact points we discussed above. This will give them a clear idea of what your expectations are and from there, the service provider will take it ahead. 
They'll help you out with, 
Chatbot script building
Looks and customization
Deployment of chatbot across channels
Training of bots
Post-deployment support at all times
As we said, choosing the right chatbot solutions provider is important here!
So, that's how you deploy a marketing chatbot for your business. Though the execution and deployment part takes between a couple of weeks and a month or two, you must plan the basics well to shorten the deployment time.
Now that you know how to set up a chatbot for marketing, let's look at a couple of best practices that will make your chatbot stand out from your competitors.
Best Practices for Marketing Chatbots
What good is a chatbot if it's not the best? In this section, we've listed the best practices for your marketing chatbot. Let's look at them one by one.
1. Your Bots Aren't Human. Don't Try Hiding That
This is one of the most important chatbot marketing best practices. Most brands try to hide the fact that they've deployed a bot.
They try to paint a picture that the conversation is with a real human but when the end-user finds out it is a bot, things turn ugly.
There's absolutely nothing wrong with using a chatbot for marketing. From the statistics we saw above, it's clear that people love interacting with chatbots, thanks to instant responses, 24×7 support and clear-cut information.
So, when you're using a chatbot, clearly mention to your users that it's a bot!
For example, Plum clearly tells users that it's a bot!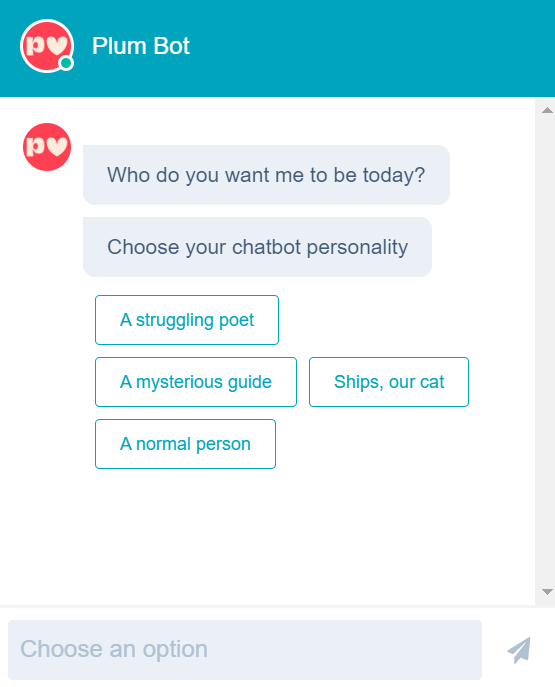 You can either choose to give a name that has the word "bot" or simply mention that it's a bot in the greetings.
2. Let People Know Real Humans are Only a Click Away
Some people prefer to engage with chatbots end-to-end. Whereas others prefer to talk to real agents. When deploying a chatbot for marketing, you should make sure that there's an option for users to connect to agents when they want to.
Because not all scenarios can be resolved by chatbots. And during instances where human intervention is needed, there should be an option to reach out to.
It's better if you use AI chatbots because they recognize when conversations go out of its reach and they automatically route conversations to agents. 
To put it even simpler, make sure live chat options is present for users who wish to talk to a human agent.
3. Tracking How Your Marketing Chatbots are Performing
Deploying a marketing chatbot and leaving it at that isn't going to work out. You need to know whether your chatbot is performing well or not.
Knowing the effectiveness of your bot depends on why you deployed a chatbot in the first place. If it's a chatbot for support, you can look at the customer service metrics but if it's a chatbot for product promotion or sales, it doesn't work that way.
You can either use specific discount codes on your chatbot. So, when a sale happens on your website using the code, you can know that the conversion has happened. You can also consider using UTM codes – give the page/product you want to track a UTM source of the chatbot and you can measure the clicks from the bot and even track the customer journey.
These are some of the ways you can understand how effective your marketing chatbots are. Again, measuring effectiveness differs based on the goals you have set.
4. Collect Feedback at the End of Conversations
Effectiveness cannot be completely measured with data. An effective chatbot should perform well both from the metrics side and the user side.
The latter means that individuals who are interacting with the chatbot should feel satisfied – the chatbot should have resolved the purpose of their visit and while doing so, the conversation should have been an enjoyable one.
You can simply figure this out by asking users to rate their experience at the end of the conversation. It doesn't have to be anything fancy. A simple 5-star scale should do the job. If the user is not satisfied and gives a poor rating, you can immediately ask for feedback. This could help you understand what can be improved.
End-user satisfaction with chatbots is very important because a chatbot cannot apologize or show empathy. And that's exactly why you need to make sure things are perfect.
5. List Out Common FAQs to Avoid Open-loop Conversations
Not just common FAQs. But also links to the knowledge base would be great. When it comes to sales & marketing, people tend to have a lot of questions because they want to know more about your products and services.
In such scenarios, users tend to ask questions that might lead to open conversations – something that your chatbots will not be trained for (it's not impossible but it takes time). So, it's always better to have a conversation journey that you've planned out from your end without any spaces for open-loop conversations.
Including self-service options like FAQs and helpful articles can be useful for users if they want more know information. Worst case scenario, they can get in touch with a live agent!
That settles it!
6. Add Media to Make the Conversation More Interesting
Though this doesn't add any functional features to your marketing chatbot, it helps add more personality and character.
At times, if your bot can converse using GIFs or pictures, the conversation gets much more interesting for the end users and the stickiness factor increases. The stickiness could be so much that it could even be a reason for conversion.
7. Add CTA Buttons to Guide Users Through the Checkout Process
CTA buttons, when leveraged properly, can help increase conversions to a great extent. 
When your customer has reached an endpoint in the journey, you must guide them with proper CTA buttons. This makes the overall task easy and high-value conversions take place. Just make sure that you lead them to proper destinations because all the effort will go in vain if the destination isn't all right.
Those are the best chatbot practices you should make sure are in place. We did talk about choosing the best chatbot services provider. That's what we'll be talking about now.
How Simplify360 Can Help With Your Marketing Chatbot?
Simplify360 is an omnichannel CX and support platform that helps businesses across different verticals – omnichannel support, review management, AI chatbots and social listening.
With over 10+ years of experience and a diverse range of client portfolios, Simplify360 is one of the best chatbot solutions providers in the market. Here are some of the highlight features of chatbots by Simplify360,
AI-powered and backed by ML and NLP
Better understanding of human queries and their sentiment and provides appropriate responses
Can be deployed across channels like WhatsApp, Facebook, Twitter, Instagram and Website
Automatic routing of chats to real agents when asked or if it is necessary
Easy to deploy and customizable and lots more
You can get in touch with one of the experts over a 1-1 demo call and know how Simplify360 can help deploy a marketing chatbot for your business.
That said, we're wrapping this article up!
Marketing is a crucial part of every business. And you've got to do everything you can to make it better so that it directly reflects on your growth and revenue.
Now, if you can manage a chunk of your marketing activities by deploying a chatbot, it's something that you should explore and choose to go ahead with.
In this article, we've explained what marketing chatbots are, how to set up a marketing chatbot for your business, the best practices for a marketing chatbot and even an ideal chatbot solution provider for you.
All that's left, is for you to go ahead and set up a marketing chatbot for your business!
That said, Cheers!