WhatsApp was first introduced in the year 2009 and it was nothing more than an instant messaging platform then. But now, WhatsApp is the most popular messaging platform and is being used by more than two billion people.
Lately, WhatsApp has become more than just a social media platform and has grown substantially to make an impact, especially in the field of customer service.
Businesses have now well understood the importance of better, instant customer service and they've started to deploy WhatsApp chatbots. Because what better way could be there than serving customers on their favorite platform?
Recently, WhatsApp chatbots are being used in the healthcare industry and have proved to benefit both the customers and the hospitals that deploy them. WhatsApp chatbots are already being used in sectors like eCommerce, digital media and other industries. 
So, if you're reading this article, it's evident that you want to know how WhatsApp chatbots can be used in the healthcare sector. And that's exactly what this article is about. 
We've come up with the use cases of a WhatsApp healthcare chatbot and the benefits of having a healthcare chatbot in place.
In case you want to know more about WhatsApp automation, check this article out, 
👉 WhatsApp Business Automation Ultimate Guide
That said, let's get started!
Use Cases of WhatsApp Chatbots in the Healthcare Industry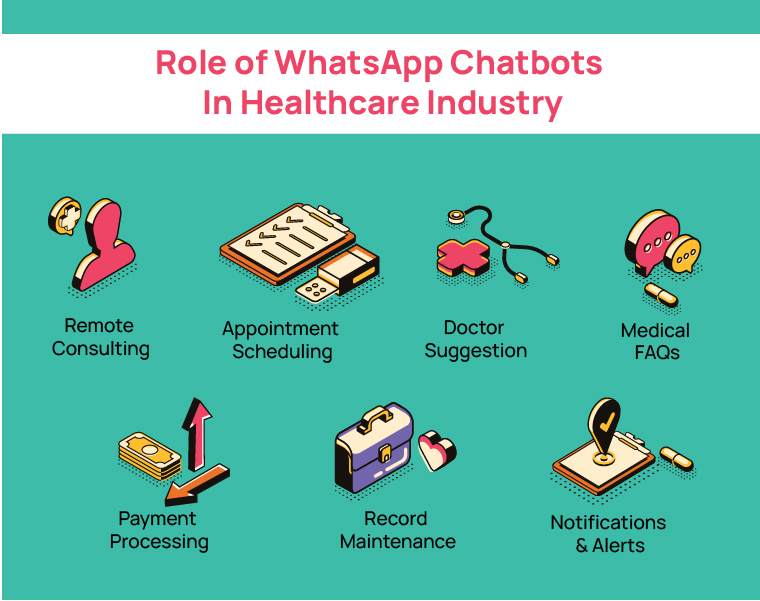 Before we start, here's an important statistic you ought to know,
"In the year 2022, tax savings related to chatbots, particularly in the healthcare sector would have risen from $2.8 million to $3.6 billion."
So, let's get to the first use case of a WhatsApp healthcare chatbot.
1. Appointment Scheduling
The first and foremost use of a healthcare chatbot is to book appointments. As of now, patients have to get in touch with a receptionist to schedule an appointment with the doctor. And in the process, the patient has to wait on hold or their call might not be attended to, leading to frustration. 
But with a WhatsApp chatbot in place, the process is automated. Patients can schedule their appointments with the doctors they prefer without having to wait in queues or speak with an agent.
And the best part is, that the chatbot also sends the patient reminder notifications about their scheduled appointment.
Here's a sample of how appointment scheduling works with a healthcare chatbot,

The healthcare chatbot guides the patient right from the beginning till the point where the appointment is being confirmed and scheduled. The chatbot checks for the availability of the doctor and then confirms the appointment. The overall process is simple and the patient feels like conversing with a real human.
2. Remote Consulting - Finding the Right Doctor to Consult
The global pandemic has made it close to impossible for people to step out of their homes. And for people who need medical attention, WhatsApp chatbots have proved to be handy. Patients can gain access to the hospital's medical care with the help of healthcare chatbots. 
They can state their symptoms and the chatbot, based on the patient's medical history gives accurate diagnosis and suggestions as to which doctor has to be consulted.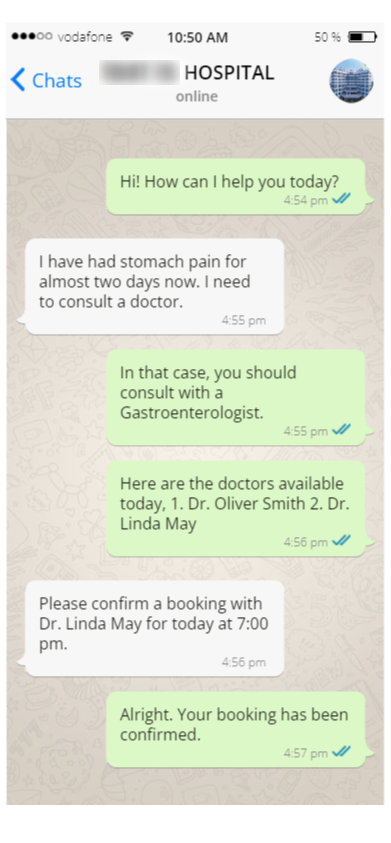 Going further, the chatbot can also connect the patient to relevant specialists/first aid doctors for immediate healthcare attention. 
This helps patients get access to instant healthcare without having to wait for hours in long queues.
3. Answers to Frequently Asked Questions
It's common for patients to have questions like, 
Is a specific doctor available?
What time will the hospital open?
What to do if I lose my registration card?
When is my next appointment scheduled? 
Answering repeated questions like these will consume the time of your medical staff. Having a WhatsApp chatbot for healthcare in place will help you take care of these questions on auto-pilot. 
When your healthcare chatbot is trained to answer questions like this, your patients will get instant information without having to wait and your medical staff will be able to focus more on more important work.
4. Patient History & Record Maintenance
Doctors, to offer the best treatment to patients need to know about their previous medical history. And with a WhatsApp chatbot for healthcare in place, doctors can easily take a look at the medical history of the patient. 
When healthcare chatbots are connected to a centralized database where records are stored and maintained, all one has to do is type a simple query and they'll immediately be able to access relevant files. Doctors can study the history of the patient before giving them any sort of treatment.
This proves to be useful for patients as well as they can keep track of their medical records and change their lifestyles accordingly. The approach completely avoids the need for physical documents to be carried and stored.
5. Instant Notifications & Reminders
This is one of the most important benefits of deploying healthcare chatbots. When it comes to the healthcare industry, it is understood that it involves dealing with patients on a large scale. And reminding patients about their next appointment or sending them lab reports could be time consuming and humongous task for your medical staff. 
This is where healthcare chatbots can make a great difference. 
A WhatsApp healthcare chatbot can automatically remind patients about their next schedule, send them recommendations, prescriptions, health tips, or even send mass message announcements like free medical camps, overall body check-up camps and more.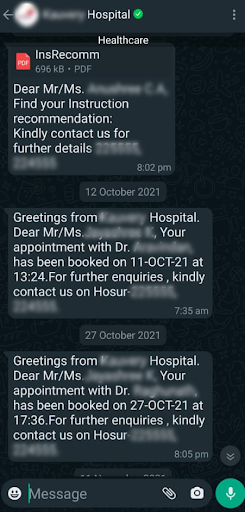 This keeps your patients informed about their health history and any new initiatives you take.
With a WhatsApp chatbot for healthcare in place, patients can also make payments online when they schedule an appointment. Using a chatbot to make payments simplifies the overall payment process and saves time.
So, those are some of the use cases of a WhatsApp healthcare chatbot. Now, let's look at the benefits of using a WhatsApp chatbot for healthcare.
Benefits of Using a WhatsApp Chatbot for Healthcare
Using a chatbot for the healthcare industry can deliver many benefits. We've mentioned the most important ones for you here. 
1. Instant Resolutions
When it comes to customer support, whether it be in the healthcare industry or any other industry, customers look for instant resolutions. 
And with a WhatsApp chatbot in place, you can achieve this. You not only offer instant resolutions to customer queries but also offer them support on their most convenient channel. Having a WhatsApp healthcare chatbot in place can help you provide instant medical attention to your patients. 
2. 24×7 Support
This is another great benefit of deploying a WhatsApp chatbot in the healthcare industry. You never know when patients need medical attention and it's always best to have a chatbot in place that can take care of at least the basics. 
3. Highly Accessible
Like we already mentioned, WhatsApp is the most popular social messaging platform with over two billion users. So, deploying a WhatsApp healthcare chatbot will give accessibility to most of your patients. 
4. Seamless Bot to Human Transfer
When customized and programmed right, WhatsApp healthcare chatbots can understand and identify complex queries asked by patients. And the same will be transferred to respective agents allowing medical staff to take care of patients at the right time. 
We've covered the use cases and benefits of a chatbot in healthcare. Let's get to the part where you know which chatbot you should be using.
Simplify360's WhatsApp Chatbot
Simplify360 is an end-to-end AI-powered customer support platform that helps businesses deliver great customer support and experiences. 
Simplify360's WhatsApp chatbots are AI-powered and come with Natural Language Processing and Machine Learning technology, allowing you to deliver great customer support, every single time. The chatbot is highly customizable and you can set welcome messages, away responders, answers to FAQs, provide support in multiple languages, view customer engagement metrics and more.
Here's a real-time example of how effective our chatbots can be,  
👉 How Tata Play used WhatsApp chatbots to reduce Cost-per-resolution by 30%
WhatsApp chatbots have now become more popular and are used in all industries – financial services, the eCommerce sector and more. And deploying a WhatsApp healthcare chatbot can be highly beneficial to both your patients and the medical staff. 
Now that you know everything you need to know about a WhatsApp healthcare chatbot (the use cases, the benefits and even which WhatsApp chatbot you should use), it's time you get started!