Chatbots have come a long way since they were first introduced in the year 1966. A couple of years ago, chatbots weren't welcome by both businesses and end-users. But today, chatbots are slowly becoming an integral part of businesses across all industries – healthcare, eCommerce, banking & more. 
Simply said, you name any industry and there'll be a chabot use case. Though chatbots have repeatedly proven to be useful (and 80% of businesses are expected to use chatbots by 2022), some businesses are still hesitant to deploy a chatbot. 
So, we thought of coming up with an article listing the different chatbot use cases and how they can help with your business growth. 
But before getting there, let's quickly take a look at what a chatbot is and then proceed with the use cases.
A chatbot, commonly known as digital assistants, is a special computer program that is used to respond to humans in real-time. Chatbots are commonly used by businesses to automate repetitive tasks and take care of basic customer service.  
But as time and technology progressed, chatbots of the modern age can take care of more complex queries, all coming down to how it has been programmed and trained. 
Chatbots can be classified into two types,
1. Traditional Chatbots – These chatbots are rule-based chatbots that follow a predefined set of rules. Perfect for basic queries and repetitive tasks. 
2. Conversational AI Chatbots – These are advanced AI chatbots that work with Natural Language Processing (NLP) and Machine Learning (ML) as the base. AI chatbots can analyze human queries and provide even better, appropriate support when compared to traditional chatbots. 
That's all the basics you needed to know. But, if you still want to know more about chatbots and AI chatbots (how they work, the benefits of using them, etc), head to this article then, 
👉Conversational AI Chatbots – The What, Why and Everything Else
Now that we're done here, let's start looking at the different chatbot use cases for business growth. 
Chatbot Use Cases for Business Growth
Every business that has an online presence, whether it is of B2B or B2C nature, needs to get three things right.  
1. Customer Support
2. Marketing and 
3. Sales
We'll be looking at the different chatbot use cases under each heading! 
Chatbot Use Cases in Customer Support
Customer support has become the key for businesses growth and sustainability. Any brand that offers mediocre customer service will be out of business sooner they realize. Due to the modern developments today, businesses have started to offer stellar customer service in an attempt to retain customers and increase sales. 
Using a chatbot for customer support can prove to be greatly beneficial owing to the multiple benefits it offers. 
That said, let's look at the use cases of chatbot in customer support.
1. Chatbots Act as First-Tier Support
If there's one thing a customer hates today, it's the waiting period. 
As a business, it's normal to have a number of customers raising queries at the same time. And if you're offering telephonic support, there's definitely going to be a long wait time resulting in customer frustration and abandonment.
But deploying a chatbot can cut the long queues and offer first-tier support to customers. This way, customers do not have to wait for assistance and your support agents can take care of more complex queries. 
Tata Play, India's leading DTH provider deployed WhatsApp chatbots and resolved over 1 million queries on WhatsApp while witnessing a 40% reduction in CPR! 
You can know more about this by reading the case study here!
2. Chatbots Take Care of Repetitive Queries
Repeated queries are a common thing in customer support. And these queries are the ones that consume a chunk of agent productivity and time.
Deploying chatbots with predefined responses will serve customers with appropriate answers. The best part is, there's no need for human intervention here and you can save huge costs.
3. Chatbots Promote Self-Service Approach
Statistics say that 40% of customers prefer self-service rather than getting in touch with a human. 
It's because they hate to wait for assistance and if they can resolve their queries by themselves, why not go for it? 
Chatbots are the perfect solution to promote a self-service approach. We already know that you can automate responses to frequently asked questions. Going a step further, chatbots can redirect users to helpful articles or knowledge base where customers can find what they are looking for.
4. Chatbots Can Collect Customer Feedback
This is one of the most important chatbot use cases. 
Good customer service is all about taking inputs from customers and implementing them. Also, when customers are asked for feedback, they feel valued and promote a sense of trust & loyalty.
Asking for customer feedback manually is difficult as it requires a lot of man hours and productivity. Also, asking customers feedback via email isn't that effective as it requires the customer to take effort. 
But with chatbots, it's just a walk in the park. You can program your chatbots to ask customers to rate the conversation or ask for feedback after every interaction.
This way, you can constantly engage with your customers and make them know you care for them.
5. Chatbots Can Route Tickets to Agents
This chatbot use case is what really makes bots a best ally for customer support. 
Earlier, we said that chatbots can take care of customer support in autopilot by responding to customer queries with predefined responses or learn from customer queries and provide appropriate answers. 
But what if a scenario comes in where the user has to get in touch with a human agent (could be due to an emergency or an issue that definitely requires human intervention)? It's here where chatbots play a crucial role. 
Artificially intelligent chatbots can pick up the sentiment in the customer's messages and automatically route them to a support agent. This ensures that all customers get appropriate support they need.
Yet another brilliant chatbot use case for customer support! 
Your customers are present across all channels today. And it's quite impossible for you to manually respond to queries that arise on different channels. But deploying a chatbot on these channels can help you to automate customer support to a certain extent. 
Making yourself available on channels that customers prefer is the first step to good customer support. And the best part is, your agents can monitor customer queries across channels from a single dashboard. With Simplify360, you can deploy AI chatbots on multiple channels like WhatsApp, Twitter, Facebook and more. 
Using the omnichannel support platform, you can view and respond to all escalations from one place. 
Above-mentioned are chatbot use cases with regards to customer support. It's clear how chatbots play a crucial role in elevating the customer support of a business. 
Now that we're done here, let's see the chatbot use cases with regards to marketing. 
Chatbot Use Cases in Marketing
Marketing is another vital part of business growth. It helps customers know about your brand and influence their purchase decisions. 
Here's how chatbots help businesses with marketing. 
7. Chatbots Can Initiate Conversations and Collect Leads
Chatbots can act as a lead generation machine when programmed right. Customers, most of the time, hate to spend time on websites and they look for immediate solutions. 
At these times, a chatbot that gives them information they need or takes them to places they want would appear super helpful. And in the process, you can easily collect leads from customers. 
Here's a chatbot from Ferns n Petals collecting leads,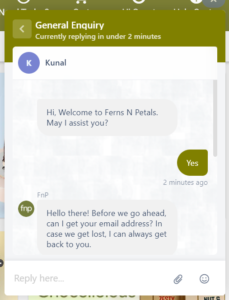 Similarly, you can also deploy chatbots to collect leads for your business. You can later engage those prospects and convert them into customers.
8. Chatbots Can Schedule Appointments
Certain sale conversions need demos to be scheduled. And chatbots act as the first line of customer support. 
Earlier, prospects had to head to request a demo page to schedule demos with the support team. But now, chatbots can help prospects schedule demos at their comfortable time with just a few messages. 
This improves the user experience to a great extent and on the other hand, the number of demos schedules will gradually increase.
9. Chatbots & Personalized Recommendations
Marketing is all about bringing your products & services in front of your customers' eyes. And that's exactly what a chatbot can do for you. 
Based on customer's interaction, chatbots are capable of giving personalized recommendations to customers. 
This can help customers make quick decisions and purchases as they are recommended products they like. 
10. Introduce New Products, Services & Offers
Giving customers notifications about new products and offers work effectively when it's via chatbots. It's because there's a chance for customers to interrogate with the chabot and know more about the offering. 
This could lead to further conversations and sale conversions at the end. 
Those are the chatbot use cases with regards to marketing. Let's move on to sales then.
Chatbot Use Cases in Sales
We're down to the last part in our chatbot use cases article! Here, we'll be seeing the use cases of chatbots in sales. 
11. Chatbots Are 24x7 Sales Agents
Yes. That's right. Questions about your product can arise anytime. And there needs to be an agent that the customer can talk to. Failing to provide customers with the right information at the right time will lead them to switch to competitors. 
Deploying chatbots on your website can help customers get the information they need 24×7 and make prospects are retained. 
When your chatbot has been programmed to answer the most common question and redirect customers to source articles, it acts as a 24×7 sales agent.
12. Chatbots Guide Customers Through Their Purchase Journey
Chatbots can help customers throughout their purchase journey. Simply said, chatbots acts as a customer's personal shopping assistant.
Advanced chatbots can interpret customer messages, check product inventory and display relevant products. Once chosen, chatbots can display payment gateway options and stay with them till the end. 
13. Chatbots Can Track Shipment & Order Status
Chatbots can also help customers with post-sale support. Customers can simply enter their order number and track the shipment and status of the order with the help of a chatbot. Else, they would have to get in touch with an agent and have their call held while the agent figures out where the shipment is.
14. Return & Refund Initiation
This is another chatbot use case that's widely used. One of the repeated support queries the eCommerce sector faces is the return & refund. This can be automated with the help of a chatbot. 
Customers can easily return and initiate refunds by simply interacting with a chatbot. All they have to do is answer a couple of questions for merchant understanding and initiate the return/refund process!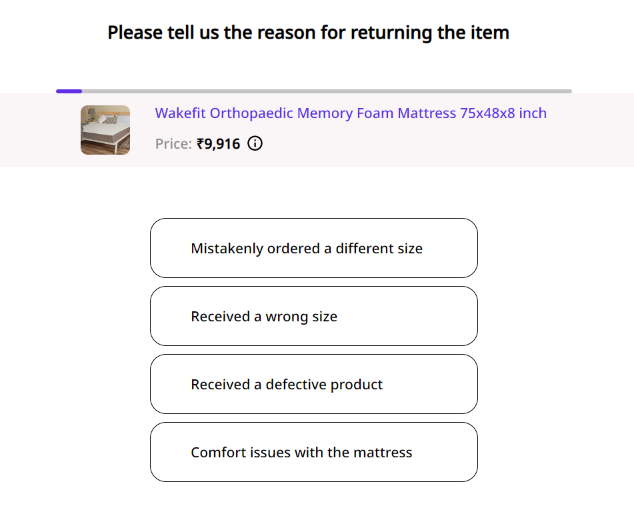 Here's a real-time example of a return process from Wakefit. A similar sort of arrangement can be made with chatbots and the overall return/refund process will be a cakewalk for the customer. No human interaction is needed and the process will happen on autopilot.
The above-mentioned chatbot use cases clearly tells you how chatbots have become inevitable when it comes to business growth. They contribute to almost all parts of your business while putting you and your support agent team at ease. 
All you have to do is, deploy an AI chatbot by following the best chatbot practices and you'll witness better agent productivity, improved customer satisfaction scores, business growth and more!
Now that you know the top chatbot use cases with regards to business growth, all that's left for you is to deploy a chatbot for your business and use it to the fullest!