Reputation protection can be tricky! 
A great brand image may undeniably influence a customer's choice to purchase a product. And for almost every business, developing a positive brand image starts online.
Nowadays, your online reputation relies heavily on social media and review sites. Consumers, for example, need to read an average of ten internet reviews before they believe they can trust a local firm.
The brand image and online reputation strongly influences someone's purchasing choice. And that's exactly why you must keep an eye on your internet reputation frequently. It might feel like a challenging endeavor, especially when so much of it is out of your hands. But today, there are platforms that can help you streamline the process (we'll be looking at this later). 
85% of customers trust online reviews just as much as they make personal suggestions. And protecting your online reputation is one of the ways to make sure your sales figures are consistent.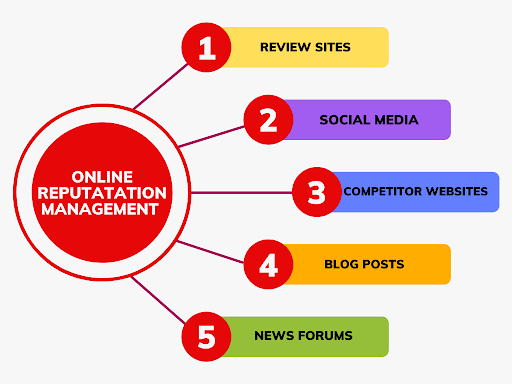 In this blog, we'll be looking at the six best ways to protect your online reputation. We'll be covering a bit of ground first to help you get a better understanding of the picture.
What Does Reputation Protection Mean?
Online reputation management is a long-term approach that fortifies your branded search environment against unexpected dangers in the future. In other words, proactive online reputation management is used to protect your company's reputation and online identity. 
Internet reputation management businesses use a variety of strategies to safeguard their online profile. Search engine optimization (SEO), content production, strategic outreach and other services are some examples. 
The idea is to create a protective wall of positive content that protects your reputation from unfavorable search results. The more customizable your assets, the easier it is to remove search results from Google's first page.
Why Is It Important to Protect Your Online Reputation?
Reputation protection is non-negotiable for brands currently. What customers say about your company might significantly influence your internet marketing strategy.
It helps build credibility with your customers.
According to research, about 90% of internet customers check online evaluations before visiting a store. Another study states that 72% of shoppers wait until they read the assessment before purchasing.
Protecting your online reputation lets you take control over your brand image online. So a crucial step is to develop and establish a brand image – to build a solid online presence, distribute content that reflects your company values and use customer testimonials and influencer reviews.
It also boosts customer retention. The advantages of managing your internet reputation extend beyond how your consumers see you. 
Effective ORM helps you learn how to enhance your marketing strategy, goods & services by listening to customers. 
By listening to your customers and understanding their wants & expectations, you can improve the overall customer experience which directly reflects in your business growth.
6 Ways to Protect Your Online Reputation
1. Build a Review Management Plan
It's critical to remember that reputation management is a never-ending process. Thus, none of the steps should be neglected; they should be done regularly as long as your company exists. 
Here are 4 steps to building a review management plan.
Research 
Research is the first stage in reputation management.
During this stage, you'll utilize the internet to discover what people are saying about your company and you.
Attempt to engage in various conversations since all input is beneficial to understanding perspectives and building your reputation.
​​Develop a management plan
Once you know your brand's general reputation, you'll know where to focus your efforts to enhance it. 
Assume your audit reveals that the buzz surrounding your brand is terrible. In such a situation, you'll want to implement methods that will assist you in improving the experiences that consumers have with your company.
React and respond based on comments and reviews
Understanding how people see your brand is crucial for improvement and innovation. 
Their complaints and pain points will lead you to parts of your business that want more attention, while their favorable remarks will tell you what you're doing well and what you should keep doing.
Make the above a part of your routine.
Although it may be good, resolving one issue does not guarantee that everything will be OK. 
Always do research and monitor talks about your company to obtain a feel of where your reputation stands, stick to your plan and act on comments.
Use a social media listening tool to monitor your brand and competitor performance on social media.
2. Ask Customers For Feedback
Comments increase your credibility since they demonstrate that your service has many users who, in turn, have views about it. So, one method to protect your internet reputation is to encourage comments and reviews.
There's nothing wrong with soliciting feedback and remarks. Your clients are well aware that every business requires positive evaluations to grow its internet reputation in the present day. 
Of course, you should not ask for positive feedback. Instead, consider inviting your consumers to provide feedback following a specific giveaway, campaign, or new product launch. You may also emphasize that you value their comments and that they will be used to enhance the service.
What's more crucial is that you stay responsive. If people have requested a specific piece of information, please deliver it. If a customer compliments your service, take a moment to jot a little thank you. It will undoubtedly help your reputation.
3. Respond to Reviews Online
Let's take a realistic look at it. You'll never be able to please everyone, no matter how excellent you are. You cannot escape unfavorable feedback. There will always be one or two unsatisfied customers. 
Accept it as an unavoidable occurrence instead of becoming offended about the unappreciative bad review. Maintain your calm and follow up on it. 
Contact the review's author or respond to the nasty remark. Inform the author that you are sorry if the quality of the service did not meet their expectations.
Make it a point to demonstrate that you care about your consumers' pleasure and see if there is anything you can do to make up for the bad experience. Offer a refund, a future discount, or any other business-specific way to "earn their heart back."
Automate responses to reviews based on sentiment, issue type, priority and more. A tool like SimplyReviews can streamline your review management operations.
4. Monitor Your Social Media
Social media is a critical tool for maintaining and enhancing your company's reputation online. Of course, social media marketing, like all marketing, has its fair share of creativity and obstacles. 
To promote your business online successfully, you need to engage specialists in the area.
Each social media platform has its own set of restrictions. A Facebook page and an Instagram business page are never the same things.
As a result, it is critical to carefully select a list of social media sites that are most convenient for your target audience and then build a comprehensive SMM strategy for each platform. 
Here, you may discover additional in-depth information regarding the importance of social media marketing and a variety of SMM strategies.
Brand blogging is an excellent approach to providing helpful information to your customers while promoting your company. 
Of course, blogging doesn't mean creating material simply about your company and its goods. On the contrary, it provides genuine value. Offer something of practical importance, something people are likely to read and then implement. 
Just remember to keep on topic and to the point. Keep your blog material focused on the blog's extremely direct and particular specialty, which should, in turn, be relevant to the sector of your business.
There's more to blogging than meets the eye. Some people, for example, recommend blogging as frequently as possible. However, it is recommended that you read about why you should consider posting less to increase website traffic. 
In general, content marketing is a good thing, but it's not as simple as it appears at first sight. Establishing a content strategy that is perfectly suited to your company will take time and errors. You can begin by determining how to scale your content marketing.
6. Deliver Better Service
Quality is still the most important thing you can provide your customers, and it's also the best guarantee of a perfect internet reputation, no matter how crucial marketing is. 
People are more inclined to make favorable comments and reviews and promote your business to their relatives and friends if your service is good.
As a result, you should aim to provide more than just your main product or service. Give loyal customers discounts, for example. One thing is sure: people adore freebies.
To summarize, when it comes to reputation protection, you should concentrate on the following strategies: 
Make sure that your current images, messaging, and values are reflected throughout your owned media.
Ensure that all online information about your company is current and consistent.
Use precise wording to explain your company's trademarks and establish standards on your website. 
From start to end, cultivate a great customer experience.
When feasible, pay attention to consumer input and respond to negative criticism with valuable, practical suggestions. 
That said, start protecting your online reputation now!