There is a universal company growth receipt: the happier your customers, the more they buy.
Ignoring customers' complaints costs businesses up to $62 billion per year. Brands that constantly improve their customers' experience get 20% and more sales growth.
Good news! We've collected the latest practices for your support team on how to improve customer satisfaction level and loyalty.
But first, let's check if we are on the same page about what customer support is.
Customer Support vs. Customer Service. What's the Difference?
The support team assists customers in short-term interactions connected with tech issues like product purchases, returns, installations. 
Don't confuse it with customer service. The latter team goal is to satisfy customers at each step of their journey throughout your product.
Check the difference: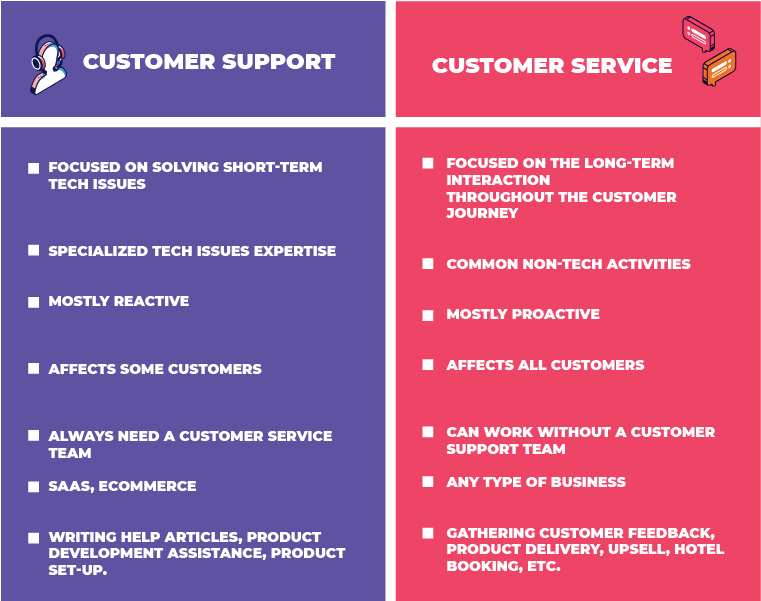 In this article, we're talking about customer support. But the following tips can be an excellent inspiration for customer service too.
7 Tips to Catapult Your Customer Support in 2022
1. Build Your Dream Team of Customer Support Reps
Whom would you hire: a person who is skilled or a passionate in the industry newbie? 
Think wise! 73% of visitors can turn into your loyal customers if this agent delivers them a memorable experience. 
But here is a point: no matter how fast the issue was solved if customers felt a lack of empathy. Thus, experts follow the "hire for attitude, train for skills" rule. 
That means the first thing you should check when hiring support agents is their emotional intelligence and desire to help people.
The second is career goals. Avoid people who take the support agent role as an entry step to your company with the goal of moving to other departments in the future.
Only then check their problem-solving skills. Give them a situation of talking to an angry customer (ask someone from your team to be in this role).
2. Align the Work Between Support and Product Teams
The quality of their workflow influences customer satisfaction level. For example, if a support agent described a bug in a poor way, the engineering team would spend more time understanding the request and fixing it accordingly. Or a case when a product team ignores support-based feature requests. All that is a time customer waiting for the problem solution. How to align the product and support teamwork?
Standardize the bug report for a support team. Set up autocomplete dropdowns in your bug report software, so people won't think about what to enter.
Hire a developer whose focus will be bug fixing or create a rotating schedule, so everyone gets a turn handling bugs.
Before routing a feature request to the product team, your support agents should collect relevant data and attach a clear context description.
Invest in the feedback capturing software. Make sure it is integrated with all the specific software your teams use.
Conduct regular meetings to exchange experience, features workflow specific, and product updates.
Involve the support team in the product development if you want to keep it customer-focused.
3. Create Chat Script Templates
Imagine a customer agent thinking over a unique answer to each customer request. Sounds like a newbie? Sure thing! Eventually, the majority of requests and agents' responses repeat.  
To save time, customer support experts use chat scripts for: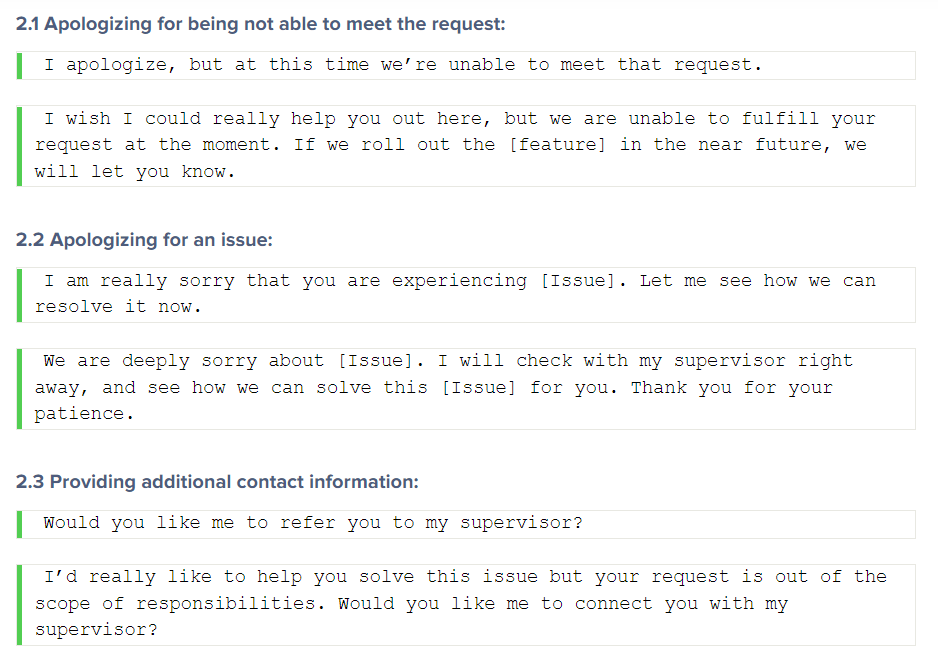 Putting customers on hold,

Transferring them to another agent,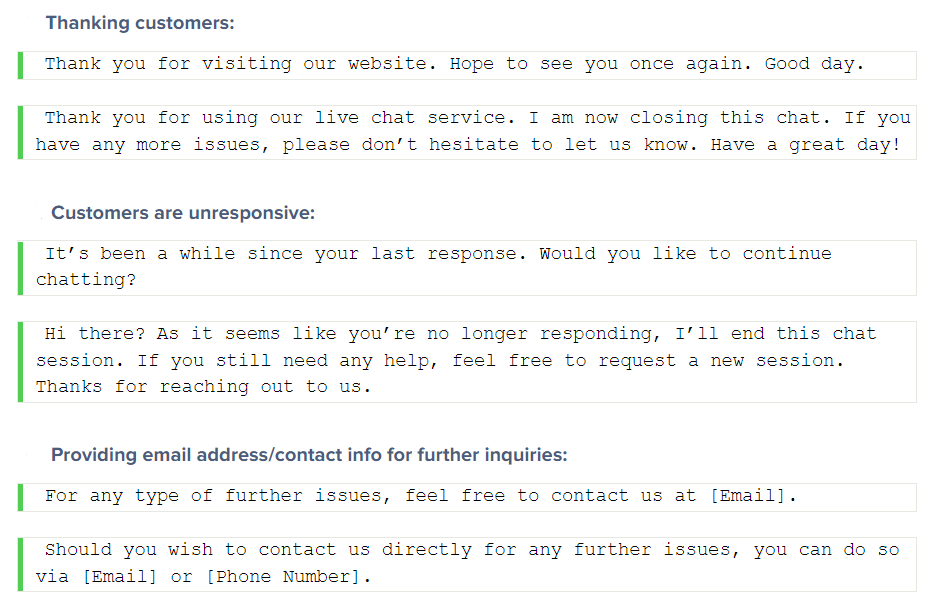 Usually, agents keep them in Google Sheets, Docs, or laptop notes.
4. Automate Processes Using the Right Tools
Like saved replies in a live chat, for example. But that is far from the end of all solutions support agents use. For instance, save hours of your support team time with automated:
Chat routing. Ask your visitors a topic of their request.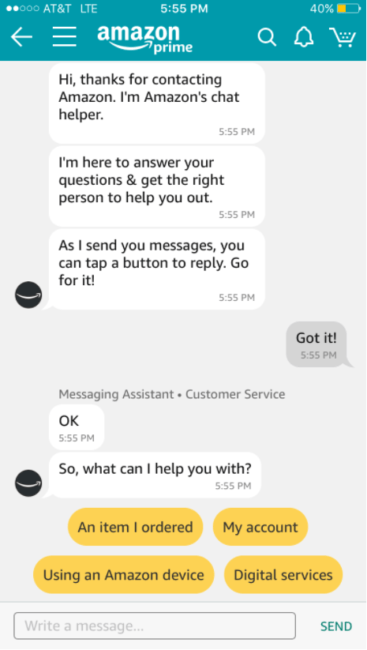 Visitors' behavior and data tracking to be in the context of customer experience with a product. All this info is stored in the customer profile of your CRM.
You can set up a chatbot that answers FAQs independently or use some chatbot service.
Encourage self-service for customers by setting up a knowledge base with FAQs and helpful articles.
Send customer satisfaction surveys at once after the conversation.
Follow-up emails to let customers know that you received their request.
5. Keep Your Website Updated
The main source of information about your product isn't support chat messages but your website. Product landing pages, FAQs, help articles are a part of the self-service 89% of people expect companies to have. 79% ㅡ actually use it in the US.
Conduct regular marketing, support, and product meetings to keep updated the copy and screenshots of the following content pieces:
Product pages and features description.
Pricing page.
Knowledge base.
FAQs.
Saved replies, chatbot scenarios, triggered email copy.  
Don't forget to update information about your product on third-party resources like Capterra, G2, or partner blogs.
6. Measure Your Customer Support Teams' Performance
There is a famous quote by Peter Drucker: "You can't improve what you don't measure." The same applies to customer support. So, here are the primary metrics for customer support that you need to watch.
Customer Satisfaction Score shows how happy your customers are. Good CSAT is everything that is more than 80%.
Reopen Rate is a percentage of closed tickets that were reopened by a customer's reply.

Average response time during the selected period

.

The lower it is, the better.

The number of new questions will show you if people ask the same question or if there are new problems.
Hourly workload shows what time your support team is most loaded. Usually, it is tracked automatically by the support tool you use.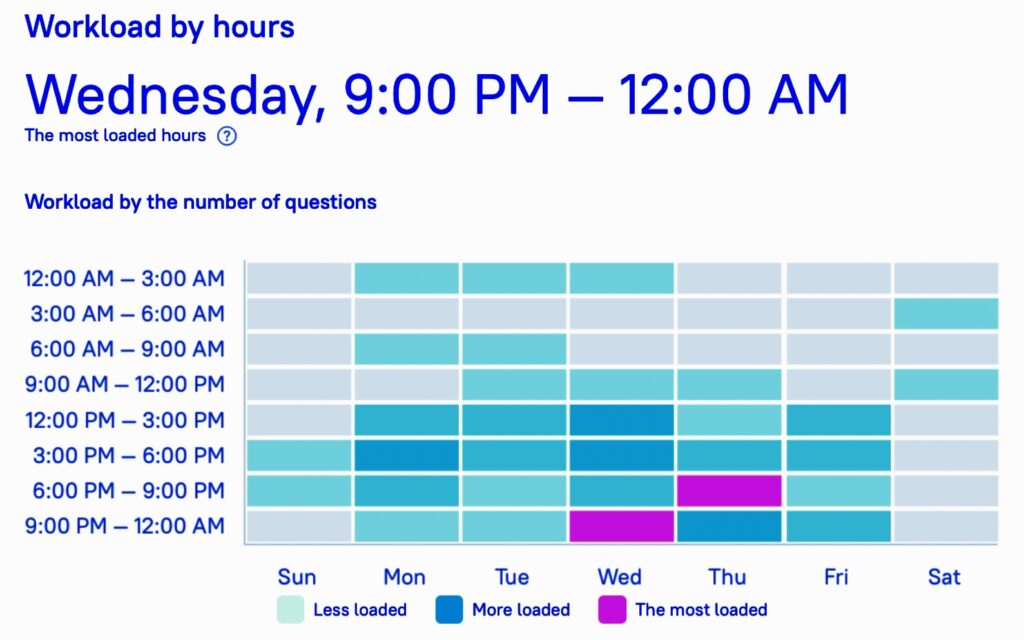 First Contact Resolution shows how many incoming requests are resolved during the first interaction with the customer.
The number of issues resolved shows how many users' questions the team manages to resolve for a given period. The more, the better.
The number of users your support team has been able to help during a given period. The more, the better.
Good to know that most customer support tools provide automated reports, so you don't have to count. Make sure yours have it.
7. Invest in Reps' Education
One of the reasons why people love Starbucks is the level of customer service they provide. That's all because of the well-trained staff. CEO Howard Schultz pays its employees to attend three-hour training sessions to prepare a cup of joe and deliver a great customer experience.
Now think over this: if such a world-known brand still has room to grow, you can also work on your team skills.
Start with providing your team with customer feedback on their work.
Conduct internal training from other teammates to make your support agents believe in what you sell. Explain product benefits, highlight best features, and share case studies or testimonials.
Invite industry experts for workshops.
Pay for online courses or webinars.
Engage them in attending conferences.
Don't forget to book a time for these activities in their schedule.
The summary on how to improve your customer support. The happier your customer, the better support agents spell the difference between your sales growth and churn. Never stop improving your customer support. Here are eight tips to pay attention to:
People are the heart of your customer support. So hire the best ones.
Make your product and customer support team work together.
Create several chat scripts for repeated situations like customer greeting, transferring to another agent, etc.
Automate chat routing, answer FAQs, gather customers' data and feedback, and all that jazz.
Keep the content of trigger messages you send to customers and all the website pages relevant to the product updates.
Choose what KPI metrics you will track to measure your team performance.
Educate your team regularly by visiting industry events, learning courses, webinars, and inviting experts to teach your agents.
Sure thing, you don't have to implement all changes at once. Start with the most important ─ listen to your customers' feedback.
This article was contributed to Simplify360 by

Yuliia Serdiuk

from HelpCrunch.