ChatGPT not only replaced numerous jobs but also made many organizations jealous. Today we will be looking at some of the updates of social media revolving around GPT along with other major social updates from the month of March.
1. Google Embeds Generative AI in Its Tools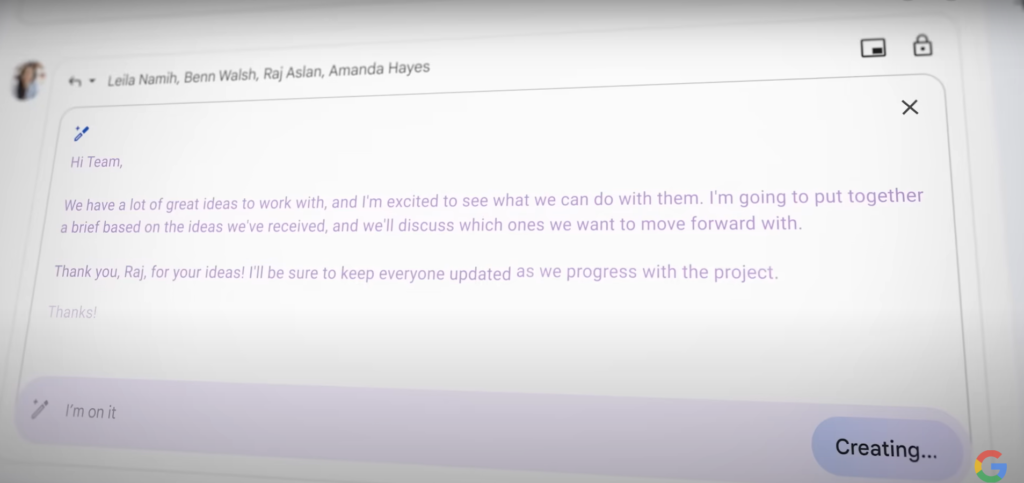 Google, the world's highest used search engine, has now integrated generative AI into its productivity tools – Gmail, Docs, and Slides.
The technology uses MLA to suggest writing and design ideas to users. This helps users increase their efficiency by saving time and streamlining workflow. The motive behind this initiative is to help users get a kickstart on their ideas. 
Definitely a step in the direction to reduce writer's block!💯
Here is how the integration is going to impact the three tools: 
Gmail – Now in Gmail, you can write emails in different tones and settings and establish better communication.
Slides – Users can now come up with auto-generated images, audio, and video with just a mere click.
Docs – Users can automatically generate ideas by typing in the title. Plus, it auto-completes the sentence. Cool, right?
So what's there to wait? Let the generative AI reduce your burden. Utilize its suggestions and analysis. After all, Google has made our work and lives easier!😉
2. OpenAI Launched ChatGPT 3's Successor
With ChatGPT being a great hit, OpenAI decided to launch its successor – ChatGPT 4! We said it in the beginning and we are saying it again, ChatGPT is on a streak by replacing numerous jobs.
Here's what OpenAI had to say on this,
"Despite its capabilities, GPT-4 has similar limitations as earlier GPT models. Most importantly, it still is not fully reliable (it "hallucinates" facts and makes reasoning errors). Great care should be taken when using language model outputs, particularly in high-stakes contexts, with the exact protocol (such as human review, grounding with additional context, or avoiding high-stakes uses altogether) matching the needs of a specific use-case."
After ChatGPT in the field, many organizations used its API in their products to rock the customer experience. No doubt, it is game-changing.
Well, talking about the new version of GPT, the key features include advanced natural language processing capabilities and the ability to generate high-quality responses to the query of the user.
If you are someone who still doesn't know about GPT, we will empathize with you. You can read it all here.
3. Reddit Releases Watch Feed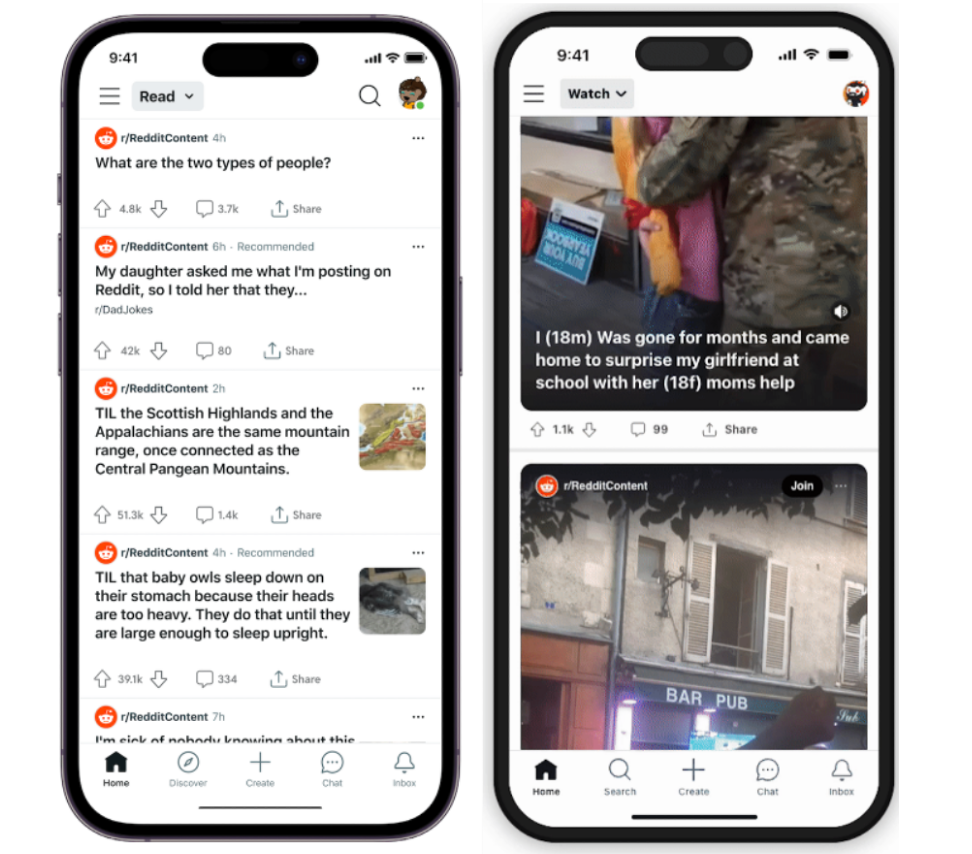 Image Source: TechCrunch
While we are busy scrolling through reels and sipping on coffee, Reddit too released a new feature called "Watch Feed" – you may have guessed it right! It makes the feed video-only for users to watch. 
As Reddit examines how users react to split view, the feeds will include a blend of postings from subreddits users have subscribed to as well as suggestions to start.
Not long until we will be scrolling through videos of cute puppies and funny cats. As it has embedded the same scrollable videos like Instagram, TikTok, and YouTube Shorts.
The Watch Feed will have a range of content including original videos from Reddit, live streams, and videos from creators. Goodbye, good ol' Reddit?
No, they have still preserved the precious read-only feed too. Thank you, Reddit! <3
4. Facebook Integrates Messaging Services
Facebook is planning to integrate its messaging services, WhatsApp, Messenger, and Instagram DMs with its main app. Bold move?
It is said that they will run as stand-alone apps, but their technical infrastructure will be unified. Imagine 2.6 billion users across the 3 platforms communicating seamlessly. Well, this will be possible.
It is intended to make it easier to communicate across platforms and provide a seamless experience. While for the advertisers, it will also benefit them; with increased engagement and better targeting.
With Facebook's Data history, the real red flag here is, with its integration, FaceBook will be able to gather even more data about its users.🚩
5. Meta Develops Its AR and VR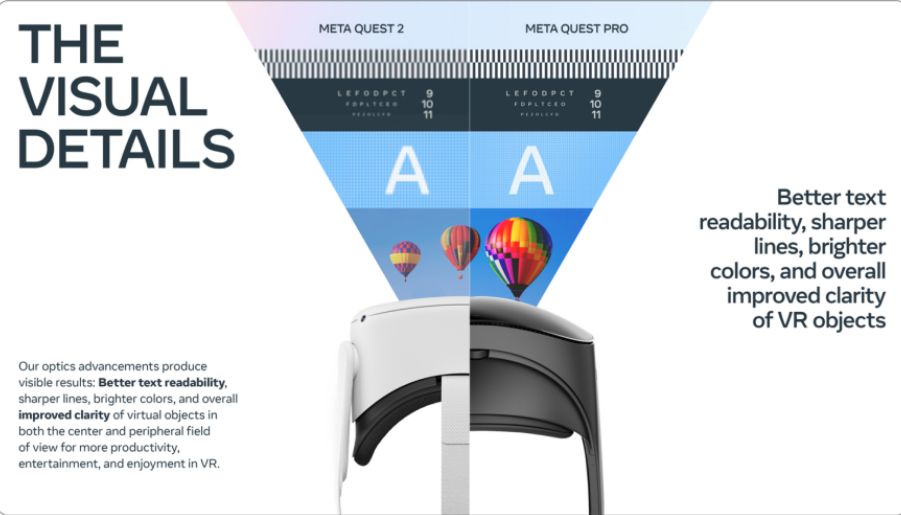 Meta is finally planning to kick users out of this planet with its AR and VR (Not really).
They are developing more immersive and interactive AR and VR experiences, which will allow their users to teleport to different places and interact with others in virtual spaces.
The roadmap for AR and VR was provided to the Lab Staff of R&D. Some of the highlights we came to know are:
In 2025, Meta might introduce its first set of smart eyewear with displays.
The first generation of Meta's smart glasses will be controlled by a smartwatch with a neural interface.
The Ventura headset could be launched next year, while the Quest 3 headgear is anticipated to launch this year.
For people with disabilities, Meta is improving accessibility and inclusivity by developing tools. They will be also investing in R&D to create and improve the existing hardware.
We can't wait to visit the multiverse and save Tony.
6. YouTube CEO Outlines His Future Vision of the App
YouTube's CEO Neal Mohan future-proofs the app with his vision. He outlines that the app will receive multiple changes like improving the user experience and creating a diverse and inclusive community.
He also says that the changes will help to build stronger relationships between the creators and advertisers. 💪
As per Neal Mohan:
"A whole bunch of 1000's of channels made cash on YouTube for the primary time final yr. And we're offering extra alternatives for creators outdoors of adverts by increasing our subscriptions enterprise, investing in buying, and frequently bettering our paid digital items choices."
Mohan desires users and extra creators to get into Shorts and use the extra remix choices to create Shorts from longer videos and live streams. He mentioned:
"Shorts is now averaging over 50 billion every day views. And final year, the variety of channels that uploaded to Shorts every day grew over 80%."
7. Elon Musk Outlines the Future of Twitter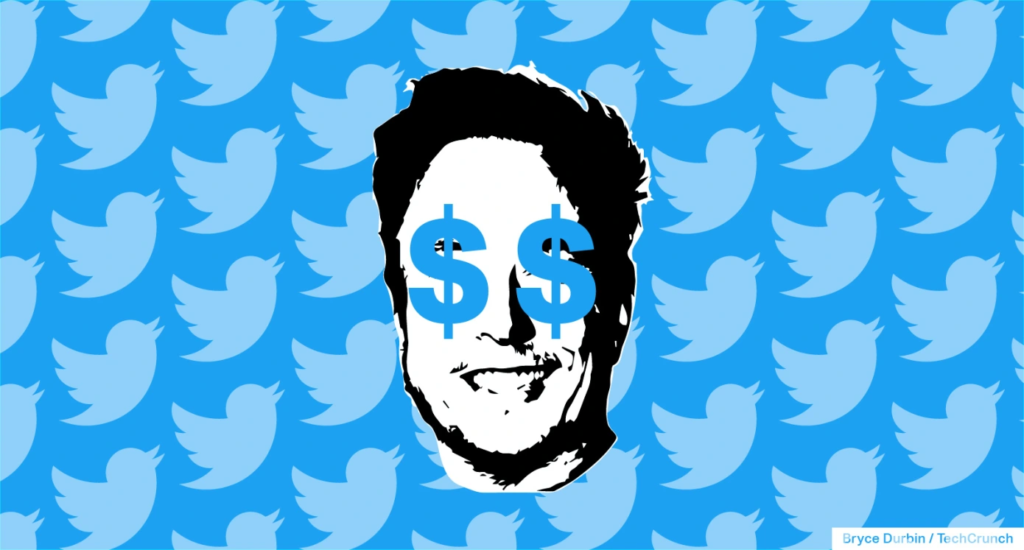 A lot of things are happening around Twitter and Musk, and we are confused with Musk's SOP of Twitter. He is deploying multiple things for Twitter.
Elon Musk recently appeared at Morgan Stanley where he described Twitter's future through his visions. He emphasized on:
The need for more user control over their feeds
Improved algorithms to combat misinformation
A decentralized approach to social media.
Regarding the Blue Mark, he also said that the users who received the blue mark before Musk took over, will lose it and will be required to reapply for verification under new guidelines. 
He will be also expanding its verification program for organizations in multiple countries and regions which includes Japan, Saudi Arabia, and India. Well, let's hope for the best.🤞
8. Pinterest Adds New Display Option
Popular image-scrolling app Pinterest introduced new features to its Shop collection. The main update brought a separate tab for shoppable items, making it easier for users to discover and buy products directly.
For businesses, they have also added product showcases where brands can make their own featured collection and target the users dynamically which enables them to show ads according to previous interactions. In Layman's language: Smart Advertising.
The top space on Pinterest's search page will be taken up by Premiere Spotlight advertising, which allows companies to be at the forefront of customers' thoughts when they use the app to search.
As per Pinterest:
"When merchants connect their product catalog, Pinterest enables the products within it to be discoverable and shoppable via Pins, ads, and videos."
9. Instagram's Full-Length Reel on Story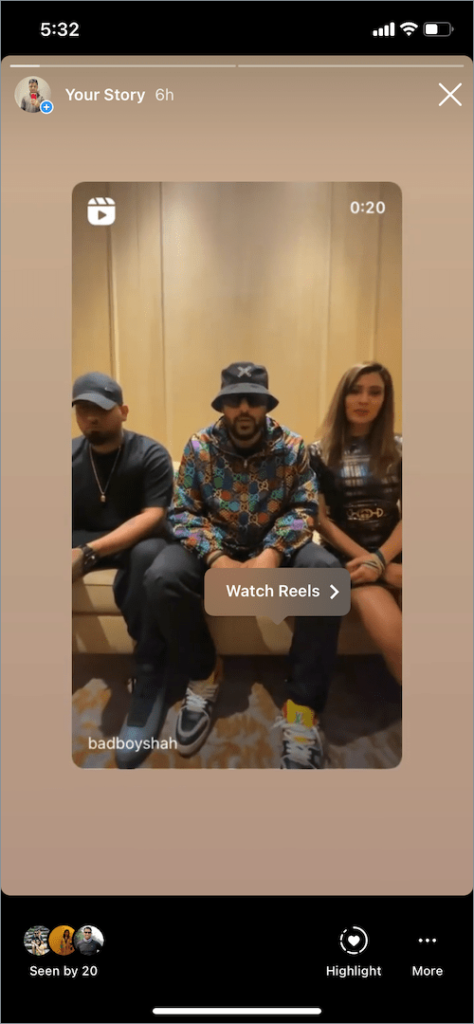 Source: WebTrickz
Instagram is finally rolling out the much-required update – the new feature will allow users to watch full-length Reels directly within the stories feed without leaving it. 
Meta has been focusing on Reels to re-ignite usage growth and keep users in the app for longer periods.
The update is currently being tested among a small group of users when will it be deployed? It is still not clear!
10. TikTok Banned, Again!
The UK government banned the use of TikTok on all government-issued devices due to security concerns, the same thing is followed by the US and Australian governments as well. Not to mention, India banned TikTok for the whole country.
The concern raised is that the Chinese-owned social media platforms have potential links to the Chinese government which made the countries place scrutiny on TikTok.
A parliament spokesperson said:
"Cybersecurity is a top priority for parliament. However, we do not comment on specific details of our cyber or physical security controls, policies, or incidents."
The MPs and parliamentary employees who continue to use TikTok on personal devices will be unable to use it over parliamentary WiFi.
That's all Folks! *for now*