Did you know that almost 4 billion people are expected to use social media by 2025? 
Platforms like TikTok and Instagram have a significant impact on consumer behavior. This has resulted in organizations increasing the resources that they invest in social media marketing. 
With each passing year, social media permeates more and more aspects of the business. Needless to say, social media marketing has multiple benefits. It can drive sales and improve customer relationships. But most importantly, it helps build brand awareness. 
Thus, it is crucial to know all the social media updates. 
Every month, we summarize the latest and most trending social media update. Share these with your marketing team or social media manager and stay on top of your social media marketing game. 
Let's begin with all that the month of January witnessed.
1. WhatsApp Launched Official Global Proxy Support for Users
WhatsApp serves as a critical medium of communication in times of crisis for many. The instant messaging app today attracts an impressive one billion people. It is an application used regularly by users and is thus also a part of most smartphone packages.
Given its popularity and ease of usability, the platform is known to often disrupt governments' attempts at controlling information flow. As a result, government (globally) often ends up disabling any kind of internet flow within the State. This disconnects people from each other affecting their communication channel in crisis.
Owing to this, and largely influenced by Iran's recent situation, WhatsApp has enabled backdoor access for its users. It has launched its proxy server.
In an official statement, WhatsApp expressed,
"Our wish for 2023 is that these internet shutdowns never occur. Disruptions like we've seen in Iran for months on end deny people's human rights and cut people off from receiving urgent help. Though in case these shutdowns continue, we hope this solution helps people wherever there is a need for secure and reliable communication."
The proxy server is to enable users to remain connected even if their local network is cut off. WhatsApp also ensured that connecting via proxy maintains the same level of privacy and security. In other words, your messages will remain end-to-end encrypted.
"Choosing a proxy enables you to connect to WhatsApp through servers set up by volunteers and organizations around the world dedicated to helping people communicate freely. Connecting via proxy maintains the high level of privacy and security that WhatsApp provides. Your personal messages will still be protected by end-to-end encryption – ensuring they stay between you and the person you're communicating with and are not visible to anyone in between, not the proxy servers, WhatsApp, or Meta."
The new option is now available for users running the latest version of the app. To connect to a proxy, go to your WhatsApp Settings>Storage and Data> Proxy>Use Proxy. Enter the proxy address and tap 'Save' to connect.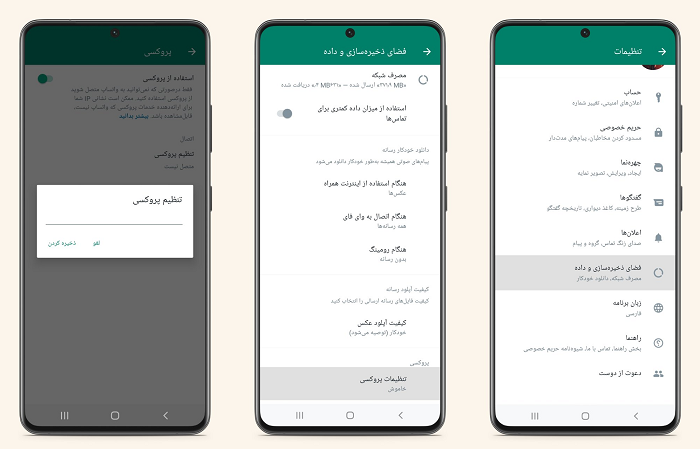 The above image was shared by WhatsApp chief Will Cathcart to explain the entire process in Iranian.
While the attempt is made in favor of human rights it has surely miffed governments. Meta's move to expand its messaging encryption has put them at a higher risk of regulation, and/or even restriction. Especially in Iran, given the current scenario, WhatsApp can face a complete ban.
It is yet interesting to see the company stand up against such strong opposition.
2. Pinterest to Partner with Condé Nast
"Condé Nast is already one of Pinterest's longest-standing and largest content publishers globally – with over 40 Pinterest profiles with tens of millions of views. The partnership is a natural extension of the legacy, rooted in two of Condé Nast's most beloved brands – Vogue and Architectural Digest. Each of these brands are the leading authorities in their respective spaces of fashion and culture, as well as design and architecture."
The above words were used by Pinterest to explain their relation with Condé Nast.
The partnership will allow Pinterest to show exclusive content to the platform, such as video activations of New York Fashion Week. Needless to say, the content will be shared by Condé Nast itself.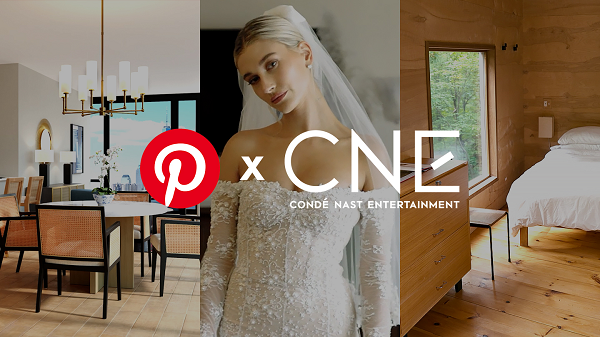 Under this partnership, Vogue and Architectural Digest are to produce 160 exclusive videos. These video contents will align with Pinterest's key seasonal and cultural moments, such as,
Fashion Month in February
Wedding Season
Summer
Back-to-School Activations
Video content has become a top priority to drive engagement for most social apps. For Pinterest, videos have been a big winner. A majority of Pinners have also agreed that video content influence more actions taken based on Pinned content.
Thanks to video content, the platform reported over a billion views per day.
Therefore, there is no doubt that this partnership will only add to Pinterest's engagement. The two major areas that can witness an increase in engagement are – weddings and home decor.
The partnership is to begin from February onwards. This will begin with vogue providing backstage access to Fashion Week in New York, London, Milan, and Paris.
3. YouTube Suggests Hashtags for Short Clips
Last year, in August, YouTube announced its plan to maximize its most celebrated feature. This was followed by YouTube releasing its new monetization program that focused exclusively on shorts-creator.
With these updates focusing on Shorts, one can easily conclude YouTube is attempting at competing with TikTok.
Continuing with the same, YouTube has now decided to suggest relevant hashtags to Shorts creators. This is primarily to help creators gain more traction.
As explained by YouTube itself,
"To make it easier for Shorts creators to add relevant hashtags to video titles, we're running an experiment that suggests new hashtags to include when publishing Shorts. If you're a creator in the experiment, you'll see suggested hashtags appear in the upload flow on mobile. The suggestions will be custom to your channel as they're based on content you've previously uploaded."
As you can make out, the suggested hashtags won't be AI-based. Rather it is to be based on the common tags and topics associated with various channels.
4. Meta Fined over $400 Million For Violating EU's GDPR
Earlier in the month, it was brought to the forefront that Meta has been fined $414 by top EU regulators. As concluded by the Irish privacy regulator, Meta's recent advertising and data handling practices breached EU privacy laws.
The Irish Data Protection Commission has ruled that the company should be ordered to pay two fines.
210 million euros ($222.5 million) for violating European Union's GDPR.
180 million euros for the same breaches done by Instagram.
Combined, these penalties amount to 390 million euros i.e. $414 million.
The fines mark the end of two lengthy investigations carried out by DPC. The investigation initially began in May 2018 when GDPR first came into effect.
EU's GDPR or General Data Protection Regulation places strict restrictions on how firms can process people's information. It was only in November that Meta streamlined various fields to better align itself with GDPR policies.
It's been only two months since then and DPC has already refused Meta the success it had hoped for. The company has been asked to show its compliance with GDPR policies within three months.
The ruling will surely prompt Meta to restructure its current ad systems. Moreover, the platform will also have to relook at the ways it gains user permission within its apps.
Meta has confirmed its defense stand and said that it would fight both – the ruling and the fine.
As per Meta,
"We strongly believe our approach respects GDPR, and we're therefore disappointed by these decisions and intend to appeal both the substance of the rulings and the fines."
Meta claims that it uses a combination of legal bases to provide various services. This means that even if the ruling is upheld, Meta can still deliver personalized ads within the concerned region.
"It's important to note that these decisions do not prevent personalized advertising on our platform. The decisions relate only to which legal basis Meta uses when offering certain advertising. Advertisers can continue to use our platforms to reach potential customers, grow their business and create new markets."
While we are unaware of what the final verdict will be, we do realize that there will be a huge blow to Meta's EU profit plans.
The European Union has shown its dedication to users' privacy and protection pertaining to social media platforms. After Meta, the EU has shifted its focus to TikTok and the content that the younger population can access from there.
5. EU Warns TikTok to Update its System In Sync with DSP Laws
Growing on its regulatory pressure the Eu has finally warned TikTok about a complete ban.
In a tweet shared on Thierry Breton's official page, it was reflected that the Commissioner of the EU Internal Market had a meeting with TikTok CEO Shou Zi Chew on January 19.
The meeting was held to discuss the app's obligations in the EU region, especially concerning the protection of younger users. Breton briefed Shou on various policies of the Digital Services Act (DSA) that will scrutinize TikTok from September onwards.
Numerous concerns were raised about TikTok's current system that allows users to access harmful and even 'life-threatening' content. If not changed the social media app company stands at risk of facing a complete ban in the EU. This is especially more pressuring for TikTok as the company is currently facing a potential ban in the US as well.
TikTok in its reply has ensured that it is committed to meeting requirements set by DSA as well as the EU's GDPR.
However, the bigger threat looming over the company is its potential connection with the Chinese Government. Just last month, an investigation uncovered that ByteDance staff had been using TikTok to spy on American Journalists. This situation mirrors the security concerns raised over the past few years.
Earlier CFIUS claimed that TikTok has access to sensitive user data in foreign nations. This is a potential threat as the company is potentially under the control of CCP.
While TikTok has been working endlessly to separate itself from this, these concerns are yet to be lessened. Rather, a growing number of US states have now banned TikTok from official devices. There has even been increasing pressure on the White House to take action against the app.
However, the real question here is can TikTok be banned?
As per data, the EU has not banned any social apps for violating any of its rules. We certainly do not mean that the EU cannot ban these apps. But, it does feel like more of a public push to add pressure, than genuine effort.
6. Google Outlines China-Based Influence Operations Data
Over the past year, Google claimed to notice a patterned way of seeding pro-China content to western audiences.  Although only limited information is available about the minds behind the initiative, Google has managed to publish a detailed overview of the issue.
The report also highlights Google's success in combatting this China-based influence operation called DRAGONBRIDGE.
As explained by Google,
"In 2022, Google disrupted over 50,000 instances of DRAGONBRIDGE activity across YouTube, Blogger, and AdSense, reflecting our continued focus on this actor and success in scaling our detection efforts across Google products. We have terminated over 100,000 DRAGONBRIDGE accounts in the IO network's lifetime."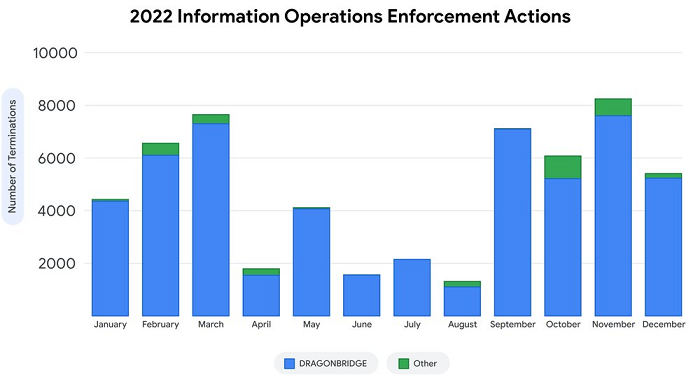 The above chart shows that DRAGONBRIDGE is by far the most prolific source of coordinated information detected by Google. The largest search engine platform also claims to have snuffed out most of the content before it got seen, thereby disrupting the pro-China initiative.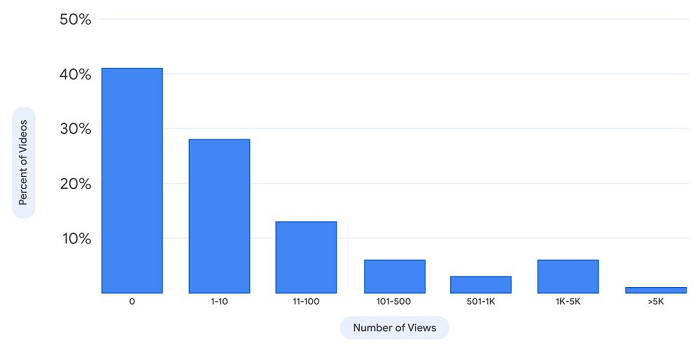 It is also worth noticing that DRAGONBRIDGE has created more than 100,000 accounts. This includes tens of thousands of YouTube channels. This can't be cheap considering it requires a huge amount of work and content being produced by the group.
Hence, the broader implication directs that the group might be supported by the Chinese government. In other words, the pro-China content production might be an effort to influence foreign policy approaches via social apps.
The issue is also being seen in synch with TikTok's potential connection with CPP. This is because a significant presence of DRAGONBRIDGE content has been observed on Facebook and Twitter.
As a result, the US government, for some time now has been weighing a full ban on TikTok. And, it is no doubt that once the US bans the social media app, many other nations will follow the suit.
While Google's attempt at combatting the China-Influence on social apps seems like a success the same cannot be said for TikTok.
7. LinkedIn Presents Engagement and Ad Performance Data
As mentioned above, Twitter is currently struggling with user engagement data. This has resulted in many people looking for an alternative. Thanks to the rising conversations, LinkedIn has become the top priority for businesses right now.
According to the platform's parent company, Microsoft, LinkedIn has been rising at 'record levels' quarter-on-quarter for years. However, LinkedIn has time and again failed to provide a full performance report.
Owing to the growing doubt among social media users, LinkedIn has released an infographic. The infographic covers a range of data points on ad performance, usage, specific engagement stats, etc.
Here are some key points from the infographic:
LinkedIn members view 22% extra feed updates in 2022 year-on-year
Members had  25% more public conversations on LinkedIn year-on-year
June 2022 to June 2022 saw LinkedIn members share 25% more public content
Other than the mentioned key points, it is worth noting that 2.7 million company pages post weekly. Moreover, 11 million users have turned on LinkedIn Creator Mode since March 2021, i.e. since its launch.
If one wants to focus on engagement stats – LinkedIn witnessed a 75% increase in 'spontaneous LinkedIn events'.
While it is unclear how long will Twitter take to get back to its full potential, we recommend you start exploring LinkedIn as a solid alternative. The platform has now become the go-to choice to
Maintain a professional engagement
Discuss the latest news and happenings
Initiate new conversations
You can view the full report and infographic here.
8. Instagram Adds Lead Forms as CTA Button Option on Business Profiles
Now, this is an update that will help you advance your digital marketing strategies.
'Gram came up with its newest feature to help creators glean insight about their IG visitors. The feature called 'Lead Form' can be accessed from the profile action button.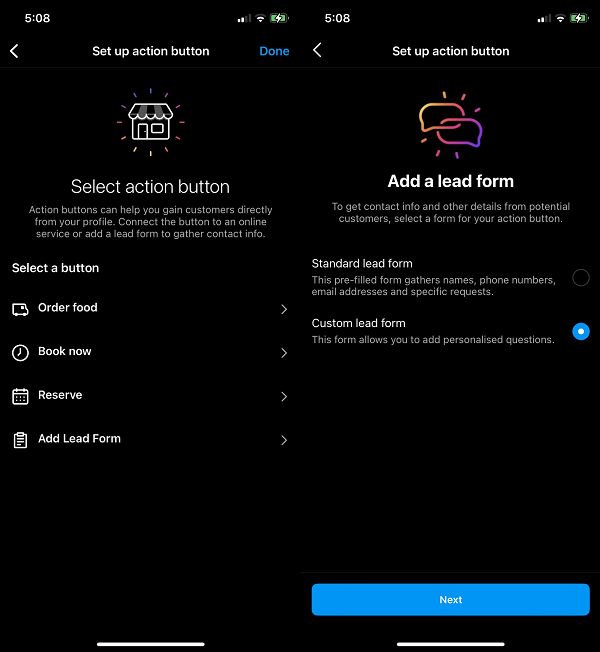 As you can see in the above image, users can select 'Add Lead Form' as an action button on their profile. This will be in addition to the already available CTA button.
Here are some of the advantages that come with – this feature,
Users can choose between standard data collection CTA and custom questions to further guide queries
Enables users with multiple choices or short answers to better plan their content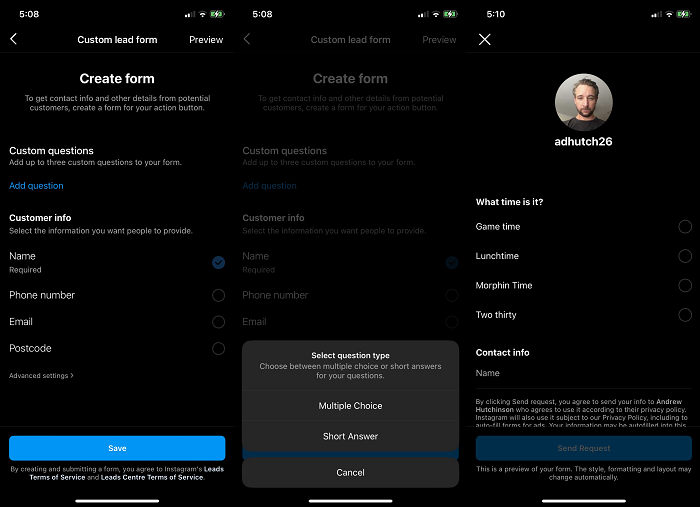 Simply put, the feature will facilitate a better way to express your brand persona.
9. Snapchat's New Ad Campaign Shows Unique AR Offerings
Have you ever thought about the saying everyone's truth is different? And, do you believe there can be different perspectives on the same story? If yes, you are going to love Snapchat's new promotional campaign.
Recently, Snapchat released a video announcing its unique and viral AR trends. The promotional video showcased bizarre effects that presented people with a different perspective of the real world.
As explained by Snap,
"At Snap, we celebrate the joy, irreverence, and spontaneity of communicating with your real friends in fun, unexpected ways. Over the years, we've pushed the boundaries of how people see and experience the world through augmented reality. AR makes conversations and experiences better, and unlocks new ways to connect with others, learn about the world, shop, and more. [Our new campaign] shows you what it's like to see the world the way Snapchatters do."
While we don't deny that the video is pretty trippy, it is sure to get more users hooked!
The campaign is sure to grab attention. With 72% of active Snapchat users engaging with AR elements via the app every day, no one can deny people's interest in these weird activities.
Simply put, people prefer to see the known in an unfamiliar way.
Despite operating with AR at a smaller scale than Meta and Apple, Snap has shown greater progress than the other two. The platform has continually come out with attention-grabbing AR content. On the other hand, Meta is still struggling to maintain relevance with their younger audience and, Apple has leaned on Snap to help showcase its advanced AR tools.
If nothing else, no one can deny that Snap is the parent of virtually every AR trend. From anime filters to baby faces, from crying faces to nauseous emojis – everything has originated from Snapchat.
10. Twitter to Provide a Broader Spectrum for Political Viewpoints
Twitter chief Elon Musk replied to a tweet recently that questioned the excessively present 'right wing' posts on the user's feed. Musk responded by saying,
"People on the right should see more left-wing stuff and people on the left should see more right-wing stuff.
 But you can just block it if you want to stay in an echo chamber."
Elon Musk (@elonmusk) 
January 16, 2023
Now, this doesn't necessarily reflect upon a policy change.  But the tweet does indicate Twitter as a platform is more inclined towards showing political commentary as opposed to their beliefs this is meant to spark a broader awareness and engagement. As the Tesla owner has also pinned the tweet, it only makes sense that Twitter aims to become a more neutral space.
Here is a case study done on Facebook to show its take on the same issue.
Facebook – A Case Study
Andrew Bosworth: In 2020, Andrew Bosworth, a Meta executive, explained the same concept via a long blog post. The post discussed the challenges of political polarization on social networks and how Facebook dealt with it.
Bosworth explained that even though Facebook tried to show content from both political spectrums the user response remained unsatisfied.
The Meta executive essentially acknowledged that Facebook usage had indeed amplified political division. However, it was not by showing viewpoints that aligned with users' viewpoints. Rather, Facebook users saw more opposing viewpoints. The strategy was a huge failure as it led to more angst. In the longer run, it was observed it only restricted people from opening themselves to another viewpoint.
Mark Zuckerberg: At the 2020 Munich Security Conference, Meta CEO Mark Zuckerberg explained
"People are less likely to click on things and engage with them if they don't agree with them. So, I don't know how to solve that problem. That's not a technology problem as much as it is a human affirmation problem."
Followed by this in 2021, Meta announced its intention to reduce the amount of political content in their users' feeds. The major reason behind this was the increasing bickering on Facebook which eventually harmed users' engagement with the platform.
Current Situation: The Wall Street Journal has best summarized the current situation of political content on Facebook,
"Meta now estimates politics accounts for less than 3% of total content views in users' newsfeed, down from 6% around the time of the 2020 election, the documents show. But instead of reducing views through indiscriminate suppression or heavy-handed moderation, Facebook has altered the newsfeed algorithm's recommendations of sensitive content toward what users say they value, and away from what simply makes them engage, according to documents and people familiar with the efforts."
Simply put, Meta's no longer showing people as many divisive posts. This X`the platform is no longer inclined toward creating an inter-sectional space for different political spectrums.
Going back to Musk and Co, it does make sense in theory why they want to expand people's horizons.
Twitter can drive its users to switch over to the 'Following' feed instead of the 'For You' main listing. Yet, Musk still keeps pushing more and more politics into this stream. This could simply be to make Twitter a much more engaging space than its competitors. Or, it can be a medium for Musk to promote his own political opinion as well.
While these are only speculated theories, it does seem like a risky move.
Twitter has been trying to maximize its discovery and engagement within the 'For You' feed. And, if users start rejecting political content they might as well stop interacting with the platform.
Do you think this is a strategic move to increase Twitter's engagement or is there a personal agenda here? Let us know your thoughts in the comments below.
While the changes in the social media world are never-ending, not each one is worth noticing. Here we listed the ten most helpful and exciting updates. Let us know which one you are going to utilize.
Meanwhile, we will start working on our next issue.
Until then, stay tech-savvy, and stay ahead!