Social Media has become a competitive space today. And all social platforms are continuously innovating to make sure their users are retained and kept engaged while using the platform. Whether it be Instagram, Twitter, or other social platforms, every single one of them finds opportunities to make their platform a better place for the users.
In this article here, we've compiled a list of major updates & feature releases by popular social platforms you need to know!
Let's look at the first one!
1. Instagram Allows to Embed Miniature Version of Profiles On Websites
Instagram has been coming up with a lot of new exciting features lately! And the revealed features never fail to strike a chord amidst the user community!
In a recent development, Instagram has come with a new feature called the "Profile Embed". This allows users to embed their Instagram profiles on third-party websites, helping increase the profile visibility factor. 
Here's what Adam Mosseri, the Head of Instagram has to say on this, 
"You've been able to embed an Instagram photo or Instagram video into a website for many years now. This extends on that idea and allows you to embed a miniature version of your Instagram profile on a website. Maybe you want to showcase your Instagram content on a website somewhere, or link to someone else's."
This can be a great feature addition for businesses that look forward to showcase their recent collaborations or display specific events and build a relationship with the community simultaneously.
All you have to do is, 
Go to your account using a web browser (you don't even have to log in)
Click the three dots visible next to the profile handle
Click "Embed" and then "Copy Embed Code"
Once done, simply paste it onto the page you're building – HTML block or code editor. 
Note: This feature is only available to users in the US now. When you embed your profile on a webpage, your profile details + six recent posts will be visible. 
The Profile Embed is not the only feature that Instagram has announced. "IG Playback" and "Reels Visual Replies" are some of the other important features Instagram revealed.
🎉 New Features 🎉

We've rolled out some pretty fun new features this week that I wanted to share with you:
- #IGPlayback
- Reels Visual Replies
- Profile Embed (US only for now)

Any new features you'd like to see? Let me know! 👇🏼 pic.twitter.com/p8mvtJn4kA

— Adam Mosseri (@mosseri) December 16, 2021
The IG Playback feature is nothing but Instagram populating the 10 best stories from your profile in 2021. You can go ahead and share them with your followers. And the Reels Visual Replies feature allows you to reply to comments in the form of reels. Only creators of the specific reel can make use of this feature – helps when creators want to give a quick tutorial or product explanation.
2. Twitter Releases 2022 Planning Guide
It's not just Instagram. The American microblogging site, Twitter is also ramping up its game by bringing in new features and more. 
Since 2022 is around the corner, Twitter recently released a "Planning Guide" that'll help you plan your tweet strategy and tweet copies well in advance. 
The newly released 2022 Twitter Planner will help you,
Plan, organize your paid & organic tweets before a month
Improve your tweets with pro-tips from Twitter's Business Team
Plan your Twitter Ad Campaigns in a much better way, etc. 
Here's a quick look at what this guide will be offering you,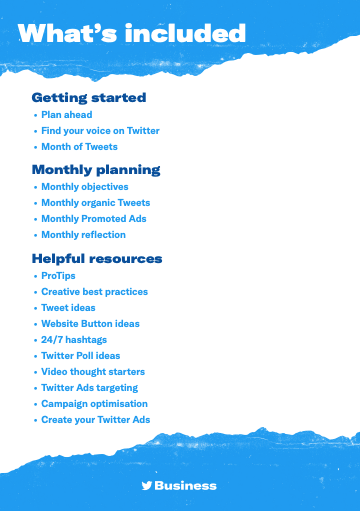 The above image is the screenshot of the Index page from the guide. Using this guide, marketers can take their Twitter game to the next level – from posting quality tweets to getting creative and finding your brand voice, the Twitter Planner guide can help you do it all! 
Twitter has also included monthly publishing calendars that can help you save time and make your Twitter marketing a walk in the park!
You can download Twitter's "2022 Twitter Planner" guide using this link.
3. Auto Captions for Twitter Videos Uploaded In Tweets
Yes. That's right! This is another major update from Twitter! 
Twitter recently announced that all videos attached to tweets will have auto-captions enabled. The captions will be activated for in-stream videos that are played mute, doesn't matter whether the device is Android or iOS. For desktop users, they have the option to switch them on or off.
Where are video captions when you need them? They're here now automatically on videos uploaded starting today.

Android & iOS: auto-captions will show on muted Tweet videos; keep them on when unmuted via your device's accessibility settings
Web: use the "CC" button to turn on/off pic.twitter.com/IHJAI31IvX

— Twitter Support (@TwitterSupport) December 14, 2021
As of now, the auto-captions are available in 37 languages. And the translation & editing features are not available for auto-captions yet. Tools for the same are in the development phase.
P.S. Read this article to know more about the features Twitter is testing to roll out in 2022.
4. WhatsApp's Announces New Preview Voice Note Feature
Quick activity! Just think about the instances where you've ranted about a voice note you just sent on WhatsApp?
Well, this doesn't have to be the case anymore!
WhatsApp recently announced a feature where users can hear their own voice note before sending it to the user on the other end!
WhatsApp has a huge user base in India alone – 400 million-plus users! And this new feature can help users feel more confident while sending voice messages. WhatsApp also recently came with a "View Once" feature where users can choose to send photos with a view-only once option. When the recipient has viewed it, the photo automatically self-destructs! 
Let us know in the comments section if you've come across any major social media platform updates!
That said, stay tuned for our next edition!
Cheers!