Omnichannel customer engagement is the future of B2C businesses. And the opportunities to deliver outstanding customer experiences are more now than ever before!
However, it ain't that easy! There are challenges when it comes to maintaining service levels and meeting the growing expectations of today's customers – the result of the advances in social media, mobile and digital technology.
Omnichannel engagement is essential for supporting consumer journeys consistently across different channels. Businesses across industries are increasingly realizing that their customer service infrastructure is insufficient to support genuine omnichannel customer engagement.
In fact, according to PWC, more than 80% of organizations are investing in omnichannel experiences!
What Is Omnichannel Customer Engagement?
Omnichannel engagement uses a multi-channel sales strategy to provide customers with a unified and seamless shopping experience across channels.
Customers no longer follow a straight path to companies' web assets. They interact with companies through a variety of channels and take pauses between their journey.
But with the help of cross-channel execution strategies and tailored messaging, you can increase customer engagement with your brand significantly.
Delivering synchronized experiences across various channels simultaneously within a single journey and managing the customer lifecycle to create a personalized, contextual experience each time can be challenging for businesses.
Also, prolonging infrastructure upgrades is a risky business decision in light of rising consumer expectations and customers' increasing importance on the customer experience.
There are significant immediate and long-term benefits to making the necessary modifications to promote omnichannel engagement, despite the fact that it may feel like an ambitious goal.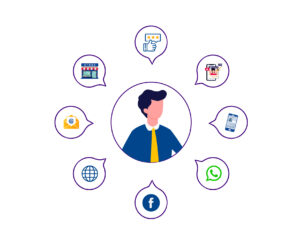 Why Omnichannel Customer Engagement?
A research by Genesys reported a 12.5% reduction in agent handling time, which translated to savings of $19,748,134 with an omnichannel engagement platform.
An Omnichannel Customer Engagement Platform offers extensive features, customization, and reliability, including the ability to serve a business's unique needs. Your company's success goes beyond the quality of your customer service. 
The ability to track and utilize client journeys is critical in today's business environment!
As a result, you must ensure that your customers are engaged and receive the same content and experience no matter what channel they are interacting with your business. 
Here are 5 Benefits of an Omnichannel Customer Engagament Platform
1. Improve Shopping Experience
Customer engagement is being redefined by new technologies such as artificial intelligence, deep learning and machine learning.
Capturing customer engagement with online & offline marketing has never been more accessible and powerful.
A good example of omnichannel engagement is using chatbots to interact with customers on your website or in-store functions as a shopping assistant. It elevates the shopping experience to a whole new level for customers.
To effectively communicate your brand's message, you may leverage its customer data, which is conveniently accessible through your omnichannel platform center.
Artificial intelligence and machine learning can also be used to personalize customer engagement and service.
2. Interact With Customers In Real-time



Customers' expectations are rising and marketers must stay agile. Customers demand and expect immediate gratification. 
Customer retention is compromised if you can't address their questions in real-time. 
When it comes to omnichannel platforms, most allow you to interact with your consumers in real-time via live chats, co-browsing and screen sharing.
Co-browsing allows customer support representatives to share a customer's browser to better assist them in resolving their concerns. For example, a customer can share their browser with the agents to help them navigate the website or complete an order.
If you want to achieve your business objectives, you must include customer engagement. Your customers will feel more connected to your brand if you offer real-time solutions. Giving your customers the most incredible possible service, and your brand will grow.
3. Encourage Customers to Use Self-Service
Customers are diverting from calling customer service. Instead, they are more inclined towards self-service. While the calls remain a popular support channel, users are increasingly turning to the web and self-solving their problems.
This is why complete self-service is the most convenient, primarily through a knowledge base, live chat, community forums are essential.
A delay may occur when calling customer service by phone, but live chat is significantly quicker and in real-time. There's a lag time between sending and receiving emails.
Instead of juggling multiple communication channels, businesses can prioritize SLAs for customer queries, resulting in a simplified process and standard SLAs enabled across all channels.
4. Collect and Analyze Better Insights
Customer behavior and engagement insights are critical for every business. They break down customer interactions to help you better understand your customers' behavior and make more informed decisions about providing the best customer experience.
Similar to a single inbox for all your incoming interactions, omnichannel customer engagement platforms have a unified system for insights, putting all the information.
A unified dashboard of all your insights empowers businesses to be proactive in creating effective business development strategies. It all comes down to the importance of customer insights in determining the course of your marketing activities.
5. Be Where Your Customers Are
To satisfy the needs of today's consumers, you must deliver your offering in a manner that is most convenient for them, no matter when or where that may be.
Starbucks is an excellent example of businesses having a successful omnichannel engaging presence. 
Starbucks' quality of omnichannel strategy and engagement is proof that they don't take it lightly. Their app is a great example of one such initiative; they understood that customers might want to order and pay bills on their mobile app or website. 
Whichever option customers choose, they want it to go smoothly and with the same level of ease as the previous option. This has allowed Starbucks to engage better with customers and build a successful brand over time.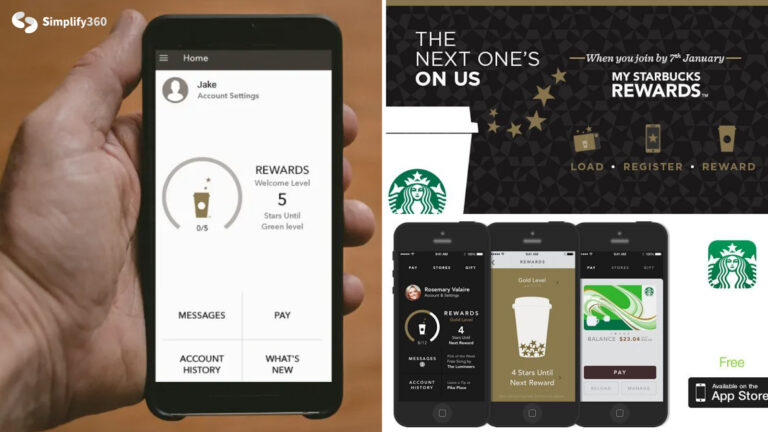 Omnichannel is the inevitable future for all businesses.
Modern marketing is increasingly recognizing the importance of omnichannel customer engagement, and companies must pay attention if they are to remain competitive.
Put yourself in the position of your customer and provide what they desire. With Omnichannel, you're offering a comprehensive shopping experience that includes marketplaces, social media, websites, and other online venues while also delivering consistent, contextual, and unique experiences for each one.
Turn your attention from your products to customers, and make changes to your offerings to better meet the needs of potential customers both offline and online. 
To prevent losing customers, make sure to turn them into a buyer through all of your channels.
P.S. Gain a deeper understanding of your customers and their pain points to improve your customer experience with this guide