Social listening tools have become a must-have addition for businesses, especially since the beginning of the pandemic. In fact, a study by Gartner says that 51% of marketers across the globe used social listening to understand their consumers last year.
Also, the increasing number of social media users (projected to cross 4.41 billion in 2025) has made businesses understand how important social listening is, leading them to search for a listening tool!
And if we're right, that's probably the reason you're here!
You are on the lookout for a social listening tool and you want to know the must-have features before you choose the one!
Great! Because this read is exactly about what you're looking for!
We've come up with the 6 important factors you should look at before choosing a social listening platform. But before we get there, let's quickly brush up on the basics like we always do!
What are Social Listening Tools?
A social media listening tool is a special software that allows brands & businesses to know what their prospects and customers are saying about them online. Social listening tools crawl the internet to look up for mentions about the brand, business or industry based on the keywords provided.
With a social listening tool onboard, businesses get the insights they need to come up with new strategies and to ensure growth in the long run. They get to look at the bigger picture by gathering and displaying all channel insights on one dashboard!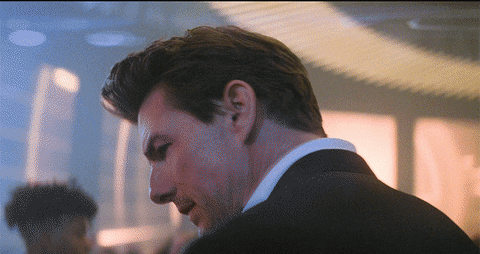 Now that you know what a social listening tool is, let's quickly look at why you should use it!
P.S. If you're getting confused with social listening and social monitoring, this read should help you out!
Why Use Social Media Listening Tool?
People talk! They've always been talking about everything! And now, they use social media to do the same!
The increasing number of social media users (especially the millennials) are talking about what they like and what they do not over social platforms.
Sometimes, they also talk about brands – their good & bad experiences, what they feel about them, would they recommend it to others and more.
And when they do this, at times, they forget to tag the company. They even misspell the brand's name! But with a social media listening tool onboard, you get to capture everything said!
This could actually help a business understand more about where they are in the market and how they can improvise further.
Here are a couple of benefits you get when using a social listening tool,
Understand your customer's voice for the brand

Know how your competitors are performing

Create new strategies to engage with customers

Helps understand & find gaps in your products or services

Improve customer satisfaction by delivering great social customer service

Understand the overall brand health
We did want to explain everything in-depth but then thought this quick example will help you understand how important social listening is!
TOMS Shoes x Hasbro
TOMS Shoes, a popular footwear company based in Los Angeles came up with a new product solely based on listening to social conversations.
The brand found out that a chunk of their loyal customers were super interested in My Little Pony, a toy line & media franchise from Hasbro American toy company. They wanted to make use of this opportunity and came up with a brilliant idea.
TOMS Shoes partnered with Hasbro and released a new limited edition product featuring "My Little Pony".

And here's the super cool part – the first set of stocks were sold out in 48 hours! Good for the brands!
All TOMS Shoes did was make sure their social listening was on point. It helped them gather insights and make new business decisions (which worked out well for them).
That's one example of how a social listening tool could help a business out. Similarly, when used right, a social media listening tool can help achieve other listed benefits as well!
You get the idea, right?
So, let's head to the part you've been waiting for – the features your social listening tool should have!
6 Factors to Look When Choosing a Social Listening Tool
Choosing a social listening tool could be a huge challenge today, especially with the rise in the number of solutions. It really doesn't matter which tool you choose to go with, but make sure you look into these factors.
Because at the end of the day, choosing a tool that doesn't give you useful insights is both a waste of money and effort!
Let's start looking at them!
1. Keyword Monitoring
This is where it all starts!
Your social media listening tool should be able to track mentions of your brand across all popular social channels. And for this to happen, you'd have to enter specific keywords.
For example, if your brand's name is "AlphaMeteor", all you have to do is, enter the same keyword, select specific channels and enter a date range. You should be able to see all of your brand mentions on the particular channel for the specified timeline.
Apart from keyword monitoring, your social listening tool should be able to track mentions for hashtags you specify and theme-based topics as well. Also, check if multi-language tracking is possible – very useful if you have audiences speaking native languages.
Keyword monitoring is a basic function that all social listening tools come with today. It's important that you do not arrive at conclusions based on this factor alone.
2. Social Platforms Coverage
This is a very important factor you should take into account when choosing a social listening tool!
There's no point in social listening when your tool provides metrics from very limited channels. But again, it all comes down to the question of where most of your brand audiences are.
It's better that you choose a tool that tracks mentions and metrics from platforms like,
Facebook

Twitter

Instagram

YouTube

Google Play

Blogs & Discussion Forums

Custom Websites & News Sites
The option to add custom websites is very important. You never know when a need might come to track a specific website. Make sure the tool you choose is able to track mentions and insights from the above platforms.
3. Insights – Content Performance & Channels
Insights are one thing that helps you make informed business decisions. And your social listening tool should stack you up with insights – in a good way!
Here are some of the insights your social listening platform should be able to provide you!
1. Keyword Monitoring & Mentions
The social listening tool you choose should be able to monitor specific keywords, hashtags and give you details of the mentions, along with the source channels. This helps you understand the number of times your brand/related keywords are being mentioned and from where as well!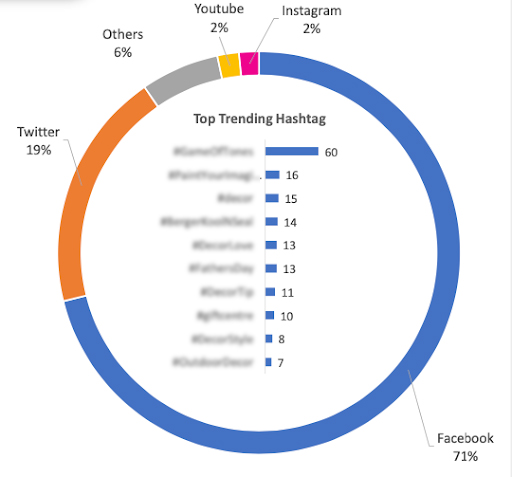 2. Demographics & Gender Information
In-depth demographic data helps you understand at which countries/locations people resonate with your brand. Also, the gender distribution data helps you gain more insights and design products accordingly!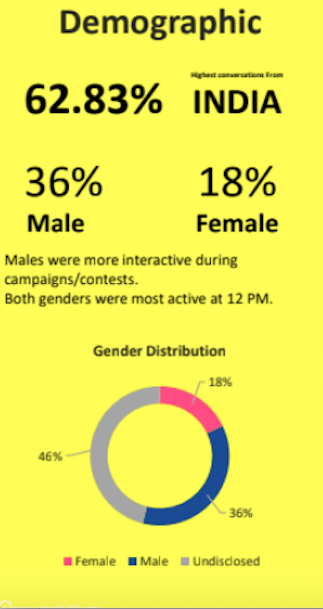 3. Sentiment Analysis
A good social listening tool should be able to tell you how customers feel about your product by analyzing conversations, reviews and finding out the sentiments in them. It's even better if your tool could do this channel-wise.
Here's an example of a report showing the sentiment trend of reviews.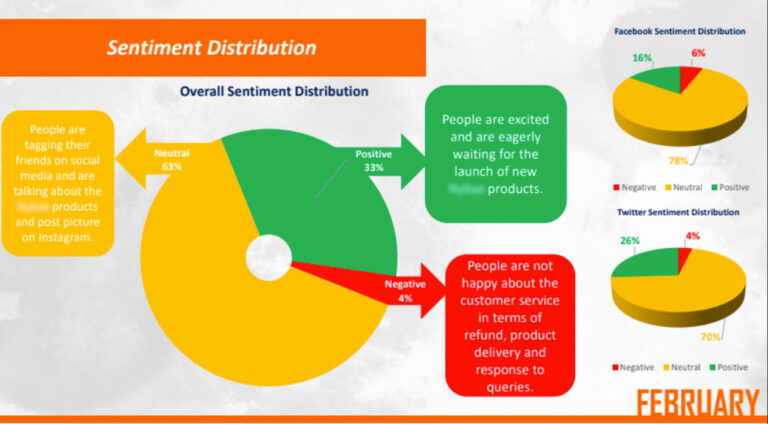 4. Specific Channel Insights
Like we already said, taking a look at the big picture is important to make decisions. But the big picture relies on a group of collective information and channel-specific insights is one of them.
Your social listening tools should be able to gather & display in-depth information for specific channels you prefer!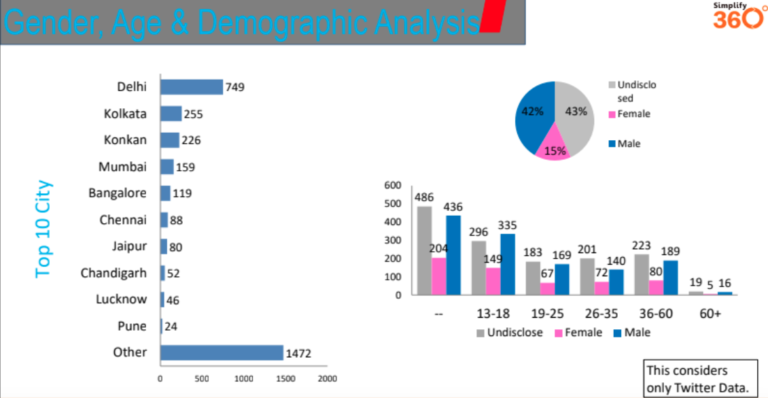 5. Voice Share of Your Brand
The share of voice your brand holds in the industry when compared with your competitors is a strong indicator of how your brand is performing.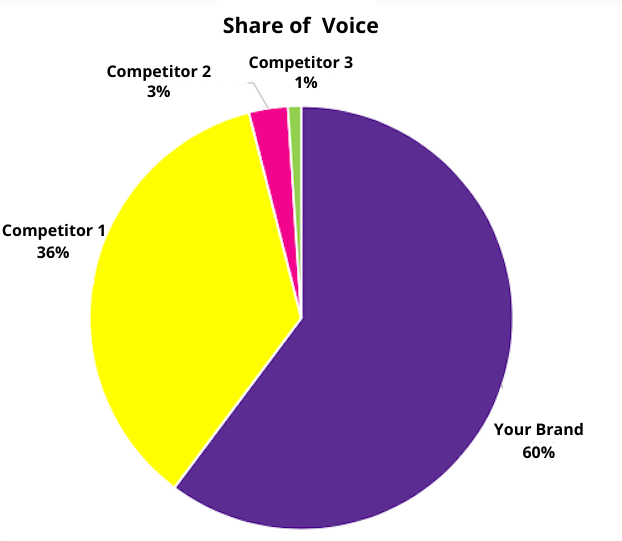 6. Discover Trends & Issues With Word Clouds
This is one super cool feature you shouldn't be missing out! When it comes to a business or a product, there are a lot of things to talk about.
For example, if it's a food chain business, people talk about their pricing, quantity, quality, menu, service, ambiance, staff, chef and everything you could possibly think of!
They use different words to talk about this and a social listening tool helps you find this!
Here's an example of a word cloud surrounding the issues of a beauty product business.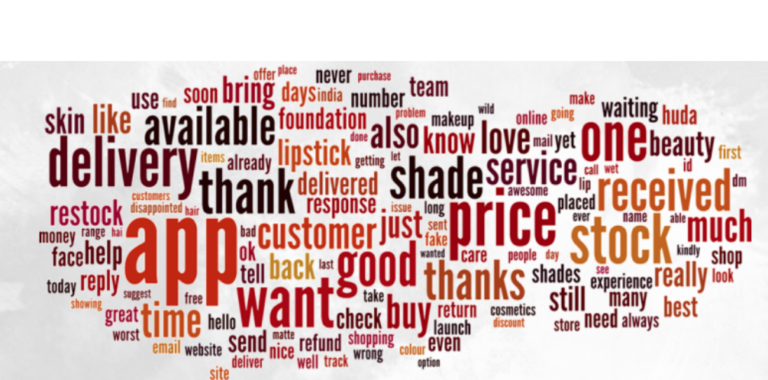 Word clouds can help you identify issues or the good stuff that's happening around your business. In a way, this helps you act on time and prevent escalations from getting out of hand!
Apart from this, your social media listening tool should be able to monitor content success and other general advanced insights like clicks, likes, shares you get. But it all depends on what your goal is! But it all depends on what your campaign/listening goal is!
4. In-Depth, Real-Time Analytics Dashboard
Remember where we talked about keyword monitoring? Entering a keyword, selecting a date range and viewing results?
Apparently, this is a manual task. But it doesn't mean you have to enter keywords every time you want to track or monitor mentions.
Your social listening tool should come with a dashboard that gives you real-time insights into the metrics. Some of the metrics your dashboard should provide (but not limited to) are,
Campaign performance

Tracking & Monitoring Mentions

Content engagement

Click-through rates

Followers Count & Traffic Analytics

Clicks, Likes & Shares

Voice of the Customer & Sentiment

Overall Brand Health
If you're having a dedicated social care team, it's better you display the real-time dashboard on big TV screens for 24×7 monitoring.
5. Usability & Customer Support
Using a social listening platform can be hard, especially if you're new to this! And that's exactly why you need to look into this!
The tool you choose shouldn't follow a rocket science approach. You should be able to search, acquire, filter and sort data on the go. The process and workflow should be easily understood by you or whoever is about to use the tool.
Also, customer support is a very important factor. You need them the most once you are done purchasing the tool. Check whether you get,
An option to book a 1-1 demo session before purchasing the tool

Onboarding support once you've purchased the tool

Personalized customer support with Dedicated Account Managers

Call support from the team in case you need assistance
Also, check their client portfolio – who they work with and who their present and past clients are. This should help you get an idea about the social media listening tool you're about to choose!
6. Pricing
Of all the above-mentioned factors, pricing is one of the most important ones you should look into!
You can even compromise one or two features but pricing is something you do not want to take chances with!
Check out a couple of social listening tools and see what features they are offering and at what price. Also, consider these,
What is the pricing model that the tool offers?

Is there a free trial available before I purchase the tool? If yes, for how long?

What are the payment models – monthly, quarterly or annual?

Will your business be able to afford the payment?

What is the ROI? Is the money spent worth it?
These questions will help overcome the pricing factor!
So, those are pretty much the 6 things you should look into before you choose a social listening tool for your business!
Apart from this, there are other advanced features like contact management and integrations – only a very few social listening tools today come with these kinds of features.
Final Few Words
A social listening platform helps give meaningful insights amidst the noise! And having one for your business can prove to be of great value – helps improve your online presence and grow your business by making informed decisions.
It's accepted that with multiple social listening tools around, choosing one can be a daunting task! But when you narrow down based on the features above, it should make your job easy!
If you want to skip that part as well, you should try Simplify360's Social Listening Tool. You get all the features mentioned above (including the advanced ones) – you also get a 1-1 demo session before you take any decisions.
Simply said, one of the best social listening tools around!
P.S. You might find this read useful!
6 goals your business can achieve with Social Listening
Now that you know how to choose a social media listening tool (and have a suggestion as well) for your business, why the wait?
Make your social listening efforts count! Start listening to what your customers are speaking online!