It's common to see people getting confused between reputation management and review management. 
Well, it happens because the difference between review and reputation management is very meager. Even when you get a complete understanding of the terms, you need to look them up after a couple of days, just to jog your memory. 
Anyways, let's get to it! In this read, we've come up with the key differences between reputation management and review management. 
But before we get to that part, let's get to know what reputation management and review management is – helps with the cause.
What is Reputation Management?
Reputation management is the process of enhancing your online presence in a positive way. Businesses and brands invest in reputation management to create a positive outlook on their image which influences audience decisions to a great extent.
Reputation management generally involves improving search engine results, monitoring conversations and responding to reputation sabotaging threats. 
Simply said, reputation management is a reactive process – you try to uphold your reputation by reacting to what's happening out there.
Here's an example of reputation management for a better understanding. 
Joe Dough Sandwich shop took everyone's attention when it made a clever move to uphold its reputation.

The customer had a frustrating experience and took Yelp to share his review about the same.
Joe Dough tackled it by doing this,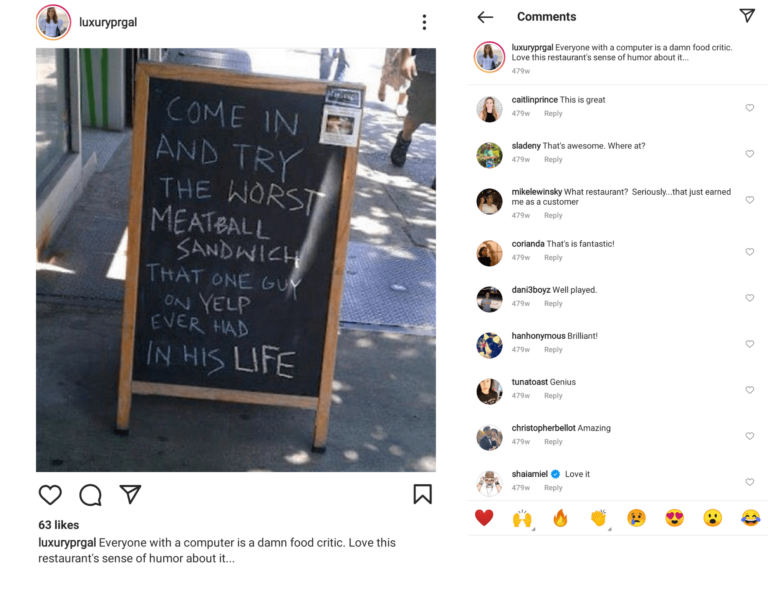 The restaurant came up with a humorous note in response to the Yelp review. Good for them because this attracted huge attention online and created a positive impact (you can take a look at the comments)!
Today, reputation management has clearly become an online thing and brands need to be careful about cracking a joke when it comes to customer concerns – you never know when things can go wrong! 
So, that's reputation management for you! An event takes place online and you react to resolve the issue and create a positive image for your brand.  
Clear? Now to the next term. 
What Is Review Management?
Review management is the process of monitoring, tracking and responding to online reviews on popular platforms like Google My Business, Facebook, eCommerce Websites, TripAdvisor, Yelp and more. 
Review management is a proactive process where you can reach out to customers before and enhance their experience. This results in better customer reviews.
With a good review management strategy in place, your business can get increased sales, valuable customer feedback and most importantly, the trust factor can be boosted!
Here's an example!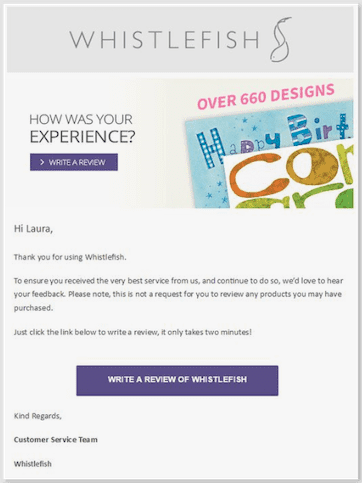 Whistlefish, an online greeting card store sends an email to one of their customers asking for the review. They are reaching out to the customer and making an effort to know their feedback!
They are pretty clear with the message – "WRITE A REVIEW FOR WHISTLEFISH." 
That's a review management example for you! 
In most cases, review management is where you ask the audience for feedback and respond to reviews.
👉 You can know more about review management here!
Now that you're clear about the terms, we'll look at the differences!
4 Differences Between Reputation Management and Review Management
No small talk! Let's get down to business!
1. Reactive Vs Proactive
This point needs no further explanation but still, reputation management is where you react to a particular incident and try to uphold the value of your brand (like we saw in the example above). 
Whereas, review management is the process of monitoring, analyzing, responding to and generating reviews across multiple online platforms. You reach out to customers in order to collect feedback and enhance the experience. 
2. The Motive Behind 
Reputation management is done with the sole purpose of maintaining a brand's reputation online. As we said, this involves combating bad mouthing and removing any feedback that could sabotage the brand's image. 
Review management is on the positive side – it is done to enhance the experience, collect feedback, accept what the customer says and try to improvise. Replying to an online review shows customers that you care for them. This increases the trust factor they have in you, especially when you leave personalized replies!
3. The Impact Created
This is another key difference between reputation management and review management!
When it comes to reputation management, the impact created (both positive & negative), gets accumulated in a very short span of time. 
The incident where Nestle's online reputation took a huge hit is a perfect example of how a negative reputation can get amplified!
It was so bad that social media platforms had images surfing like this!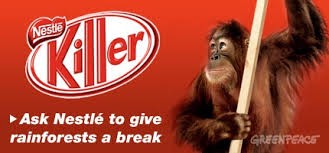 As for review management, the process is slow and takes time. One bad review isn't going to turn the tables and make your business look bad. And one good review isn't going to make people trust your brand blindly. 
The impact created by reviews is slow and steady but over a period of time, good reviews influence your audience decisions.
4. Factors It Relies On
Reputation management relies on publicity, the media and the legal group. It's common these days to witness a company getting sued for different reasons. And the media sheds light on the issue. 
Whereas review management is run by clients, social media platforms and the constant effort you put to show growth! 
So, yes! Those mentioned above are pretty much the differences between reputation management and review management! 
That being said, let's wind this read up! 
Though reputation management and review management are different, they walk hand-in-hand when it comes to the success of a business.
Let's just say reputation management is the bigger picture and review management is a chapter of it. But both are equally important in helping increase your sales and long-term growth. 
In fact, an approximate 70% of customers hesitate to buy from a business that has 4 negative reviews! This is something you should realize and act accordingly. 
Speaking of which, having a review management tool onboard is the first step to go about it. You can seamlessly monitor, track and respond to online reviews – helps set the bigger picture right!
The bottom line, a good online reputation and review management strategy can help grow your business multiple folds! Make sure you do everything you can to get this right! 
If you've got further questions on this, feel free to reach out to us in the comments section!
Cheers!