As customers, we no longer turn to reviews just for large businesses and enterprises when looking to purchase. We also rely on our friends and family for their opinions and online reviews. 
The way customers form an image of a brand is influenced by several factors. But online reviews are the primary source of information, and the good news is that you have the power to manage them. 
Online review management is essential for all businesses; it has a significant impact on your overall marketing strategy and is necessary for maintaining your brand image. 
Reviews are an abundant resource for valuable and actionable insights that offer you an opportunity to identify pain points in your business. 
Reputation management is a broad term that includes review management, social media management and PR. However, review management is a crucial element of reputation management. 
Having a thorough review management strategy set in place is an essential step in creating active reputation management for your business.
In this guide, you will understand all the fundamentals of implementing a review management strategy for your brand.
Why Is Review Management Critical?
Online review management is not new, but it is more important than ever to brands online. Being consumers, we know there are several places you can find reviews – Google, TripAdvisor, Yelp and even on social media nowadays. 
Over the last few years, with the development of mobile applications and the addition of visible ratings in search results, it's become increasingly accessible for potential customers to search for businesses near them on the go.
Positive reviews aren't just a crucial part of attracting potential customers; it is also an invaluable source of feedback for your business. 
This can help you understand how to improve customer pain points effectively and what customers love about your business that you could spotlight in your marketing.
Managing reviews on social media is quite different from managing reviews on channels specifically built for reviews. Reviews on platforms with formal star ratings like Facebook and Google display your average rating, whereas, on Twitter, reviews are typically informal chatter about your business. 
Search engines will display both types of pages to your customers. Since ratings can increase your SEO visibility, you can significantly grow your business with a thorough review management strategy. 
93% of customers will read reviews of local businesses to determine their quality, with 34% searching every day.
If you are apprehensive about having negative reviews, the good news is that most review sites and social media offer businesses the opportunity to reply to reviews publicly.
Why Reply to Customer Reviews?
Replying to reviews is just like responding to customers' social media messages; it helps build trust and the likelihood of customer retention for your brand. Regardless of the sentiment behind the reviews, it is always best to respond to them.
89% of customers read replies to reviews. 
An excellent first step is to prepare a plan for common review scenarios beforehand so you can ensure your customer service team stays on message. You can draw up templates of points commonly mentioned in your reviews and create appropriate responses. 
Different industries experience different FAQs and common reviews; for example, a retailer, common review topics might include store ambiance and store sales representative, product range, checkout and payment process, and customer service.
To build a comprehensive guide with various scenarios, you can take the help of your customer support team. Along with common situations, also ask them about unique situations they've come across. 
After each category and scenario has been identified, start in on the responses. 
What will you tell someone if they claim that a shoe's sole fell off within the first month of use? 
What will you say if someone says a staff member was making discriminatory or controversial comments?
How to Respond to Online Reviews?
You may get frustrated and defensive when reading customer feedback and comments because they may feel like they don't understand your business. However, this is an opportunity to rebuild trust with your audience.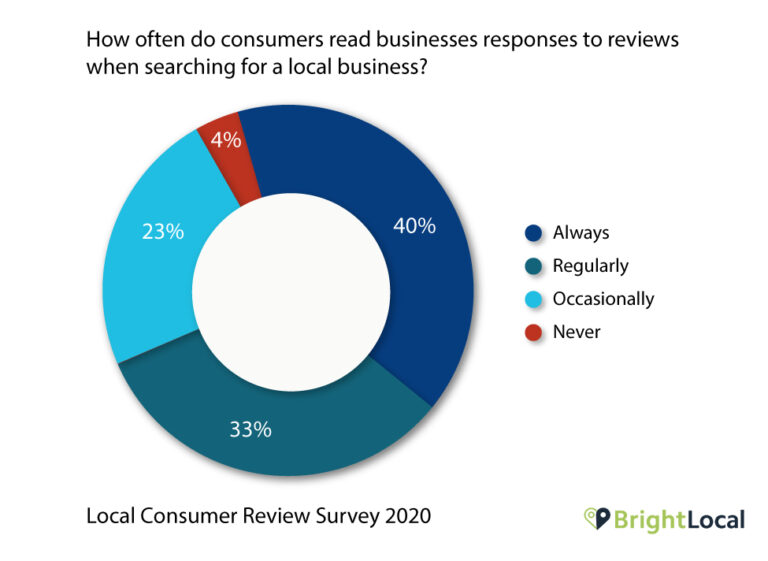 69% say they are more likely to use a business that has responded to their positive reviews, while 70% are more likely to use a company that responds to negative reviews. 
Keep your tone friendly and empathetic. When replying to customers' reviews, personalize the response with their name, acknowledge their feedback, and if it is a negative review, you can mention the internal steps you have taken to fix the issue.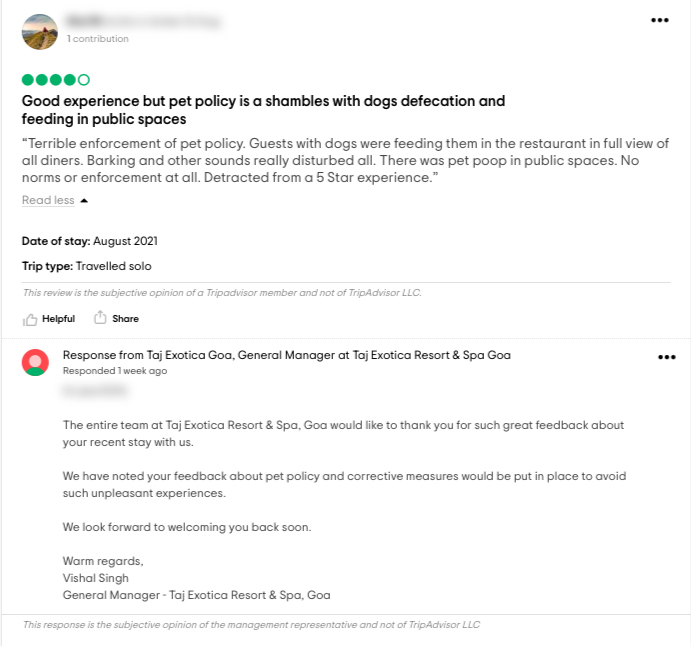 A study by Harvard Business Review discovered that improved ratings could be directly associated with responses. They also noted that when managers respond to positive reviews, it has the same benefits as when they respond to negative reviews.
When creating response templates, remember that while the responses are meant to be directed to a customer, your potential customers will also be reading your reviews and the reactions.
Potential customers will take note of the manner in which you respond to customers' feedback and the changes you implement in your business.
As you build your review management strategy, you will notice that it is very similar to building your social customer care strategy. 
Suppose you respond in a genuine, personalized, and constructive way to your customers' feedback. In that case, you can form meaningful connections with your customers, whether they're dealing with online reviews or comments on social platforms.
Identify a Review Channel to Prioritize
The fastest way to start implementing a review management strategy is by auditing each review channel ideal for your industry. This will help you understand how many reviews are left on each site for your business, which can guide your next steps.
Every industry has different review sites. However, Google reviews are extremely important across industries. It is also a crucial step for local businesses. 
TripAdvisor is a great example of an industry-specific review site, it is geared towards hospitality, travel and has an international audience. 
If your business is a hotel, you will most probably have reviews on TripAdvisor, Google, Facebook, and maybe some other more niche review sites.
Reviews are left regardless of whether you're managing your brand presence or responding to customers' feedback on review networks. The trick is to identify which ones have the highest value to your business most. Google, Facebook, and Yelp are great reviews networks to start your reviews management. 
Google My Business comprises your business' presence on Google. The search result Knowledge Graph for your business will consist of a summary or brief about your business, such as what it is, the timing, the founders, and contact information. The search result of your business on Google Maps will display the same details.
Google receives 88% of the search engine market share – Google My Business results for local searches are difficult for customers to miss.

Most people rely on TripAdvisor, a platform where they can obtain information regarding their travel destination. To have the chance to advertise your business there, you should claim its listing in advance.
On Facebook, to get the most out of your page for reviews, be sure to turn on ratings in your settings. It was only in 2018 that Facebook turned reviews into recommendations. Your business page may display previous star ratings.
Review management tools like Simplify360 allow you to view, manage and respond to reviews across channels like Facebook, Google My Business, TripAdvisor and more – all in one inbox. You can empower your team to conveniently manage review responses, filter incoming reviews and assign tasks similar to your social media workflow.
A social media listening strategy will help you discover online chatter and conversations about your business; this will also help you find the review site that is most valuable to your business.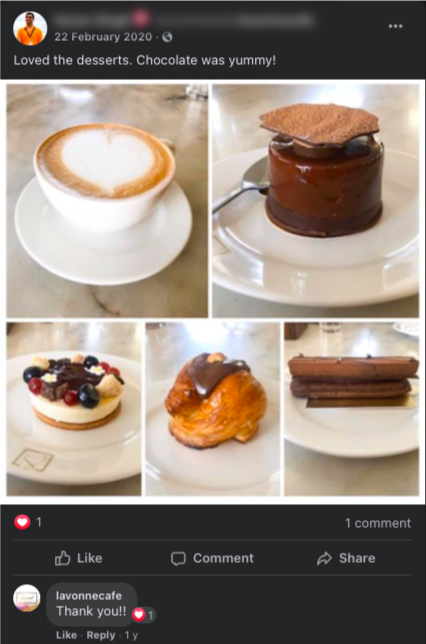 By listening, you'll find other sources of valuable feedback about your business and products across social media and review sites.
Social listening ensures that you are notified of any and all mentions of your business. You can also set up alerts and trackers for keywords and phrases associated with your brand.
4 Steps to Building a Review Management Response Strategy
1. Monitor Your Reviews Online
Listening is the first key step to a review management strategy.
It is a simple way of making sure you don't miss anything that people say about your brand and products online. 
You can start by understanding which platforms are most important for your brand. However, the most common platforms all businesses are present on are Google and Facebook. 
Identifying which platforms your customers are talking about your brand on is another way of ensuring you don't miss any mentions of your brand. 
For example: Do customers talk about your brand on social media, online forums or review sites like Yelp and TripAdvisor? 
If you have a physical location, people can review your business on Yelp, TripAdvisor, and Google. And you can be sure that customers are leaving reviews.

2. Create a Response Plan
It's essential for customers to talk about your brand online. But the way to improve your review management will be by the steps you take next. You need to plan how you are going to go about responding to your customers' reviews. 
Identify who will monitor your reviews, who decides if a review warrants a response and who will respond to the reviews.
When you create your response plan you need to consider the position and tone you are going to take in your responses. 
Make sure the person who is crafting your response understands your vision and voice. If you are responding to a harsh criticism, it's important to know that they have freedom and skill to respond on behalf of the organization.
3. Create a Specific Plan for Negative Reviews
When you get a bad review, it is tempting to pretend it never happened and to hope that it gets buried under a sea of happy reviews. But you can't ignore bad reviews as they are public.
If potential customers notice that you have ignored negative reviews, it might impact their image of your brand. And not to forget, if you ignore a customer's review you are taking away the chance to clear the air and convert them to a loyal customer.
Ensure you make the customer feel listened to and valued, by responding to their reviews in a professional and polite manner. Try to avoid robotic responses to reviews and make them personalized.
Response time is one of the most influential factors in recovering from a bad review.  Responding and helping customers who had bad experiences instantaneously, is much more likely to improve their opinion.
4. Leverage Positive Reviews
It pays to respond to customer's positive feedback as well, these are the reviews that will improve your online reputation.
Responding to positive reviews not only shows your appreciation to your customers but it also encourages other customers to leave reviews.
Since the goal is to build your reputation based on positive feedback, you need to focus on encouraging customers to leave reviews. 
If you are confident that you deliver good services to your clients, you can ask them to leave reviews and provide feedback. By asking personally, the customer will feel as though you care about the review and will be more likely to leave a good one. 
Customers have a lot of power when it comes to online reviews. However, with the right tools, preparation and knowledge base, businesses have the ability to improve brand perception in a positive way.
Responding to and appreciating customers for their online reviews, whether good or bad, will only strengthen your brand's image. It would also get integrated into your social media engagement. Social customer care and review management are two peas in a pod; you'll have an excellent customer service strategy by championing these two.