From "Do online review management services work?" to "how to choose an online review management software?", things have changed dramatically!
The last time we checked, review management was a part of multi-million dollar companies. But today, it has become inevitable for businesses of all sizes!
If you find this hard to believe, here's a screenshot of the massive search results for the phrase "online review management software."

This is because an approximate 96% of consumers read online reviews before they buy – one of the many important online reputation management statistics.
This has pushed both small and large businesses to manage their online reviews. And if you're reading this, it's clear that you are serious about review management – you need a tool that'll help manage your online reviews. Well, that's good for your business! 
So, this read is all about how you should choose an online review management software for your business. Also, we've covered a bit of the basic stuff to make sure that you get a complete package out of this read!
P.S. You can know more about online review management here!
Let's get started, shall we?
What Is An Online Review Management Tool?
A review management tool is a software that's responsible for monitoring & tracking all online reviews and mentions about your brand.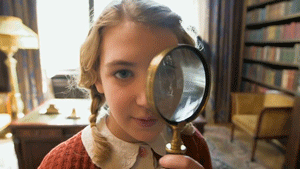 Today, softwares have become so advanced that you can monitor, manage and even respond to reviews from one single dashboard – saves huge time and effort. We'll look into how a review management software should be in the later sections of the read.
For now, here are the benefits you get when you use a review management software!
Benefits of Using An Online Review Management Software
1. Build Trust & Brand Image
Every business, irrespective of the field they are in, gets online reviews. And the way they treat these reviews builds their brand image and reputation.
Review management softwares allow you to quickly know where your customers have mentioned your brand or said something that might influence your business growth – both the bad and the good stuff!
Here's an example where Hifive Cafe, a small restaurant is replying to one of its Google reviews,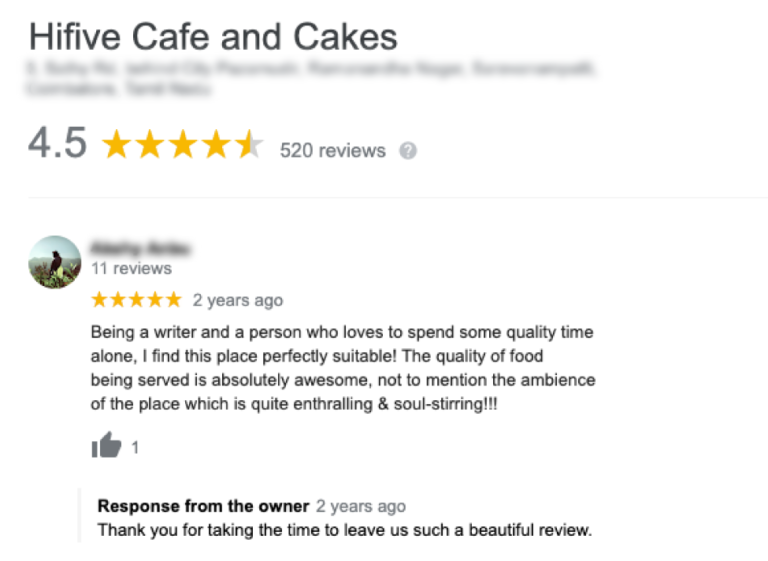 Apparently, the restaurant has been doing this very well and they've managed to respond to 500+ Google reviews.
When you start responding to online reviews (
both good & bad
), people start to value your customer service – they appreciate the effort you are taking to make things right for consumers.
In doing this, you not only establish trust among your customers, but you also build the "customer-centric" brand image over a period of time. 
When people start leaving comments or reviews about your brand, you need to respond to them. And a review management tool makes sure you respond to every single one of them! 
2. Collect Business Insights & Customer Feedback
Imagine you're launching a new product – the one that your customers have been waiting for!
When the launch is done, you're going to get a lot of feedback about your product in all places – Twitter, Facebook, Instagram and more!
Two things happen here,
1. You get to know what customers feel about your product – the feedback
2. Their feedback lets you know how you can make the product even better in the future
With an online review management software, you can view all of this in one place rather than having to shift tabs and refresh the screen endlessly! 
3. Increase Online Sales
When you continuously address online reviews and collect customer feedback (and implement it), over a period of time, you get good reviews pouring in. You can showcase it on your website and social platforms. This creates a positive impact on your audience and eventually, the sales figures go up.
4. Reduce Manual Effort
This is one of the significant benefits of an online review management software. You don't have to invest in manpower because the software is able enough to make things a walk in the park for your customer service team. 
You can even set auto-responses based on the scenario which saves a lot of time and manual effort. Your support team can concentrate on things/issues that matter!
So, that's pretty much the benefits you get when you use a tool to manage your online reviews!
Let's get to the part you've been waiting for – how to choose a review management software!
6 Features Your Online Review Management Software Should Have
We've come up with the top 6 features your online review management software should be having. 
You can find them all below! 
1. Multi-platform Review Management
Like we all know, the digital space is vast and your potential customers can leave a review about your business anywhere! 
So, make sure that the tool you choose allows you to track reviews on multiple platforms. 
The tool should also be able to monitor and analyze reviews based on specific locations, mobile applications (iOS & Android), eCommerce platforms (Amazon, eBay and custom platforms) and on popular platforms like Facebook, Google My Business, TripAdvisor, Yelp and more. 
Knowing that a review management software covers a wide range of online platforms is the first sign that tells you the tool is good to go with!
2. Auto-tag Reviews Based on Sentiments
This is an important feature your online review management tool should have – auto-tagging sentiments. 
Down the lane, your business is going to have increased reviews and the support team is going to have a hard time manually tagging each one of them. This is where the auto-tagging feature comes in. 
The software should be able to auto-tag reviews based on sentiment analysis (good, neutral and bad), separate reviews based on the location and the type of issue.
This also allows your support team to focus on bad reviews and answer them immediately – makes review management easier! 
3. Auto-respond to Reviews
Wouldn't it be great if your reviews are answered by the tool itself? Yes! You heard that right.
An ideal online review management tool should be able to auto-respond to reviews based on sentiment. You get to set custom responses for specific scenarios and the tool takes care of the rest – automate and forget!  
4. Custom Alerts Based on Reviews



Some reviews are crucial and some are not! And it is the crucial reviews that make a change in how the audience perceives your brand. 
Bad online reviews are something that should be addressed immediately before they blow up and sabotage your online reputation. 
And a good review management software makes sure this doesn't happen by raising alerts on reviews that could be bad for your business. 
Alerts can be raised based on set criteria like ratings, sentiment and the type of issues. This helps you resolve the issue on time and gain back customer trust. 
Also, receiving email and SMS alerts for such types of reviews could be handy! 
5. Automated Customer Surveys
Another important part of online review management is knowing what your customers feel about you. And customer surveys are the best way to get this done.
Make sure your review management software allows you to ask your customers' feedback when they complete an action. 
The most common scenarios where a customer survey would be launched is when a customer purchases a product, avails a specific service, or to ask about the overall experience of the interaction. 
If your review management software is able to do this, then it's well and good!
6. Free Trial Plan
This might not seem very important to you but on a scale of 1 – 10, we'd give all 10 for this! Before you choose an online review management software for your business, it's important that you know what it does. 
Though knowing the features is going to help you understand the software, getting hands-on experience is the best way to go! 
Once you've chosen a couple of options, see which one of them offers a free trial plan – a 14 or a 30-day free trial should get the job done. 
This helps you know more about the tool and make a decision – the features, how it works and the user experience.
Apart from the above-mentioned, your review management software should be able to track competitor mentions as well – helps you gain an edge in the race!
So, yes! Those mentioned above are pretty much the features and steps you need to take before you choose an online review management software!
And here's the most important thing of all!
Do Your Background Research
It's simple! You just have to follow the steps you do when you purchase a product online. 
You check out the reviews, the seller's website, their pricing and other important stuff. Similarly, know everything about your online review management tool before you make a final decision. 
Take the extra mile and book a 1-1 call with the support team and check out how their services are! What better way is there to know about the product you are going to purchase if not a 1-1 session?
P.S. If you want to skip the above steps and need a solution right away, check out SimplyReview. The review management tool is super easy to use and has all the above-mentioned features!
That being said, we'll wrap it up!
"An approximate 85% of customers consider online reviews as personal recommendations."
We wanted to show you another statistic and there you go!
Online review management is crucial for any business to thrive in this competitive landscape. And doing everything you can to maintain your online reputation is a must if you're looking forward to grow. 
Investing in a review management software not only helps you manage online reviews but also helps build a customer-centric brand image – the one that's going to increase sales and loyal customers. 
All you have to do is, choose the best online review management software and get started! 
Now that you have everything you need, why wait? Start managing your online reviews right away!
Cheers!
Frequently Asked Questions
1. Do online review management services work? 
Yes! Review management services have been proving effective for companies for a long time. Companies that use review management tools have witnessed a decrease in response time and have boosted their brand image. 
2. Is online review management important?
In order for businesses to maintain a positive outlook in the digital space, online review management is important. This helps increase sales, collect customer feedback and increase loyal audience base.
3. How much does online review management cost?
There are a lot of affordable review management softwares available today. You can find a review management tool for as low as $50 per month. 
4. Do review management softwares need continuous assistance? 
No. Review management tools today are sophisticated and advanced. Some even come with AI assistance making the overall "managing review process" easy for you!