Customer service is no longer a post-sale activity, it's a part of the entire customer experience. 
To stay relevant and stand out, brands need to offer support before customers decide to make a purchase and well after they make the purchase.
In the current customer-centric culture, companies can no longer think of customer service as an afterthought. It is a part of every step of your customers' journey, more so now with customers ordering everything online. 
The best brands know that customer service isn't just for early in the buying cycle but can play a significant role in every part of the buyer's journey. They use every interaction with a customer to offer value, impress, and sell.
Why does good customer service matter? 
Positive customer experiences drive sustainable business growth by increasing customer retention rates. 
Customers with negative experiences are more likely to inform more people of their experience than customers who have positive experiences with your brand. Poor customer service can have a significant negative impact on your brand.
Let's look at 3 benefits for your business by delivering great social customer service
Customer service is an extension of your brand's values and mission
Having your actions reflect your words is an important part of brand integrity. If your mission and values are written down but don't match up with what you do, you'll lose trust.
Delivering the Service that you promise will boost trust and loyalty among your customers.
Customers are the only thing keeping your business running, and the higher the quality of service you deliver, the better it is for your business in the long run. 
Good Service leads to higher retention, loyalty, and more referrals
The more exceptional a customer's experience is, the more likely that they will return. The best way to cultivate customer loyalty, then, is through friendly customer service.
According to a study by PwC, customers are willing to pay more for the experience qualities that matter most to them: 43% of consumers would pay more for greater convenience, 42% would pay more for a friendly experience.
People make recommendations based on their personal experiences. 
If they are loyal to a brand, they will be more likely to recommend it to others. Loyal brand lovers tell their friends and family about you, they would even recommend you to strangers. 
Customers recommend the brands they love to everyone, and nothing beats personal recommendations. 
Additionally, retaining existing customers is significantly cheaper than attracting new customers. 
You can collect data on your customers' experience
Customer service team members who deal directly with customers regularly have a direct feedback channel to help you find opportunities to improve the customer experience.
For example, if there are many complaints about the payment procedure on your website, it is a clear indicator that there is a problem that needs to be addressed. 
Customer service teams can help you build a dense knowledge base for all your customer interactions. 
Regular communication with your customers will allow you to identify potential issues with the products you provide and ideas on how you can improve them to serve your customers better.
10 Social customer service example you can draw inspiration from
Let's look at 8 brands that deliver exceptional customer experiences across social media. 
Swiggy
As one of India's food delivery services, they need to deliver the best in class customer experience. Swiggy uses their main Twitter page to interact and engage customers. They ask customers engaging questions and post interesting content on their social media to build a deeper connection with customers.
For a brand like Swiggy, their priority is to ensure they hire the right people to represent their company, as it is the brand's tone of voice they aim to protect.
Swiggy has a separate social handle across channels specifically for customer service issues.
Swiggy doesn't let just anyone manage their @SwiggyCares account.
After testing potential agents' writing and grammar skills, they then train agents to deliver the service they have set as a standard.
The agents are also given situations from previous cases to solve and get accustomed with.
Swiggy agents are first trained to respond to customers' emails, which are usually billing and payment-related issues. They are then trained to manage social media customer service, which is more urgent than emails.
The backbone of Swiggy's customer service is a solid training program, they ensure agents understand the difference between social media and other channels, and the nuance in their tone across social media.
Xbox
Like Swiggy, Xbox also has a dedicated handle for customer service; in fact, back in 2010, they won the Guinness World Record for "Most Responsive Brand." Since then, their Twitter growth has been exponential.
Having a separate account for customer issues on Twitter so social media, in general, allows you to train agents to address requests much faster.
Xbox prioritizes proactive customer service, so they constantly monitor all their social media channels, conversations, and brand mentions.
Having a separate social media account or handle for customer service is a smart strategy. Not only can brands keep any complaints and negative sentiment off their main page but it also prevents their social account from getting spammed.
Starbucks
Starbucks has made us go "Awwww?" several times, amazing customer experience stories are not rare at Starbucks.
Above is one such example. Apparently, a customer was happy that a Starbucks employee made her day and took Twitter to express her gratitude.
Starbucks shortly replied back with a short and sweet personalized message!
We were amazed at the magnitude of the role Starbucks plays in the lives of their customers!
Here's a social customer service example from Starbucks!
A customer, reached out in desperation to bring back the very berry hibiscus drink.
Starbucks immediately explained the scenario and ensured the availability of the drink in the future!
The tone was clear, polite, friendly and on time. The team really does a great job in handling customer queries over social handles!
Did you notice the 💚 in both the tweets?
The little green heart has become the trademark emoji for Starbucks! Since the color resonates with the brand, they are using it quite often on their social handles!
Adobe 
Numerous creators use Adobe's creative cloud for a variety of tasks, so unsurprisingly, they use Twitter not only for providing customer service but also to complement and showcase the loyal artists and followers using their tools.
They are thorough with the service they provide on Twitter, they often ask additional questions and provide extra resources for customers to use and help themselves.
Notice how they are honest about their capabilities, and rather than saying they are working on the compatibility of the software, they ask the customer to reach out to the engineers directly.
Adobe is also extremely transparent with their customers, in situations where customers are offering feedback on a product or suggesting updates they are honest about what can be done and what can't. They inform the customers about how they can work around certain limitations in the meantime.
Glossier 
Glossier saw tremendous growth in their first few years, they were the pioneers for natural makeup and promoting positive messages about women's beauty.
As Glossier went from a blog to a beauty brand, social media became their primary customer service platform.
They respond to every message or comment regardless of whether it's good, bad or ugly.
They not only respond to customers' complaints with a solution but also provide personal tips on how they can use and store their products.
As a clean and green brand, they need to ensure their message is clear across channels, so they train their agents to the best and equip them with all the information they will need.
Glossier maintains a friendly and direct tone in all of their messages, but by using emojis on their replies they also create a fun and more casual tone for the brand. It's a small detail but it adds a lot of value.
Netflix
Netflix kills the social game. They are funny and quirky with no restraints. Not only do they effectively provide solutions, but they are also amusing and entertaining. 
They have an excellent track record of customer interaction, they maintain the perfect balance of charismatic, humorous, and empathetic.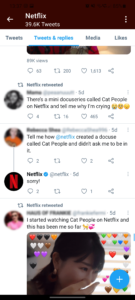 They broke away from the typical corporate tone for their messages and took a more friendly casual approach; after all, they are an entertainment providing service. Netflix is a prime example of how brands can be fun and communicate with customers in their language.
Netflix has developed a deeper connection with all their viewers and social media followers, by having a more fun and casual style of engaging with and handling the queries.
They don't shy away from interacting with customers regardless of the topic of conversation.
Wendy's
Wendy's has always been a customer experience-driven company; they were one of the first few brands to invest in text analytics and social media listening back in 2016.
Since then, their social media is one of the most entertaining and engaging.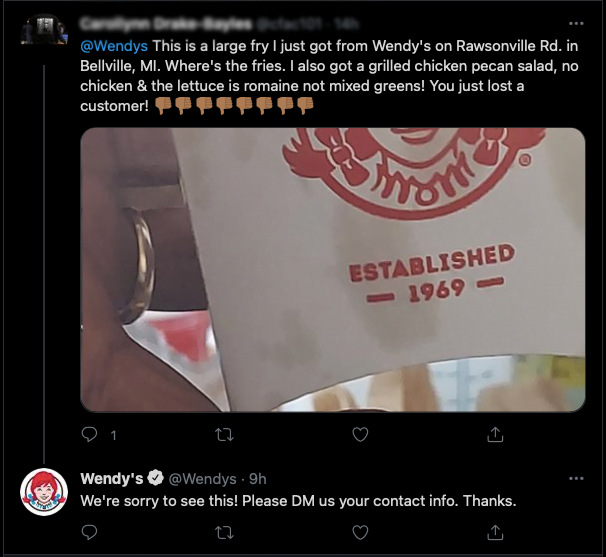 Wendy's doesn't hold back, their communication and tone may seem 'too casual' but they do it with such confidence that customers appreciate it. They are genuine and relatable in every interaction.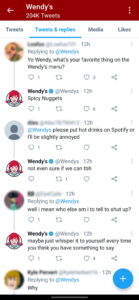 Wendy's posts have gone viral multiple times for their witty and humorous content.
Whether positive or negative, Wendy's always replies with a positive and friendly tone no matter what a customer says. Sometimes, they even use humor to lighten the situation.
If you scroll through Wendy's social media, you'll notice they interact with every customer re-tweet or comment.
Wendy's tweets are often trending because they don't hold back, if a competitor comes for their brand they bite back. But the key takeaway is the manner in which they come back.
Taco Bell
Taco Bell responds to all customer retweets, and responses on Twitter are incredibly relatable and engaging. They also actively engage with their audience by asking quirky questions.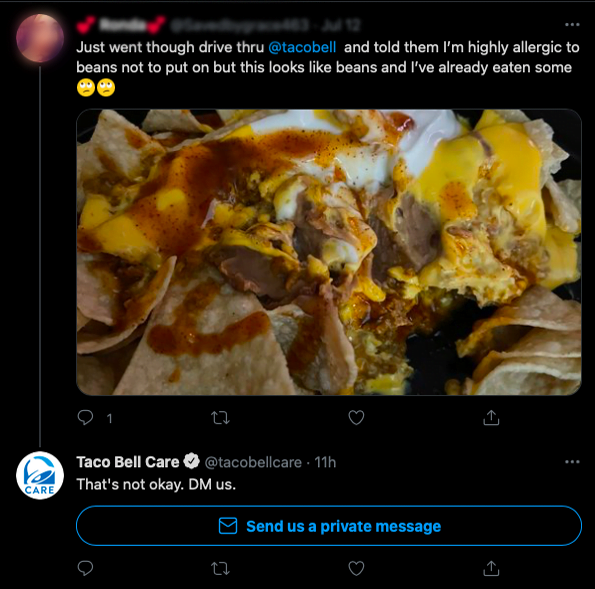 Taco Bell has a considerable following, especially on Twitter, customers specifically follow them for interesting content.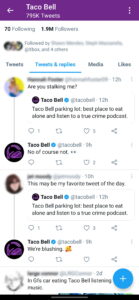 Taco Bell's responses are the best not only because it's funny but they know how to implement current trends and conversational styles.
They also use Twitter as a customer service platform, and they typically follow an empathetic and apologetic tone and format. But they still use a little humor, depending on the situation.
Taco Bell has a successful social media presence because they react instantaneously, and their responses are always out of the box.
McDonald's
McDonald's has a legacy on Twitter, they have used the platform from the start to engage with customers. Their tone is always friendly and casual, even for customer complaints.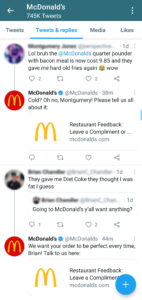 They typically direct customers' complaints to Dm's or feedback surveys. Almost every post receives comments and replies from unhappy customers, McDonald's ensures to maintain a good, helpful image.
Coursera
We came across the entertainment, food, tech and communication sectors. So we thought, why not EdTech?
Coursera is a popular eLearning platform with thousands of courses in it and allows learners to learn at their own pace.
When we went through Coursera's Twitter handle, we were able to pull out a few social customer service examples!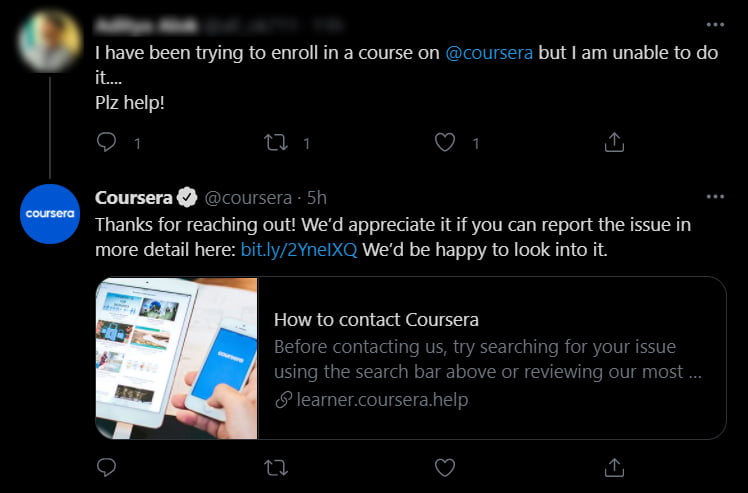 When one of the students reached out to Coursera saying he could not enroll in a course, Coursera did what it had to do!
The social media customer service team asked the individual to report the issue in detail by giving a link! 
Sounds helpful! Right?
It is all about social customer experience.
They deflect the audience from social media to their Knowledge Base, to make it easier for the customers to find answers on their own. 
Conclusion
Social media is dynamic, with new features popping up constantly. Brands can leverage social media to deliver customer service that is fun and easy.
With the right tools, you can manage social media customer service seamlessly.
With a new generation of consumers, brands need to be much more active on social media and monitor conversations around their brand to optimize these channels to the best truly.