Hey Readers! While the sun-drenched month of May isn't what most of us are inclined towards, the social media updates of the month are sure in sync with the hot weather outside.
With this post, we bring you the best and most exciting social media updates of May. Stay tuned for some tech-savvy heat!
1. WhatsApp Doubling Group Chats' Size
The WhatsApp Messenger App has launched the first stage of its New Communities Initiative, which it announced last month. 
The initiative is an expansion-based strategy to enable marketers to provide exclusive offers and sneak peeks to their most loyal and engaged customers. WhatsApp aims to achieve this with its various new features.  
Users will now be able to share files within WhatsApp groups up to 2GB in size at a time. Previously, the limit set for sharing files in WhatsApp group chats was 100MB. In addition to this, the initiative also includes new admin tools, sub-groups, provides 32-person audio chats, and adds a reaction option for each user.
The major feature that has caught the attention of the mass is increasing the group member limit from 256 people to 512 people. While this move is all set to facilitate a range of "new usage and communication" options, it could also make the platform more prone to entertaining the spread of misinformation and criminal activity.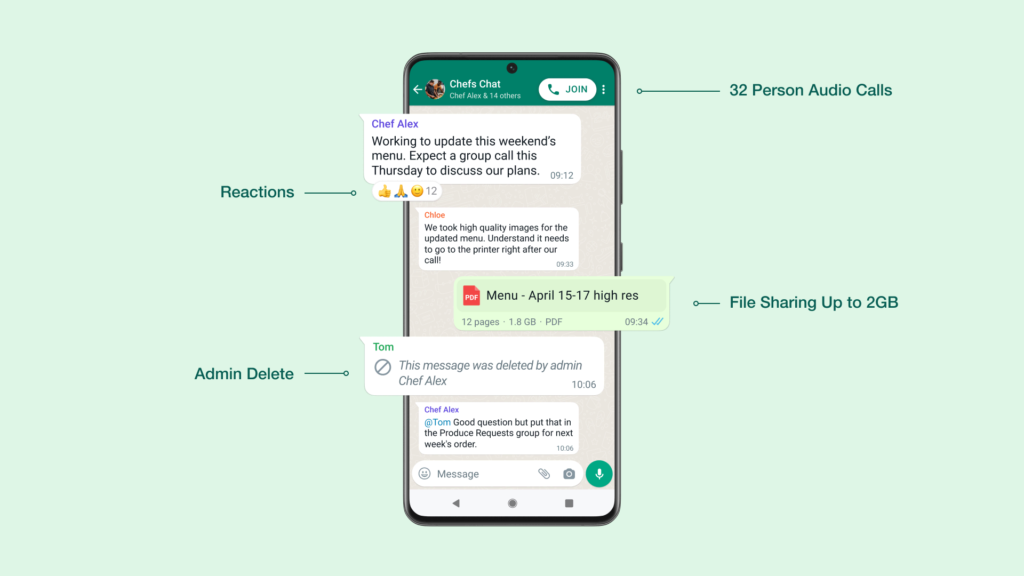 2. Musk Plans to Increase Twitter's User Base by Almost 200%
Continuing from last month's update on Twitter-Musk headlines, this month we have Musk's aim to increase its Daily Actives to 200% in the next three years.
Musk's latest report of him having secured around $7 billion in additional funding commitments to solidify his $44 billion Twitter takeover bid, has now raised questions about the feasibility of his goals for Twitter. The major key goals of Musk as Twitter's interim CEO are:
Increasing Twitter's base from its current 229 million daily actives to 600 million by 2025, and then to 931 million by 2028.
5 times increase in Twitter revenue by 2028, that is going from $5billion (2021) to $26.5billion.
Reducing advertising income from 90% to around 45% of the company's revenue
Reducing the current staff crowd by 1000 people, followed by increasing it to 2,700 new employees by 2025
As one can see, these are lofty goals keeping in mind the fact that almost everyone interested in Twitter has signed. The question that then arises is what are the strategies besides its current Live-Streaming, Fleets, Moments, and Spaces, that Musk and his Team can concur to make non-users gain interest and increase their daily activities.
While Twitter Blue (enabling users to pay a monthly fee to gain access to a range of additional tweet features) seems like one way to reduce Twitter's current reliance on ad revenues, it hasn't been a great success. The question that then stifles the lot is, Why will users pay to use Twitter Blue more in the future? It is hard to imagine that brands will be willing to pay for basic access, without some sort of added beneficiaries to Twitter's subscription offerings.
However, if Musk does raise the user count and brands do agree to pay for Twitter access, it sure will fulfill Musk's goal of making Twitter's Monetizable Daily Active User count make a jump to, or at least closer to 200% growth.
3. Meta Introducing a Metaverse of Madness
If you thought Marvel is the only one making an addition to the Multiverse, buckle up because this post is to tell you Meta is all set to introduce its new additions to the Multiverse of the Internet!
If you don't already know what Meta is, do not worry we have your back. 
Read here, all about Meta. 
Meta has announced some new options to help brands utilize its messaging tools – Improved ad creation on WhatsApp, merging WhatsApp messages into the meta Business Suite Inbox and quote requests on Instagram, all set to create an advertising haven for brands. 
Let's look into all the three one by one. 
First off we have WhatsApp improving its ad creation flow. This will enable businesses to create and launch their campaigns in the WhatsApp Business App without having to switch apps. Unlike the current process which requires app switching to activate a campaign which gets tedious at times, Meta is all set to do away with the middle element helping WhatsApp streamline its promotion process.
On the other hand, Meta's also looking to further its grand messaging unification progress by merging WhatsApp messages into user's inbox in Meta Business Suite. This will make managing business interactions, scaling contact points easier, and allow brands to offer more connecting touchpoints to their consumers via the choice of their platform. 
Meta also proposes to eventually integrate various Meta inboxes- Messenger, WhatsApp, and IG Direct, by 2023. 
Next on the list we have enabling businesses to send promotional message campaigns via Messenger. Other stars of the proposed elements are 'Lead Filtering' on Facebook which will delegate business managers to filter out quality leads with the help of Lead Ad Instant forms and including images and downloadable PDFs.
Last on the list we have Instagram where Meta hopes to enable businesses to elicit quotes from prospective customers via questionnaire – to be displayed before starting a conversation. 
The most important part that Meta is trying to improve with its all-new approach announcement is the revenue front. Following China's big messaging platforms, Meta is still trying to establish the best models, with WhatsApp, to warm up the western audiences to messaging.
4. Instagram Going Forward With All in One Scrollable Content
Instagram has been leaning towards including the latest trends by launching its initial test of a new, full-screen variation of its main feed display. 
The step does not come as a huge surprise as IG is determined to make Reels its central feature, which already contributes to more than 20% of people's time spent on Instagram. The updated UI was first spotted back in March when the reverse engineer Alessandro Paluzzi posted the below example in his post.
However, it is important to note here that Instagram makes money from Stories ads by displaying full-screen promotions in between Stories. This can conclude why Instagram is not looking to merge everything together, yet.  But as it advances its monetization tools, this too is predicted to change with all Instagram content to flow through a single full screen- scrollable feed of Static Posts, Reels, and Stories- all in one. 
Can this be looked at as its first step toward the next-generation iteration of the 'Gram? Let us know in the comments.
5. Facebook's New Notifications Bubbles to Boost Engagement (?)
Facebook, for some time now, has been figuring out ways to keep its users glued to its app. 
Following its constant loss of user engagement to TikTok, Facebook has now come up with Stories-like notifications bubbles within the notification tab, which alerts the user when their connection shares a new update.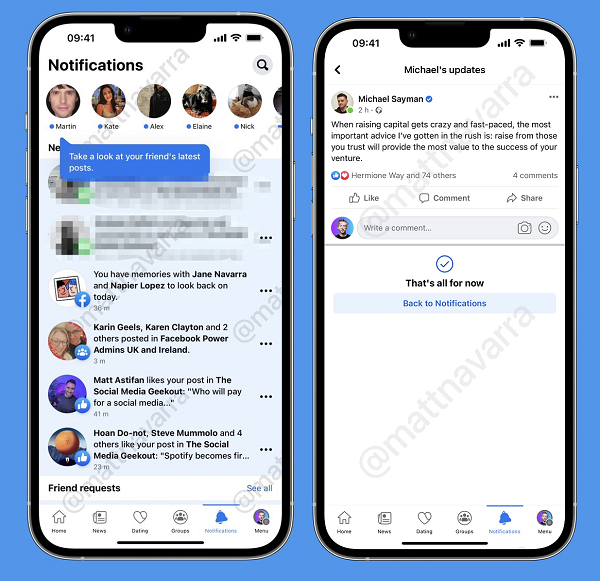 As seen in the above example shared by social media expert Matt Navarra, some of the Facebook users on iOS are now seeing alert bubbles at the top of their Notification stream. While it has a practical value, as it serves as a good way to maximize engagement by reminding users to catch up with their most important connections, it does feel a bit needy on Facebook's front.
However, a top advantage of this is to avoid potential re-ordering issues, which makes the user miss out on certain updates. Thus, despite its attention-seeking attempt it sure seems to provide a compelling reason to keep people around.
6. TikTok Integrates With WooCommerce
This is probably just the announcement every WooCommerce merchant had been waiting for! The latest integration announcement between TikTok and WooCommerce is a haven for eCommerce. It enables users to connect their product catalog, activate TikTok pixel, create TikTok ads and launch them from the WooCommerce dashboard. E-Commerce has always been a great source of revenue for TikTok. Creators partner with brands to tap the rising interest in in-app buying. It helps promote the brand and bring popularity to the short-form video app. An apt example here is the majority of TikTok's revenue in China that comes from
in-stream eCommerce integration
. Various US-based users also generate their income from live-stream shopping. TikTok indeed has a long way to go before its new feature builds an equitable and sustainable revenue share program for creators. But more commerce activity is sure to help advance user behavior and get more money moving through the app.
P.S. Just wondering is this why TikTok TikTok integrated with Shopify, back in 2020?
🤔 Let us know what you feel in the comments below.
7. Instagram's New Video Reaction Option for Reels
Reels is Instagram's fastest-growing feature and the one that's most experimented upon as well.
In our March Social Media Updates article, we mentioned Instagram experimenting with its Reels feature to convert Stories Highlight into a Reels clip. And it sure has come a long way since then. 
Although not officially released, Instagram has been working on a video reaction option for reels which will prompt users to create a reaction video right from the Reels share sheet. This could help get more people posting Reels content and invite more people to participate in trends. 
But why is this important? 
It is only logical for shorter video content to become a fad. We moved from posting text to posting images, to GIFs and videos, and then to shorter clips. Short clips are the preferred option of netizens because it allows easy transition to the next video.
This gives users a sense of control over their media intake and invites more participation. Because even if you don't (or won't) make an hour-long video clip, you can make a quick and fun response. Who can't get on board with that? 
Since the Reels trend was first made popular by TikTok, it has been imitated by Instagram, Facebook, Youtube, and Snapchat. And even when there exists room for improvement on Meta's front – it only needs to be good to keep the users on their apps. 
TikTok owes its success to this participatory trend which provides the capacity for anyone to consume as well as engage with any meme challenge, inviting more people into each trend acts as a catalyst to attracting more users to open the app more often. This expanded TikTok's content pool, with thousands of related clips (on a single trend) surfing on users' feeds who have engaged with that topic.   
And this is exactly what Instagram is trying to do!
Note that this isn't the first time Instagram has taken to align its features with TikTok's. 
Previously it had also introduced its own take on TikTok's 'Duet' functionality – Remix, and the capacity to reply to a comment with a Reels clip.
8. TikTok Introducing Live Subscriptions
Yes, you read it right! 
TikTok has announced the launch of a Live Subscription which will give users greater access to their favorite creators. The aim is to help creators earn more money while growing and engaging their communities.
The feature is set to start this month as invite-only but is expected to become available worldwide in the coming months. The move is to contrast TikTok's effort to diversify monetization opportunities for creators. 
To use the feature, creators must be above 18 years and have at least 1000 followers. 
Following are the benefits that are attributed to the feature
👉 Subscriber Badges – Badges will be shown next to their name on their profile and will be upgraded over time.
👉Custom Emotes – Exclusively custom-designed emotes to use during Live Sessions, to bring the community together. 
👉 Subscriber-Only Chat – A chat space where creators and their subscribers can connect. 
9. Twitter's New Engagement Strategies
Twitter is currently working on a couple of new ways for users to respond to Tweets. 
"Pin reply" is one of those features that let users pin selected comments to the top of their comment sections – a feature that YouTube and Instagram also provide. The feature is used by social media marketers to pin testimonials-like responses to a brand's Tweet. 
Another feature is "Twitter Live Space". This is an alternative to Clubhouse (an audio streaming app where people can do live talks). These audio chat rooms are used by businesses to share thought leadership, Q&As, commentary on live events, giveaways, product releases, and more.
Is quote-tweeting not enough? Twitter is working "Start a Space about this Tweet" so you can talk about it all you want pic.twitter.com/WtGFtpfNZt

— Jane Manchun Wong (@wongmjane) May 11, 2022
10. Reddit's New Host Program 🎤
Reddit is all set to nurture top conversational talent with its new Host Program launch.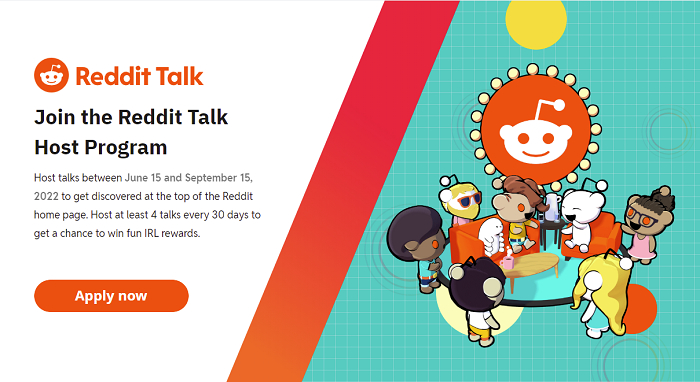 The program was launched last April to find and reward great audio hosts on Reddit. It enables users to host audio group chats within their communities. Following up on its agenda to increase engagement, it had also updated a Stories-like feed of live chats and enabled users to tune into Talks via desktop.  
The qualifying criteria require the hosts to run a total of 12 talks at an interval of 30 days,  between June 15 and September 12, 2022. 
You can click here to apply for access!
However, the initial hype that surrounded audio-social elements has been dying out. Even the significant growth that Clubhouse and Twitter Spaces experienced has slowed down. A major reason for this is difficulty in showcasing personally relevant room matches to each user. Thus, despite its lure to enhance connections, it is difficult to predict the longevity of Reddit's new feature.   
Although, the attempt can not be rendered completely directionless. It has clear value for users who wish to engage with community-based content. And Reddit effectively side-steps the above-mentioned challenge by highlighting the chats from users' followed communities.
The changing face of Social Media is inevitable. Today all kinds and sizes of global brands are involved with social media, to enhance their visibility. These recent updates in the Social Media world are focussed on bringing more and more visibility to the brands. 
Now that the Digital world has unraveled its Metaverse of Madness, we will just have to wait and see how things will evolve. Let's catch up again then, to discuss the upcoming updates.